by Micky Burch
Officially named for the method of harvesting or "husking" corn by hand, Nebraska was dubbed the "The Cornhusker State" in 1945. You can't get much closer to agriculture than that.
At the 2021 Nebraska Cattlemen Annual Convention, Nebraska Gov. Pete Ricketts reminded attendees of several state agricultural statistics, including that ag receipts in Nebraska top $21 billion – about 20 percent of the state's economy – and that one in four jobs in Nebraska is tied to agriculture.
Yet through almost a century of an increasing urban population and decreasing academic emphasis, a growing number of youth don't have as much exposure to ag as in the past, and many communities are losing touch with Nebraska's greatest resource. Now, there are many efforts being made to bridge that gap and repair the urban/agriculture disconnect.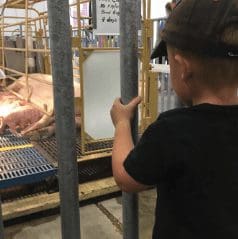 Agriculture in the Classroom As food availability has become increasingly economical and widespread over the decades, agriculture/food production has changed from a necessary part of daily life in the early 20th century to a career choice in recent decades.
Seeing this change, a small group of educators and others pushed for continued agriculture in education, recognizing the roles of production ag with environmental quality issues like maintaining a clean water supply, and preserving and improving forests and wildlife habitat." They kept education in agriculture and the environment alive during a period when interest by the public as a whole was decreasing," according to the Ag in the Classroom website.
In 1981 the U.S. Department of Agriculture invited representatives of agricultural groups and educators to a meeting in Washington, D.C., to discuss agricultural literacy. A task force was selected from this group and National Agriculture in the Classroom (AITC) was born. National AITC supports state-operated programs by providing a network that seeks to improve agricultural literacy – that is, agricultural awareness, knowledge and appreciation – among PreK-12 teachers and their students. In Nebraska, the AITC program is managed by the Nebraska Farm Bureau Foundation, whose mission is to engage youth, educators and the general public to promote an understanding of the vital importance agriculture plays in the lives of all Nebraskans. "Nebraska Farm Bureau views its support for Ag in the Classroom as a sound investment in Nebraska agriculture and our state's future success," says Courtney Shreve, Nebraska Farm Bureau director of outreach education.
While the Nebraska AITC program started shortly after the national program in 1985, the Nebraska Farm Bureau Foundation has been managing it since 2012. In-person classroom visits, Shreve says, are the most popular among both students and teachers. "We visited 487 classrooms last year, leading grade-specific, standard-aligned lessons," she explains. "We bring in supplies to do things like build variable-rate irrigation systems from Styrofoam cups. That particular lesson helps students understand how farmers use technology, care for the environment and provide for the world." Teachers appreciate that AITC curriculum is grade specific and standard-aligned.
"Teachers need resources that support Nebraska Content Area Standards, and every piece of our program aligns with one or more standards in language arts, science, math and even social studies," Shreve reports. "We help teachers cover concepts they would have anyway, using examples that are relevant to our state." Shreve considers the Nebraska AITC program lucky to have people involved who believe in helping the next generation understand what agriculture is and how important it is to the state and world. "Agriculture connects people. The food you eat, the clothes you wear and the fuel that transports you are part of your life because of agriculture," Shreve emphasizes. " The Nebraska Farm Bureau Foundation and Ag in the Classroom strive to help people understand agriculture by providing information so they can make educated decisions for their families and communities."
Extension and Outreach In a parallel effort to generate agricultural awareness, Nebraska 4-H has created five areas of programming to educate youth, and works in tandem with Nebraska AITC on one of those programs. Ag Literacy Festivals have been created to provide an opportunity for youth to take a close-up look at agriculture.
Between eight and 10 festivals are held at special locations in the spring and fall across the state for third through fifth graders. All the festivals offer sessions in beef, swine, ag technology, corn, soybeans, dairy, byproducts and ag careers. " The ag careers piece is the piece that is taught by Nebraska Ag in the Classroom," says Ashley Benes, Nebraska 4-H youth development coordinator, of the partnership piece with Nebraska Farm Bureau Foundation. From there, individual festivals may offer additional sessions for youth to learn about Nebraska agriculture and foods produced locally. Beyond the festivals, Nebraska 4-H offers four more ag awareness programs statewide. "One of our most widely taught programs is embryology – going into schools and setting up incubators so students can follow the development of chicks through hatching," Benes says. The curriculum can be tweaked according to age group. "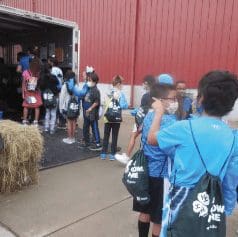 The older youth can do more advanced activities – they're going more in depth with the embryo, genetics and breeds or taking it a step further with animal behavior." The third is called Animals Inside and Out and is presented as a field day where the kids are in small groups and go from session to session. "It's an animal science program focused on the body systems for third through fifth graders," Benes explains. "Those sessions cover muscular, circulatory, digestion, reproduction, byproducts and animal science careers." There's also a close-up session where live animals are brought in so the kids can interact with producers and ask them questions about their livestock. Ag-Citing Science is an enrichment curriculum for kindergarten through second grade students where Nebraska 4-H goes into schools and works alongside classroom teachers.
Sessions cover pumpkin life cycles, animal systems, water sheds and a popcorn lesson that incorporates reading. " There's also a 'pizza farm' where we talk about the ingredients of a pizza and where our food comes from, going from vegetables to cheese to meat to flour in the dough," Benes says. " There are lots of fun activities for that age to get them excited about agriculture and understanding where their food comes from. It starts them on a basic understanding of agriculture. Then, when they have more ag literacy programs as they progress through their grades, the learning is scaffolded."
The final piece of the Nebraska 4-H Ag Literacy program are Mobile Beef Labs; one is located at the West Central Research and Extension Center at North Platte and the other at the Eastern Nebraska Research and Extension Center at Mead. While anyone is welcome at the Mobile Beef Labs, the focus is for use by upper elementary and high school students to learn about ruminant nutrition using a fistulated steer.
Older students get to do things like collect rumen fluid and examine it under a microscope. Nebraska's Largest Classroom With its move to Grand Island in 2010, the Nebraska State Fair boasted new facilities and saw an opportunity to teach students that there's more to producing food than cows and plows. Essentially, Nebraska's Largest Classroom is a self-guided field trip to the state fair where participants make stops at the Raising Nebraska building, Birthing Pavilion and other highlights on the fairgrounds.
Raising Nebraska was designed to let people see agriculture from virtually every angle – water conservation to soil health, animal well-being to food safety, invention to innovation, and economic impact to global hunger. As one of the nation's leading ag literacy experiences, the building itself spans some 25,000 square feet, focusing on where Nebraska agriculture is today and how the state is positioned for global leadership in feeding the world. Always a highlight, the Birthing Pavilion offers up-close and personal lambing, farrowing and calving experiences for the duration of the fair.
The goal of Nebraska's Largest Classroom is to offer teachers a place to take their students to see Nebraska agriculture first-hand and interact with STEM (science, technology, engineering and math) focused activities. In 2021, Nebraska's Largest Classroom welcomed more than 100 public, private and home schools, totaling almost 4,000 students, teachers and sponsors. Efforts through the Nebraska Farm Bureau Foundation and AITC, University of Nebraska 4-H and Nebraska's Largest Classroom are certainly helping to bridge the gap and repair the urban/agriculture disconnect. Nebraska Gov. Pete Ricketts visits with a group of school children during their self-guided tour of Nebraska's Largest Classroom at the Nebraska State Fair in Grand Island. One of the ways Nebraska 4-H is creating ag awareness is through the use of two Mobile Beef Labs where students learn about ruminant nutrition. Always a highlight, the Birthing Pavilion offers up-close-and-personal lambing, farrowing and calving experiences for the duration of the Nebraska State Fair.