By Blaine Davis, Contributing Editor
Sitting on the back deck of my in-laws' residence, I was still attempting to digest yesterday's Thanksgiving feast. But, I did find solace in a good cigar and a glass of fine bourbon as the grandkids frolicked about and the other grownups dealt with the leftovers and family gossip. As the smoke curled above my head and the libations ticked my throat, the bellowing of a large number of bovine creatures nearby interrupted this tranquility. Just two blocks away and within the city limits, Mankato Livestock Inc., was having their weekly cattle sale despite it being a holiday weekend. Holding a special place in the hearts of the citizens of Mankato, Kan., "the sale barn" as it is commonly called, is one of the foundations of the beef industry and an economic engine for its community.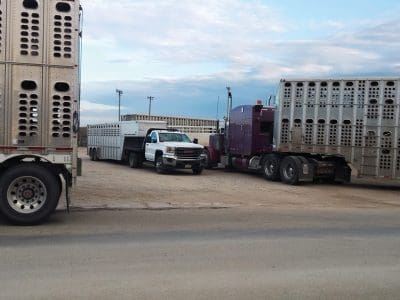 With all the din of the vehicular activity and that of the cattle, my curiosity piqued, causing me to venture up the alley and traverse the next block to witness a line of Peterbilts, Kenworths and Freightliners attached to their double-deck livestock trailers, awaiting their departing shipments. Beyond that formation was a sea of the local farmers' and ranchers' pickups hitched to a cornucopia of livestock trailers. As I neared the head of the line, one such local approached me and uttered a commonly heard remark around such an event, "… a nice run of cattle, today. " Then said something that definitely resonated with me: "It was good to get out of the house after too much food, festivities and chaos the day before."
After making the rounds through the parking areas, overlooking the pens and intermingling with the sellers and buyers, I returned to my respite of back-porch sittin'. With a splash more bourbon, I watched for the last load to leave the sale barn, heading south on the "main drag," appropriately named Commercial Street.
In Kansas, more than 30 livestock commission markets provide weekly venues for local farmers and ranchers to sell and buy livestock. They are often likened to rural America's version of the stock market. These local auction markets provide a secure way to sell livestock, acting as agents to transfer ownership from seller to buyer. They assume risk of nonpayment for a small cost – a commission.
The seller receives immediate payment, backed by a bonded and regulated account as prescribed by the United State Department of Agriculture (USDA) Packers and Stockyards Program whose mission is to protect fair trade practices, financial integrity and competitive markets for livestock, meat and poultry. In 2016, the USDA's Grain Inspection, Packers and Stockyards Administration (GIPSA) reported that 31 million head of cattle were sold through these auction barns across the nation.
"Livestock markets are extremely important to their local communities. They generate cash for local farmers and that cash gets traded in town. For those rural communities, employment opportunities at a market are a big deal," said Livestock Marketing Association (LMA) President Jerry Etheredge. The LMA represents 75 percent of more than 1,000 livestock markets in the U.S.
In 2017, the LMA commissioned Decision Innovation Solutions of Urbandale, Iowa, to run a study of a small Iowa town's standard fixed-facility auction market. Results indicated that $1 million in "added-value" dollars were injected into that community's economy each year. The sale barn also provided approximately 30 jobs with $600,000 in labor income, and contributed $70,000 in local taxes and $125,000 in federal taxes.
With today's technological advances such as video auctions and internet bidding, the livestock industry is evolving. Some predict the demise of these tried-and-true sales barns.
Contrary to this skepticism, the late Bud Knight, World Champion Livestock Auctioneer and manager of several sales barns throughout South Dakota, Wyoming and Montana, expressed optimism.
"Sale barns are a necessary thing," he said. "There will always be a need for them and always a loyal crowd of regular customers who bring their calves to town every year and have no intention of changing that.
"Order buyers and customers on that end will also continue to need the services provided by local markets. There is also the need to market the lower end of cattle and smaller lots selling as singles and twos, etc. It's been a crucial part of marketing for 100 years, and I believe it will continue to be that way for another hundred."
Still today, the majority of cattle put on summer grass come from these auction houses. Nearly 10 years after the late Mr. Knight's statements, owners of Mankato Livestock Inc., agree. Following the recently refurbished and expanded pens, there are plans to build a new structure to replace the venerable old barn. The weekly sales will go on.
Sale barns hold a special place in the hearts of rural America. More than a marketing tool, sale barns represent a history of hard work and hard-nosed deals. They symbolize the trials and tribulations of agricultural families and are a piece of Americana in many ways.
In this day of cell phones, email, internet and what seems like the loss of one-on-one communications, folks still come to town to market their livestock, visit local merchants for a little shopping and gather together over coffee and pie in the sale barn café. Small town economies rely on them.
On the day after Thanksgiving, when most of the country is commencing their Christmas shopping by battling large crowds for early morning deals, Mankato Livestock Inc., ran 1,633 head of heifers and steers through their sales ring and saw receipts of just over $900,000. For the small town of Mankato and its 820 residents, this represented a real Black Friday, rivaling any of the country's big box retailers.