By Patti Wilson, Contributing Editor
We have all heard of the spinoff benefits from auto racing – stock car, drag racing and every manner of motor competition. Although not all of us take a great deal of interest in these specific sporting events, they remain a valuable real-world laboratory for many of the components that make up our vehicles and machinery.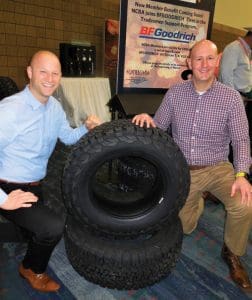 Take a moment and consider how many tires are in use on your farm or ranch. Include tractors, machinery and feed wagons, as well as pickups, family vehicles and, well, bicycles. I'll be you are amazed at what we take for granted in terms of function, mobility and safety.
Even after their road use is over, tires serve a valuable function on countless farms and ranches. Water tanks, mineral feeders and ground hay feeders are manufactured commercially or made right on the farm or ranch as durable and safe equipment. All practical function and longevity in any tire comes from years of research by tire manufacturers at great expense.
Phil Watson, BFGoodrich director of consumer public relations, and Erik Dietz, with Michelin's Global Leadership Program, explained a new offer to National Cattlemen's Beef Association (NCBA) members during the Cattle Industry Convention in January.
What is it?
Michelin's premier product is a BFGoodrich All-Terrain KO2 pickup tire for farms and ranches. It's a tire that runs smoothly on pavement but can also handle nearly any off-road situation.
The duo explained the company's real-world laboratory; the Baja 1000 auto race. The Baja 1000 is an annual Mexican off-road motor sport race – one of the toughest and most prestigious in the world, attracting competitors from 28 countries. All manner of vehicles compete in various classes, but BFGoodrich is most recently using the race to test pickup truck tires. The intense wear and stress on tires in this competition is considered the ultimate litmus test. The KO2 has passed with flying colors.
What does this mean for NCBA members?
Watson and Dietz were proud to announce that the BFGoodrich KO2 tire is now available to NCBA members at a $100 discount, a rare find. In addition, the offer includes a multi-year program with these additional benefits:
Discount on the KO2 tires, $100 per set of four.
Roadside assistance for any tire or mechanical problems with your pickup, up to two years after the purchase of the tires. Tow to the mechanic of your choice, up to 150 miles.
30 day satisfaction guarantee
The opportunity to win a special VIP vacation (one person, one guest) to the Baja 1000 race in 2019.
Tires retail from $800 to $1,000 per set; the NCBA discount entails a 10-12.5 percent discount.
Why are these tires special?
The tires are described as extremely tough, made with proprietary and thick rubber compound. Sidewalls are especially durable, and the tread is deep, designed to never pack snow or mud.
Street use is described as good, with low noise, acceptable fuel efficiency and excellent tread wear. Warranties on this product may be found on the company website.
In addition to the real-world laboratory of off-road racing, BFGoodrich has research and development labs worldwide where the KO2 is extensively tested, along with other tires manufactured by the company.
The benefits of belonging to the NCBA just rose a tic thanks to BFGoodrich Tire Company.