By Patti Wilson, Contributing Editor
A self-described "Queen of Multitasking," Amber McCall of Mount Sterling, Ky., can handle any job needed at the Bluegrass Livestock Markets in central Kentucky.
Raised in rural Clark County with a few horses, McCall grew up with all things agricultural. Great parents instilled a good work ethic and "work smarter, not harder" approach to life. Friends and neighbors raised cattle, giving her a good dose of exposure to bovines, enough to make her realize she liked them.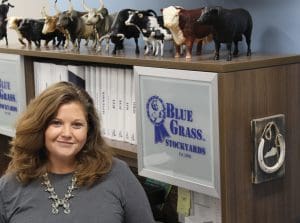 After completing her education, McCall worked in banking and local county government. She loved the livestock business, however, and found a better fit a few years later in Mount Sterling, when an opportunity came up to clerk at the local livestock market. After six months, she was managing the office.
Amber's good attitude and work ethic paid big dividends in 2013 when she was offered the position of office manager at the Blue Grass Market at Lexington. A devastating fire in January 2016 destroyed the facility. After the fire, McCall traveled and worked at each of the other six Blue Grass locations and helped with building of the new Blue Grass Market near Lexington that opened in September 2017. The state-of-the-art facility enables her to bring in only one additional office employee on sale days and keeps her engaged with their customers, whom she loves.
The market is located in close proximity to town. McCall explains that several other businesses are attached to the sale barn, drawing an urban clientele. This enables Blue Grass employees to interact with and educate others about agriculture. A restaurant, farrier supply shop, meat market and vendor fairs, among other entities, attract people who otherwise would never see livestock. A beef barbeque festival is held annually, as well as a Farm Day for school children. Amber is able to assist, enjoying the interaction with youngsters.
Blue Grass Stockyards encompasses seven facilities in central Kentucky. McCall may be found at any of these places when needed.
She lives on a cattle farm in Montgomery County with her partner, Eddie Rice, and Blue Heeler, Axl. She loves every kind of farm work and collects any stockyard memorabilia and antiques she can find.
Her final thought is, "Love what you do, and you'll never work a day in your life."