By Patti Wilson, Contributing Editor
Kaitlyn Hain is an ambitious and fearless young lady. The transplanted Nebraskan lives in Lubbock, Texas, while attending college. As much as she likes the area, Hain says she might just stay there forever.
She grew up on her family's diversified farm near the village of Bee, Neb. Their cow-calf operation sparked initial interest in livestock and general animal care. Starting at age 13, Hain spent five summers in Amarillo working at a family friend's veterinary clinic before being accepted into Texas Tech's pre-vet studies.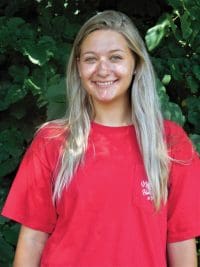 Hain's outstanding academic records enabled her transition to the Lubbock school from her eastern Nebraska home. She is currently accepted into the pre-med and pre-physical therapy programs, exploring all career options.
A relative "newbie" to the Lone Star State, Hain noted a little difficulty in deciphering the Texas language. She's learning how to cope with fast driving and appreciates southern courtesy. Although she denies getting homesick, the college sophomore says she misses her family, especially during the holidays. Hain has two younger brothers, Ryley and Gavin, at home with her folks, Kyle and Dawn.
Her plans include taking as many internships as possible in a variety of places, seeing all there is to see. She is disappointed that the current COVID crisis may well keep her from a desire to study in Australia. Expanding her network of people is crucial to the student, also.
"Travel and see what else is out there," Hain advises. "You can always come back home."