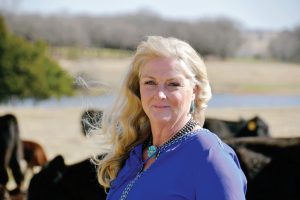 By Patti Wilson Contributing Editor 
Connie Tabor has grabbed onto a world of responsibilities. The Agra, Okla., farmer/rancher has covered a wide swath of educational, business and organizational activities, and thrives on the challenges they offer. 
Growing up in Okmulgee County, her childhood was full of family and neighborhood characters. She attended a rural school at Pumpkin Center, and related that, due to an unfortunate incident, her entire class of eight broke out with poison ivy shortly before eighth grade graduation. They were an itching, writhing mess on stage, save the one boy who instigated the awful stunt.  
After high school, Tabor worked at a local newspaper. She married her husband, Jeff, and followed him as he worked construction, mostly in Oklahoma. Today, the couple has two sons, Craig (wife Leah), Chase, and grandson, Hayden. The family runs 85 Gelbvieh and Balancer cows. Top end bulls are sold, and the steers are fed out to sell as 4T Ranch Beef. Two per month are harvested at a local locker. They are Beef Quality Assurance certified, Oklahoma Certified Beef (part of the "Made in Oklahoma" program) and state inspected. Beef is sold by order (a quarter or half, for example), or in individually wrapped cuts. It can be marketed and shipped out of state, having adequate inspection in place. The governor of Oklahoma is a regular customer. 
Tabor is extensively involved in Ag in the Classroom, making monthly videos that are shared with Oklahoma schools. Tabor helps at events for the Oklahoma Beef Council and is currently president-elect of Oklahoma CattleWomen. She serves on committees with the American National CattleWomen and the American Gelbvieh Association. 
In addition, she is an advisor for the Oklahoma Gelbvieh Junior Association, as well as a member of the Gelbvieh Association of Oklahoma Board. She has conducted grilling demonstrations in Oklahoma City and helps the CattleWomen serve ribeye sandwiches in Tulsa. 
Outside the realm of cattle, Tabor does laser engraving for awards. They are personalized products such as banners for livestock show winners. 
Her final thought was about our responsibility to take the negativity out of agriculture, as perceived by our urban population. "If it took 20 or 25 years to teach school children that animal agriculture is bad, I want in another 20 years to have changed their minds. Start with the school children and let them really know what's going on."  
It is a work in progress.