By Patti Wilson Contributing Editor
Marty was upset. He had received a letter from his alma mater asking for a donation to a scholarship recipient to pay her way through veterinary school. Her practice was going to be small animal only.
Marty Moravec, DVM, is not one to let a sleeping dog lie. One of an estimated 10 percent of U.S. veterinarians who serve agriculture, he realizes that the shortage of large-animal practitioners leaves a deep void that causes major stress among his kind. There is a growing vacuum for service among livestock producers. Some might call it a crisis.
This Bassett, Neb., doctor picked up his pen that day. He composed a letter explaining to the dean of the college of veterinary medicine his refusal to support donations to small-animal-only students at his alma mater. It was met shortly with a polite response from a "lower minion" bureaucrat thanking him for his input. Marty had been blown off.
What's Going On?
Moravec explains the goings-on at colleges that have contributed to our vet-shortage dilemma. The first was a gradual change in admissions protocol, inadvertently weeding out the best prospects for large-animal practice. He said that veterinary medicine schools have shifted to a grades-only and test score-only method of admission.
Understandably, this is not conducive to the majority of students interested in agriculture. Moravec was accepted with typical farm kid credentials. He says that, in 2004, he was admitted to veterinary medical school with "not the best grades." At that time, interviews were conducted, as well as consideration of grades and test scores. He "moved up the list" because he was well-spoken and had an excellent work ethic. These assets carried weight in the admissions process;
"Ag kids have ethics worked into them," he declares. "It's the way we are raised. Grades may not be A+ all the way across the board. The best test-takers do not always equal the best vets."
He notes that A students typically wind up in research, while food animal vets are often B and C students (Moravec labels himself a C student). They keep longer hours, tougher schedules and tolerate greater physical risk. Perhaps because they have grown up working in families with farm financing, he says that C students are most likely to be comfortable with handling debt, and are often the owners of clinics and hospitals. B students often work as employees in various health-related businesses when they suffer burnout; C students continue to carry on in the field.
Not relying solely on his opinion, Moravec took part in the Executive Veterinarian Program with the University of Illinois. The agenda lasted a year and a half, with classes in Omaha. He says that the last session was geared on the future of veterinary medicine and what to do about shortage issues.
Further Issues
Veterinary medical school is expensive. It has contributed considerably to the abyss separating food-animal vets and their small-animal counterparts. "On average, vet college graduates leave school with nearly $190,000 in debt," according to Dr. Rosslyn Biggs, director of continuing education for Oklahoma State University College of Veterinary Medicine.
A December 19, 2022, article for NPR by Scott Neuman compared out-of-college pay for large-animal practitioners at $85,000, while small-animal vets routinely take jobs right out of school for $100,000 plus a signing bonus. It was explained that buying outright or buying into a practice with a six-figure debt hanging over your head is hard to finance. This hits livestock practitioners especially hard; they are more likely to want their own practice, as many fly solo or have only a few employees. Rural life commands a unique business plan.
It is interesting to note that vet school students are now 80 to 90 percent women. Some percolate into large-animal practice, and get along well despite the physical challenges. Most fit more comfortably into small-animal medicine.
A June 17, 2019, article in Successful Farming by Betsy Freese credits women having different work-life balance expectations, as well as shorter or interrupted careers. Many work part time. Employment at a large hospital catering to pets with ample staff may fit their needs far easier than being a lone cattle physician in an isolated Sandhills area. She also noted that men may shy away from the veterinary profession more than women, seeing the student debt as something to be avoided.
Vets in the Real World After Graduation
Moravec is following his dream after watching producers struggle with adequate available veterinarians.
"In this part of the world and farther west, I know that there are ranchers that have to euthanize animals because the closest available vet is too far away," he says. "I was unaware of just how dire the situation was until I got into college. My reason for becoming a vet was because I didn't care for the crops part of farming, but I loved the cattle part."
He relates one situation at his clinic when vets in the area were occupied working cattle on ranch sites. Someone had an emergency with their dog that subsequently went unattended; no one was available to help. Moravec says he saw the dog a week later and had to put him down – a sad circumstance that no one wants to face.
Eastern Nebraska veterinarians have shared an additional situation. The heavily farmed area is home to numerous small herds that graze untillable land, utilizing what would otherwise be waste ground. Adequate facilities for small cattle growers are prohibitive to build and maintain, and many go without. It makes a vet's life more difficult.
None of you will be shocked to hear that federal government overreach and paperwork have added to the load.
"The veterinary Feed Directive (VFD) came out of the blue," Moravec says. Personally, he can understand the cause of bacterial resistance, but says the government has turned to our food supply to place blame. Further, he says there is no hardcore evidence to support the hypothesis that agriculture is responsible.
"Ranchers give antibiotics to animals that need them to live, yet if you take a child with a minor cough to the doctor, most of the time you leave with a script for antibiotics," he says. "Where do you think antibiotic resistance is coming from?"
Moravec says veterinarian shortages are going to get worse. Approximately 30 to 40 percent are over the age of 60, and 35 percent will retire soon. The May 2023 issue of Hoards Dairyman states that 3 to 4 percent of new vet school graduates go into large-animal production. The void is set to become deeper. Moravec maintains that economics is the main driver.
More About Marty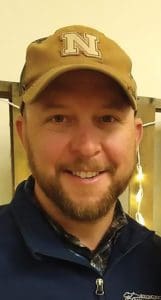 Marty Moravec must be described as one who chose a vocation early in life and stuck to it. It was a road less travelled and often difficult.
After graduating in 2008, he had job offers from eight large-animal clinics in Nebraska. Taking a position in Ainsworth, he worked more than three years before starting his own practice in Bassett.
He's the lone veterinarian there, with a receptionist, vet tech and janitor, all wrapped up in one cherished lady. "She does it all," he says.
Clients supply their own help. Located in downtown Bassett, Rolling Rock Veterinary Clinic has no haul-in facilities. He is, however, considering building a full-service clinic west of town. There's plenty of room for a business and home on a 15-acre property waiting there for his family.
He prefers cattle work to all else, enjoying the seasons and various work that comes with each phase of beef production. The work load can be brutal at certain times, but he is accustomed to it. He says he's relatively comfortable with his life, and people there are considerate.
Moravec is married to Erin. They have five children, ages 7 to 21.