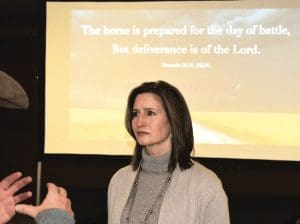 "Producers can manage their land much better than government bureaucrats."
By Larry Stalcup Contributing Editor
THE STILL-LINGERING 30 by 30 program was described by the Biden administration as a way of "tackling
the climate crisis at home and abroad." But by scraping away the fluff, ag-state leaders and private property rights advocates contend 30 by 30 is a fierce effort by radical environmental groups to place private land under government control.
President Biden signed Executive Order 14008 just after his inauguration last year. It set a goal "of conserving at least 30 percent of our lands and waters by 2030."
Margaret Byfield, executive director of American Stewards of Liberty (ASL), outlined the pitfalls of 30 by 30 while speaking at March's Southwest Beef Symposium in Tucumcari, N.M.
ASL is a non-profit organization working to protect private property rights and the liberties they secure. Byfield warns producers and other landowners that 30 by 30 is an unconstitutional policy "that moves us from a nation founded on private property principles to one controlled by the administrative state."
A forum aimed at toppling the program, "Stop 30 by 30 Summit," was held on Earth Day, April 22, in Lincoln, Neb. Nebraska Gov. Pete Ricketts headed the summit. Ricketts was one who countered Sec. of Agriculture Tom Vilsack and his efforts to promote President Biden's 30 by 30 agenda.
Other speakers were former Sec. of Interior David Bernhardt and U.S. Rep. Lauren Boebert (R-Colo.)."Experts came together to fight the largest federal land grab America has ever faced," Byfield said.
"We [ASL] challenge the policies that seek to undermine America's ability to produce the food, fiber, energy and minerals our nation needs. We confront the radical environmental movement, which believes the administrative state, not individuals, should determine how people use their land."
Ricketts has been a 30 by 30 opponent from the beginning. He said the 30 by 30 policy "parrots the policy goals of radical environmental groups. For years, environmental groups have sought government support for policies that are harmful to agriculture and a productive economy.
"In Nebraska, 97 percent of our land is privately owned," he said. "Getting to 30 percent would require a major federal intervention that would trample on both the state of Nebraska's sovereignty and individual property rights. Setting aside that much land and water for conservation would also devastate food production, our rural communities and our state's overall economy."
Biden's executive order directs the U.S. Secretary of the Interior, Secretary of Agriculture, Secretary of Commerce, Chair of the Council on Environmental Quality and other heads of agencies to achieve the goal of conserving at least 30 percent of American lands and waters by 2030.
Byfield said there are concerns in Congress that this order would add to the many acres of U.S. land already under federal control. That land equals roughly 12 percent or 289 million acres as of 2020.
Many farmers and ranchers take part in federal conservation programs. However, Byfield said,"It's not often publicized that programs that pay landowners for conservation activities create a federal nexus to the property, giving the administration an avenue to [further] control the use of private land."
Major ag groups still voice concerns over the 30 by 30 plan's potential to overstep private property rights. Zippy Duvall, American Farm Bureau Federation (AFBF) president, addressed the measure early in 2021. He hit on it again earlier this year at the AFBF convention.
"America's farmers and ranchers have enrolled 140 million acres in conservation programs," Duvall said."We have tripled our use of renewable energy on the farm. And we are producing more with less while protecting our land, air and water."
Despite less news about the program, the Stop 30 by 30 Summit organizers believe uneasiness remains that Uncle Sam may try to make himself too welcome on your ranch or farm.
"If agriculture stands up and says 'no,' this thing [30 by 30] cannot get through," Byfield said.
Managing Production Inputs
While producers are concerned about further government infringement onto private property, as well as setting new regulations on land leased from the government, higher production input costs are also creating more headache for them.
Francisco Abello, Texas A&M AgriLife Extension economist, told SW Beef Symposium attendees that managing input costs requires precise information."Producers need to know their exact costs, just like a 'regular business' [outside of agriculture]," he said.
"Long-term vision is needed. That and a business plan keeps us focused on our short-term goals and potential impacts and [helps] be prepared for future problems."
Ranchers need to anticipate higher costs and possible supply chain disruptions of inputs, Abello stressed. He suggested that producers:
Measure and analyze past performance
Build budget and breakeven prices
Push for permanent cost control and resource optimization
Make long-term projections
He said better cattle price risk management would be helpful for producers who lock in high input costs to protect against further cost increases
"These practices should help maximize profits," Abello concluded.
Improving Preg Testing
Successful herds cannot afford to see low pregnancy rates. Ky Pohler, associate professor chairman of Texas A&M Pregnancy and Developmental Programming, said producers should know the pregnancy status of their herds to help improve nutrition management and marketing plans.
He noted that whether using rectal palpation, ultrasound or PAGS (pregnancy associated glycoproteins) chemical tests to determine pregnancy, producers should use a preg-testing program that is proven in their operation.
"Ultrasound testing provides near 100 percent accuracy," Pohler said, adding that ultrasound and PAGS testing should be conducted after 28 days of gestation."Producers need to be ready to make [culling] decisions on open cows."
In addition, decisions on culling of open and even pregnant cows must also be considered if drought continues to scorch pastures. It will be a touch-and-go situation, noted Dave Dubois, New Mexico State University climatologist.
"There is a 40 to 50 percent chance that La Niña will continue through summer," he said."Nearly all of west Texas and eastern New Mexico were far below the average precipitation from October through February [and well into spring]."
With that, and even harsher drought forecasts, it's a virtual guarantee that ranchers and other landowners will make better decisions than federal government bureaucrats in managing their pastures and other land against environmental conditions.