By Betty Jo Gigot, Publisher
The opportunity to travel to Australia three different times and also to spend a month each time is one of my most treasured memories; at my age, there are a lot of them. As I look back at the hundreds of photos I brought back, including this one of me driving on the other side of the road (would you believe I saw my first round-about over there) the memories come flooding back. I am sure some of them are places that are smoldering in ashes right now. What can we say except pray for rain and for our friends facing such devastation.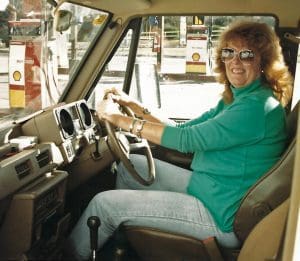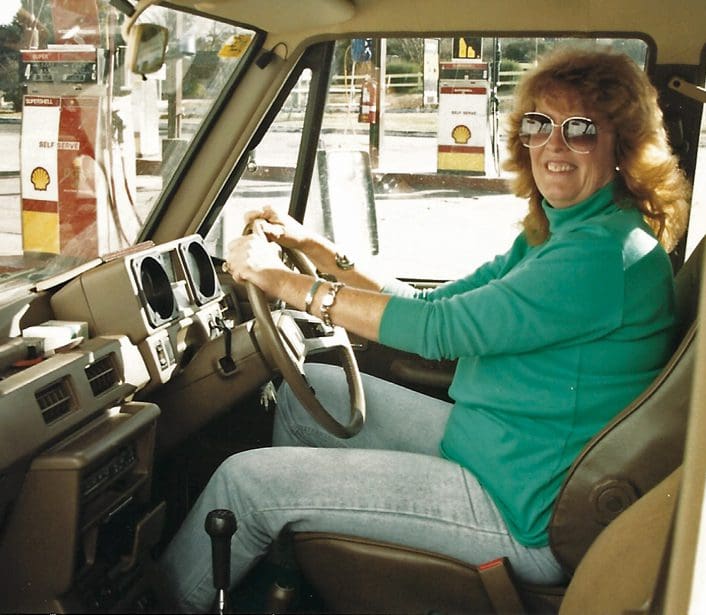 One of my favorite stories from that time was about a station (ranch) I visited on the way to Ayres Rock (now called Uluru). The lady of the station was a 60-some-year-old pilot of a small plane that flew tourists around "the Rock." She told me about a nine-year drought on the station years before – and that was not that unusual out there. "Would you believe, when it finally rained, the kids water skied on the lake next to the house for six months," she said.
My response was, "It seems to me the most difficult decision you would have to make out here is when to buy a boat?" All smiles aside, it's not climate change, it is a fact of life "Down Under" and sad for the soul.
I live in a complex where a number of Canadians retreat for the winter. One question I hear often is how I feel about the Trump presidency. My answer always goes immediately to the number of over-reaching regulations that have very quietly gone away, particularly in the agriculture field. One of the most far reaching is Waters of the United States (WOTUS) rule, which gave total control of every drop of water in the country to the government. The Canadians, in turn, don't seem to object to the up-and-coming trade changes with the U.S.-Mexico-Canada agreement we are spotlighting in this issue.
As I write this, the Chinese are supposed to sign "Phase One" of our new agreement. How that will affect those of us in the beef community is to be seen.
Pretty far removed from the day-to-day rural life many of you experience, a few days on a mountain in southern Arizona brought back reminders of real life. Staying in a small-walled casa in Patagonia, visitors and I ate at the old hotel, shopped at the tiny market on the corner and toured the town, looking for the old railroad terminal that had been one of the largest cattle shipping depots back in its heyday.
It rained as the cattle on a friend's ranch were moved from one pasture to another. The Mexican food in the converted Texaco station was great for lunch, and dinner that night was at the county fairgrounds. More than 100 ranchers, wine makers and winter visitors ate steaks and clapped loudly as awards were given to the year's outstanding volunteers. Another evening, we went to Tucson for cocktails and dinner and, would you believe, old friend Baxter Black and his crew were holding their Christmas party there. There were hugs all the way around.
Every year about this time, I use the old quote, "May you live in interesting times." That certainly applies to our world today, but before we throw up our hands and cry "all is lost!" let's look at the facts. Beef is still the food of choice, we don't have nine-year droughts and spring is on the way. There is a lot to look forward to. Meanwhile, between trade and Iran and what in the world Harry and Megan will do next, stay tuned