By Patti Wilson Contributing Editor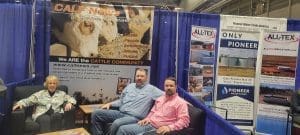 Rainfall and groundwater vary widely across our country. Often, eastern areas have more than adequate precipitation. Some Nebraskans can stand in a pasture and watch water bubble out of the ground. There are those farmers and ranchers, however, who have neither enough rainfall nor access to an aquifer. Those folks must get creative to survive.
A Valuable Business
Jeff Perrine, co-owner of All-Tex Irrigation and Supply in San Angelo, Texas, and Justin Harlin are two of the people who serve farmers, ranchers and town folk in arid West Texas.
Harlin explains that, although some ground water is available for household use and stock tanks, farmers who are serious about irrigating crops take their water conservation seriously. They employ water storage tanks and "rain harvesting," saving water that is mainly runoff from roofs. The close-topped tanks allow very little evaporation and use of marginal aquifer water is cut back drastically.
West Texas is an area that may typically receive an average of 20 inches of rain per year. According to Harlin, one-fourth of it might arrive in a single downpour – 5 to 6 inches in one day. All-Tex provides above-ground tanks to catch rainwater from rooftops, and systems to take that runoff to water storage tanks and livestock drinkers of all sorts. It is becoming increasingly popular for town dwellers to install tanks for household use.
A Perfect Fit
Perrine, along with his business partner Royce Pyssen, purchased their enterprise already intact; they had previously both been oil field workers. Harlin had been a welder in general construction and owned an autogate business.
The new owners saw an opportunity to renew what was already a good, clean, locally owned entity with the possibility of expanding the business base. Almost anything related to outdoor plumbing and water is on the shelf at the San Angelo location. The collection and storage of rainwater units has turned into a major asset for the company, which can set up any size system you wish.
Water conservation is encouraged and accepted in Texas. Getting Natural Resources and Conservation Service (NRCS) approval is common. There's government money and some tax-exempt status available with lots of positive feedback from agencies. It is one government program that works. In addition, Texas has nearly 100 water conservation districts that deal with every water-use issue.
In many other states, landowners' wells are metered on "well logs." Perrine says such regulations do not yet exist in Texas, but water districts are moving in that direction. Parts of the state do not lie over an aquifer. That fact is beginning to settle into districts that anticipate possible problems in the future. San Angelo sits between the Lubbock Aquifer to the north and Edwards Aquifer to the south. According to Comptroller.Texas.gov, the Edwards site is used primarily as a municipal water source for San Antonio, the seventh largest city in the United States. Seventy-two percent of the Edwards Aquifer discharge is used for the sprawling town. Water is becoming an issue.
=Jeff Perrine is hard at work in Texas.
In North Texas, the Panhandle is less productive and more sparsely populated than south of San Angelo; it isn't squeezed by many water controls. Perrine says that South Texas is moving toward regulations more quickly as cotton farming and irrigation are more commonly used.
Farming Practices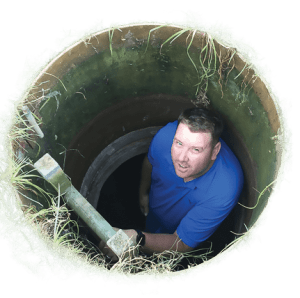 The duo explain that, although the politics in their area is not broad based, there are inconsistencies in farming practices and water use. Instead of widespread regulations, Extension services are educating farmers on irrigation and up-to-date agricultural practices. There's no doubt that the government will step in if education programs don't initiate changes.
Perrine sees center pivot, drip irrigation and flooding practices in his business. He maintains that pivots are available with high-tech moisture probes to stop nozzles from watering where ground moisture is adequate. He also warns that, currently, it's fairly pricey technology. All-Tex is a distributor for Zimmatic pivot irrigation systems and the company is current on all available innovations.
Houses and Livestock
Surprisingly, rain runoff from a home or barn can provide enough water for a typical household. Domestic water begs the question of purification. All-Tex provides that service, as well. A standard system will handle 15 to 20 gallons of water per minute; it includes a sediment filter, carbon filter and a UV light. Each step filters out progressively smaller debris or contaminants until the water is potable. Many urban customers can store enough filtered water to last a household two to three months.
As many area farmers have installed industrial-sized tanks, word of mouth and scrutiny by neighbors has been an excellent means of spreading the word on the advantages of harvesting rainwater, Harlin says.
One remarkable observation made by local farmers involves chemical resistance that weeds have acquired to the herbicide Roundup. When mixed and applied with rainwater, resistance seems to have disappeared, reviving a good, dependable staple in a farmer's arsenal for weed control.
Groundwater runs deep in Texas, so nitrogen leaching into aquifers is not a problem. The water is quite hard, however, and some folks opt to use All-Tex filtration systems on their groundwater as well as rain storage tanks. Though many customers are able to tend to their filtration and UV systems on their own, others rely on expertise from All-Tex to help them adequately maintain their setup.
What Does This Look Like?
Perrine describes the holding tanks as looking like a "giant grain bin." Smaller household models are typically made of poly and are sold in a variety of colors; homeowners enjoy this, since they can match it to the color of their home. Agriculture tanks, which are larger in scale, typically are galvanized and installed out in fields or closer to wells. All are closed-top, which prevents debris and animals from contaminating the water collection. They are priced by the gallon, $1 to $1.50 per gallon for the tank, pipeline and filtration system.
Fast becoming top sellers for All-Tex are Pioneer Water Tanks (galvanized storage tanks) and Ranchbot, a water-level monitoring system. These are two Australian companies that have revolutionized how people in West Texas rainharvest and store water. All-Tex contends that Aussies are intelligent when it comes to water conservation. Ranchbot, for example, uses a mechanical gauge to oversee water levels in virtually any tank, and the information can be accessed from your cell phone 24/7.
Agricultural tanks run an average of 65,000 gallons, with residential tanks at 30,000. It is not uncommon for a farm or ranch to have multiple units. Many are even equipped to keep one foot of well water in any given tank as a backup for fire suppression.
Perrine and Harlin poke fun at Colorado's regulation prohibiting rainwater harvesting of more than 50 gallons in volume. Harlin says this amount is "nothing."
What Does the Future Hold?
Perrine and Harlin, along with their nine employees, continue to strive to grow the business. A big part of that right now means educating farmers, ranchers and homeowners in West Texas about the benefits and feasibility of water storage and rainwater harvesting. They stress the importance of cotton farmers in the area and want to be on the front line of rain harvesting.
"Irrigation is important but rain harvesting is more important," they assert.
"You don't know the value of water till the well runs dry," Perrine says. "Water is everything, and the sky's the limit."