A Big Win for Beef
By Larry Stalcup, Contributing Editor
In between impeachment proceedings, exterminating the world's deadliest terrorist and a host of other political posturing, the loooong-delayed U.S.-Mexico-Canada Agreement (USMCA) is expected to be in the books soon.
On Dec. 19, the House of Representatives voted 385-41 in favor of the trade agreement (more than a year after President Trump initially signed the proposed trade agreement). The U.S. Senate approved USMCA on Jan. 15.
"Today is years in the making," Senate Finance Committee Chairman Chuck Grassley (R-Iowa) said. "Soon, the entire country will benefit as a result. I commend President Trump, Ambassador Lighthizer and my colleagues in Congress for their hard work in getting to this point.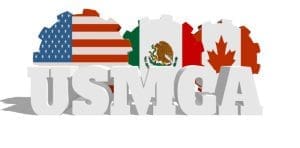 "I expect the full Senate will act soon and that final approval of USMCA is just around the corner.
USMCA replaces the North American Free Trade Agreement (NAFTA) implemented in 1994. NAFTA was a friend to the beef industry and other commodities. But some other industries wanted more access to better markets.
According to the USMCA Fact Sheet, the trade agreement provides "expanded market access for American food and agricultural products."
It states: "America's dairy farmers will have new export opportunities to sell dairy products into Canada. Canada will provide new access for U.S. products, including fluid milk, cream, butter, skim milk powder, cheese and other dairy products. It will also eliminate its tariffs on whey and margarine.
"For poultry, Canada will provide new access for U.S. chicken and eggs and increase its access for turkey. Under a modernized agreement, all other tariffs on agricultural products traded between the U.S. and Mexico will remain at zero."
After months and even years of touting the trade benefits of USMCA, leading spokespersons for regional and national beef organizations were relieved with the USMCA passage by the House of Representatives and Senate
"This was a crucial win for all U.S. beef producers and a reassurance that U.S. beef will continue to have duty-free access to Canada and Mexico," said National Cattlemen's Beef Association (NCBA) President Jennifer Houston. "A big thank-you goes to the Trump Administration and every lawmaker who voted to approve USMCA."
"USMCA passage is a big win for cattle feeders," added Paul Defoor, chairman, Texas Cattle Feeders Association. "This will reassure duty-free access to Mexico and Canada and allow us to continue serving consumers at home and abroad a safe and consistent supply of affordable, quality beef."
Ken Herz, Nebraska Cattlemen president, said trade agreements like the USMCA are critical to Nebraska's economy. "Nebraska Cattlemen applauds the passage of USMCA," Herz said. "Nebraska leads the nation in commercial red meat production and depends on reliable, unrestricted access to our two closest trading partners, which totaled over $250 million worth of beef exports from Nebraska last year. We commend the leadership of our elected officials in this effort."
He added that USMCA keeps the highly successful framework for U.S. beef trade in place with the nation's closest trading partners and brings much-needed certainty to farmers, ranchers and rural communities after a challenging year.
Matt Teagarden, CEO of the Kansas Livestock Association, agreed with Herz's praises. "Approving USMCA sends the message to the rest of the world that we are open for business, which is good news for Kansas agriculture," he said. "The agreement updates NAFTA to reflect our modern economy while preserving the unrestricted access for U.S. beef exports to Canada and Mexico."
"We applaud the House of Representatives [and Senate] for quickly passing USMCA," said Robert McKnight, Jr., president of the Texas and Southwestern Cattle Raisers Association (TSCRA). "The broad, bipartisan support underscores just how important ratification of the agreement is, especially for American ranchers who will send billions of dollars of U.S. beef to Mexico and Canada, thanks to the continuation of duty-free trade with our neighbors."
Sen. Grassley said USMCA is a win-win. "This modernized trilateral trade agreement will open new markets for American exporters, create hundreds of thousands of new jobs, grow the national economy and protect U.S. workers," he said. "That is good news for millions of farmers, manufacturers and workers in every corner of America."
Houston said NCBA expects the trade agreement to be approved soon, and "I urge the Senate to swiftly pass the USMCA and send it to the President's desk."
Learn more about USMCA Learn more about USMCA at https://ustr.gov/trade-agreements/free-trade-agreements/united-states-mexico-canada-agreement/fact-sheets/strengthening.
Sidebar:
China, Japan, EU Trade Deals
While the USMCA was getting approved,  the U.S.-China agreement was reached in December and signed Jan. 15. Talk about finally – the trade groups approved it after several years of tariff tiffs that have impacted most agricultural products.
About every keynote speaker at major regional and national cattle meetings has repeated that a China deal looks close, only to see agreements killed by more squabbles and tariff threats from U.S. and China officials. Call it a new age "China syndrome."
But Phase One of the hard-to-reach trade deal was agreed on and signed at a White House ceremony Jan. 15. China is expected to make some $40 billion or more in additional U.S. ag purchases, including soybeans, corn and distiller's grains. That's a strong boost to struggling grain prices. And it's expected that more U.S. beef will also head to China.
Trade deals with Japan and the EU were also achieved in late 2019. Global Meat News reported that by a vote of about 4 to 1, the European Parliament approved a trade agreement between the two markets. It will increase America's share of hormone-free beef quotas.
The Japan trade deal will gradually lower tariffs on U.S. beef exports from 38.5 percent to 9 percent. Japan is already the largest export market for U.S. beef, accounting for approximately $2 billion in sales per year. NCBA indicates this will keep U.S. beef on an even keel with imports from Australia, Canada, Mexico and other countries.
"There's just no other way to say it: this is a tremendous victory and a great day for America's beef producers and Japanese consumers," said NCBA President Jennifer Houston. "For many years it has been a top priority of NCBA to remove tariff and non-tariff trade barriers that have prevented American beef producers from meeting Japanese consumer demand for safe and high-quality U.S. beef."
"This agreement levels the playing field and opens the door for U.S. beef producers to meet consumer demand in Japan. NCBA has been a strong supporter of President Trump's push for a bilateral trade deal with Japan, and we look forward to capitalizing on this opportunity in 2020."
She added that because of the Trump Administration's commitment to this issue, "America's cattle producers will no longer be at a competitive disadvantage in our largest export market. That means our current market of $2 billion a year – nearly $100 per head sold – is likely to grow in the years to come."