Bill Gates' Call for '100% Synthetic Beef' Blasted at Cattle Industry Convention Winter Reboot
By Larry Stalcup, Contributing Editor
If you use a computer or tablet, you've probably sent Microsoft mogul Bill Gates money in one way or another. He oversaw the birth of Word and Excel, key in most of our lives. But despicably, the Silicon Valley sultan has a plan that indirectly steals more money from cattle producers. He's spreading spam that rich countries "should move to 100 percent synthetic beef."
His bad-beef blabber is in the name of saving the planet. It stoked the flames of the National Cattlemen's Beef Association (NCBA), and producers and feeders nationwide – those already fed up with deceptive claims that cattle production promotes excessive greenhouse gases. It escalated during the recent virtual "Reboot" of the Cattle Industry Convention and NCBA Trade Show. Industry leaders followed up after the convention with further takes on Gates and his new book, How to Avoid a Climate Disaster. NCBA policymaking, COVID-19 and a pasture full of other issues were also discussed.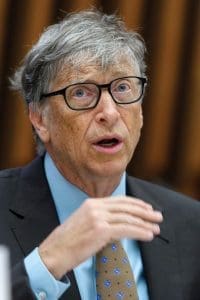 "A big problem that has come out of COVID is it gave AOC [Alexandria Ocasio-Cortez, D-N.Y.], Bill Gates and fake meat a voice for their agenda," said Damian Mason, long-time beef industry friend and reboot emcee. "They use media and misinformation to drive an agenda."
Gates, either the world's richest person or close to it, is a publicized investor in fake meat companies Beyond Meat and Impossible Foods. He stated in an interview for the MIT Technology Review, "synthetic alternatives [like plant-based burgers] will be required" to help in solving the climate disaster. When asked about agriculture's role in promoting climate change, Gates said, "In terms of livestock, it's very difficult. … So no, I don't think the poorest 80 countries will be eating synthetic meat.
"I do think all rich countries should move to 100 percent synthetic beef. You can get used to the taste difference, and the claim is they're going to make it taste even better over time."
That was horse hockey to the convention's cattlemen and women, including NCBA officers and staff members.
Jerry Bohn, long-time Kansas cattle feeder and new NCBA president, said producers know Gates' claims are BS. "The reality is we know cattle can be a part of the solution," he said. "We know that pasture and rangeland, through proper management, can actually reduce the amount of carbon and more than offset the short-lived methane emissions of our cattle."
NCBA staffers further discussed attacks on beef production during the convention's Washington, D.C.-Beltway update. "The beef industry has achieved [environmentally friendly] sustainability without the EPA and Bill Gates telling us what to do," said Colin Woodall, NCBA CEO. "We produce more beef with fewer cattle. We know that without good soil, water and air we don't have a cattle industry."
Danielle Beck, NCBA senior executive director of government affairs and so-called "fake meat queen," said the association's goal of obtaining true meat labeling at the meat counter is advancing. Fake meat "truly needs to be differentiated" from beef, she explained. "We are prepared to engage on labeling but there is a lot of work to do."
Kaitlynn Glover, NCBA executive director, public lands council and natural resources, said the discussion on carbon sequestration and emissions management remains hot on Capitol Hill. "Everything I do is related to climate," she said, adding that a "lot of education and translation is needed between Washington and producers. Our producers have a good story to tell [about stewardship].
"We're talking about making sure grasslands and forests are healthy. We need to keep invasive species off our land. Grazing of federal lands is a great management tool to support the environment."
Working with President Biden
Cattle producers mostly backed President Donald Trump. Even though the industry wasn't overjoyed with some trade policy, producers and feeders applauded the Trump administration's views on deregulation and other conservative measures. What about President Joe Biden?
Woodall said there are a lot of skeptics among members that NCBA can't work with Biden. "But we were welcomed by the Biden administration," he said. "Look at where we are today compared to the start of the Obama administration. There's a world of difference."
He added that NCBA has a good working relationship with Sec. of Agriculture Tom Vilsack and is welcome in his office.
"We have had robust dialog with the White House," added Ethan Lane, NCBA vice president of government affairs. "That's not a promise they will do all we want them to do. But they are making it clear there is a seat for us at the table."
Lane discussed efforts to work with the new Congress. He and Woodall noted the voice of Sen. Joe Manchin (D-W.Va.), who is conservative on many issues. With the Senate split at 50-50, Manchin's vote could invalidate a tie-breaking vote by liberal Vice President Kamala Harris.
David Scott (D-Ga.) is the new House Ag Committee chairman. Lane said Scott told NCBA, "I want to take care of my cattlemen." Lane said there remain "blue dog" Democrats in Congress who are more conservative.
On the Senate side, Lane said NCBA has managed to work through differences with Sen. Debbie Stabenow (D-Mich.), Senate Ag Committee chairman. A new obstacle may be Sen. Cory Booker (D-N.J.), highly liberal, outspoken vegan and supporter of the Humane Society of the United States (HSUS), which wants to eliminate animal agriculture.
"We're not sure if he will engage in ag committee [business]," Lane said. "It's likely that the Senate Ag Committee is more interested in the welfare of producers in their state than they are of Cory Booker.
"[Congressional] agriculture is bipartisan," Lane pointed out, adding that the beef industry "has seen as many losses from the [far right] Freedom Caucus as we have from the liberal wing."
Woodall said the Beef PAC has a 95 percent success rate in getting candidates it supports elected. That's higher than most political action committees. "We have to work with both sides of the aisle and have fostered relationships on both sides," he said.
"We know AOC and Booker will come at us. He has HSUS talking points and funding to hit us. But we don't think they will have their party's full support. There's relief that AOC will not go unchecked."
Lane added that worries about vegans taking over are far-fetched. "The percentage of vegans in the U.S. has remained just 3 percent for 30 years and likely won't change," he said.
Biden's American Rescue Act
The NCBA staff addressed government relief from hardships caused by COVID-19, noting that then former Sec. of Agriculture Sonny Perdue acknowledged, "if not for NCBA, the Coronavirus Aid, Relief and Economic Security Act (CARES) would not have happened for beef and all of agriculture."
President Biden's $1.9 trillion American Rescue Plan Act was signed into law March 11. It was highly partisan. Not one Republican voted for it, claiming it was a mega pork barrel for Democratic-led cities that were hurting long before the pandemic.
According to the American Farm Bureau Federation, agriculture's share of the Rescue Act is an estimated $10.4 billion for programs designed to strengthen the agricultural and food supply chain (see chart below). It provided needed debt relief for socially disadvantaged farmers and ranchers and to increase access to rural health.
More NCBA Victories
Woodall and his staff highlighted other NCBA victories to help producers and feeders. They included:
RAMP UP Act, to provide financial assistance for expansion of packer capacity. This could lead to more regionally and possibly producer-owned facilities to better manage price transparency.
Helped get rid of controversial Waters of the U.S. (WOTUS) and replace it with the Navigable Waters Protection Act, which contains more reasonable actions to protect U.S. water sources.
Grey wolf delisting as an endangered species. Woodall noted it would be difficult for Biden to change the delisting of the Grey Wolf, Navigable Waters Act, and other deregulation programs through executive orders. "The rule-making process takes time," he said.
NCBA convinced EPA to drop regularly scheduled inspections on semitrucks. NCBA is looking for a permanent fix to hours of service issue.
Beck said NCBA has constantly lobbied to kill the infamous Death Tax, which can ruin a family ranch or farm due to extraordinary federal tax obligations. The limit is currently $10 million and is in place until 2026.
In March, the Death Tax Repeal Act of 2021 was introduced by Sen. John Thune (R-S.D.) and Reps. Sanford Bishop (D-Ga.) and Jason Smith (R-Mo.).
"The estate tax disproportionately harms cattle producers because with few options to pay off tax liabilities, many farm and ranch families are forced to make tough choices at the time of death – and in worst-case scenarios, must sell off land to meet their federal tax burden," NCBA President Bohn said.
The bipartisanship of the bill is what NCBA is looking for, even if it means fist pumps with the AOCs and Bookers. "Many of you may be shaking your head and asking, 'What is NCBA doing?' What we are doing is what we do best. We do it by making friends – but also by waging unrelenting battles with those across from us."
Get Vaccinated!
Various educational sessions on cattle production and marketing, land management and other topics were conducted during the Reboot convention (visit beef.org for information on how to access them). All will be covered in more detail August 10-12 when the official 2021 Cattle Industry Convention and NCBA Trade Show honkytonks into Nashville and Opryland.
"If you haven't already – consider getting vaccinated – so we can all get together again," Woodall urged.
As for worries about the out-of-touch comments by Bill Gates, Texas Cattle Feeders Association recently noted that, besides his fake meat comments, Gates bragged about his foundation's work in Africa to crossbreed cattle with elite U.S. beef lines, because they are so productive and the emissions per pound of beef are dramatically less.
Nonetheless, his yammer on the U.S. switching to synthetic beef is nonsensical. He's taken enough of our money already.