By Patti Wilson, Contributing Editor
A veterinarian's life consists of many layers. The journey to a Doctor of Veterinary Medicine (DVM) degree and beyond takes years, encompassing a wide range of experiences. Most veterinarians will tell you it requires discipline, stamina and a good sense of humor.
Travis McCarty, DVM, and I joined up on a virtual road trip. He was heading home from work as a feedlot consultant; the long drive made a great opportunity to visit about his life and practice. I, on the other hand, was at home in my office, sequestered due to the dreaded pandemic. We had good talk.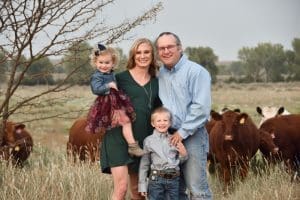 The First of Many Layers
McCarty's life began at Ashland, Kan., on a cow-calf and stocker operation. Having a practical nature, he recognized early that coming home to the ranch after college would be impossible without additional outside income on his part.
He plunged into his college studies at Kansas State University (KSU), taking up agricultural economics and animal science with a business option. As time passed, the dual-major student began to envision himself working, inevitably, in an office for a large corporation. Behind a desk. Mulling it over in his mind, he realized that was not going to happen to him. He needed to be outside, and he needed to be with livestock.
McCarty had always been intrigued by livestock production medicine as an undergraduate. Additionally, he'd had excellent veterinarian mentors in his hometown. For him, the decision to begin prevet studies as a senior in college was simple. So, to the consternation of his parents, McCarty doubled down on his class hours and added a semester of class time to his growing education.
The risk here must be pointed out. There was no guarantee of getting accepted into veterinarian school at KSU; he was hanging out on a proverbial limb. And, as we know, the gamble paid off.
Making Adjustments
McCarty said the most difficult part of veterinary school was physically learning how he needed to study to make it through. Most of us don't realize the (sometimes humorous) consequences of attending a college of veterinary medicine. These people are required to learn about everything that moves, reptiles included. McCarty said he did not appreciate the time spent on exotic zoo animal medicine. Somehow, he had no interest. It is compelling to learn that hours in the classroom are not primarily focused on production livestock. Dogs, cats and horses are studied in greater depth.
Consequently, the Kansas veterinarian said that internships are far more valuable to everyday learning experience, and lessons mastered in the field are carried forward with deep appreciation.
After KSU graduation, McCarty spent a year interning in Oklahoma at the prestigious Oklahoma Equine Hospital before moving back home, where he spent seven years at Ashland Veterinary Center. His focus there was cow-calf health, reproduction and feedlot medicine.
VRCS, LLC
Time passed and McCarty was ready to move on to owning his own business. He is now part of a group of veterinarians, Veterinary Research and Consulting Services, LLC (VRCS). He found his position there through industry contacts and a sterling reputation.
The young veterinarian describes it as an "11-veterinarian thinktank." Each team member works remotely, bringing his own clients, and each of these clients has access to the services of the whole LLC. Think of it as available doctors giving second opinions, as needed. Feedlots also have access to pathology/diagnostics, research and consultation on regulatory issues. The LLC itself is owned and coordinated by Dr. Trent Fox, who juggles many balls, having veterinarians scattered out in eight states.
The company's focus is on research, the results of which are used to develop protocol for clients. VRCS does not sell any pharmaceuticals, nor do they collect any rebates from drug companies. They remain unbiased on drug brands.
The largest segment of their business focuses on feedlot cattle. McCarty says, collectively, the veterinarians at VRCS will develop protocol for 2 million head on any given day. Team members consult for some dairies, as well.
What Is Consulting, Anyway?
McCarty's typical workday will be to arrive early at a client feedyard and meet with the manager. They will discuss what's going on in the yard and look at data, searching for trends that are working or those that need attention. He rides with the cowboys as they check pens and doctors sick cattle with the crew. He calls himself a "glorified educator," observing the crew and teaching protocol. The employees are tuned up on vaccine and antibiotic use, identification of sick cattle, how to treat them and how to administer treatments. Think of this as an intensive Beef Quality Assurance (BQA) session.
He emphasized the importance of making sure the feedlot's goals are in line and that no contradictory practices are interfering with that target.
A Veterinarian's Life
McCarty will consult with nine to 12 feedlots per month, and still finds time to help out at the home ranch near Ashland. His schedule varies and time spent away from his family can be extensive. He estimates spending five nights per month in hotels, with plenty of drive time and an occasional plane ride to reach client lots. His feedlot consultation route can be exhaustive; the doctor is licensed in Nebraska, Kansas, Oklahoma and Colorado.
He says his time constraints are no different than working out of a clinic and being on call, and he currently has more flexibility than a more traditional business model affords.
It's Still BRD
Bovine respiratory disease (BRD) continues to be the No. 1 problem regarding feedlot cattle, with zero advancement in total morbidity and mortality rates for at least 20 years.
McCarty considers the vaccines on the market today as great, but we are falling short on animal husbandry. Citing a decades-old term, husbandry was once the name of agricultural college degrees and has since been cast aside for the word science. He emphasized the importance and meaning of that word.
"It means empathy and the provision of comfort for livestock – sufficient bunk space, clean pens, clean water tanks, adequate bedding and quiet handling methods," McCarty says.
Focus on animal husbandry will enable vaccines and antibiotics to work more effectively. Minimizing stress will provide healthier cattle and greater profit potential.
He cites large employee turnover, a chronic problem that plagues all of agriculture, as an area that requires him to train and re-train feedlot crews. It has become a never-ending necessity.
Final Thoughts
"Regardless of what segment of the production cycle a producer is in, do not forget about animal husbandry. Decrease the stress!" he asserts.
Travis McCarty is married to Kelly, an accountant in Ashland. Thy have two children – Asher, 5, who is busy in kindergarten, and Anistyn, 2. They already love cattle.