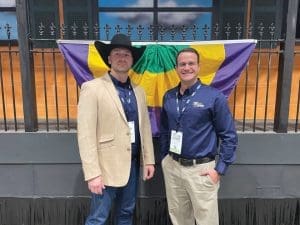 By Patti Wilson Contributing Editor
Global bioscience company Chr. Hansen has launched a new probiotic product into the U.S. market. It adds to the 30-plus years of probiotic research and products that have benefitted feedlot cattle and their gastrointestinal functions. The company is constantly looking at alleviating stress for livestock in the ever-evolving finishing segment of the cattle industry.
Garrett Preedy is a technical service beef specialist for Chr. Hansen. He says the new feed additive, Bovamine Defend Plus is an extension of the company's original Bovamine product.
Preedy said that Bovamine Defend has already been used across all beef segments for more than 30 years, but the company wanted to address timely issues among cattle producers by combining two new bacteria strains. These specific Bacilli strains are not new to Chr. Hansen and have been used across other livestock species for many years. Chr. Hansen set out with the extensive beef research project about five years ago.
The initial research began with specific clostridium inhibition work as well as rumen digestibility using high fiber and concentrate diets. Phase two included cattle performance and feed digestibility studies at Texas Tech University and Colorado State University. Phase three include the first of several planned large-pen feedlot studies at commercial feedlots throughout the Midwest.
Bovamine Defend Plus has shown average daily gain improvements averaging 0.15 lb./day across the three finishing trials, resulting in increased final body weights and carcass weights. Feed efficiency across the finishing period was also improved by 4 to 6 percent. Last, overall mortality rates (deads), pen removals (pulls) and total cumulative pen outs (deads and removals) in the commercial large-pen study were all reduced.
Preedy considers clostridium inhibition as, perhaps, the most important breakthrough, saying that stress and clostridia are 100 percent related. He regards pathogen inhibition as a "big target." The longer cattle are on feed, the more likely they are to suffer some manner of stress.
"It's a history lesson on all we have built. Good management on all fronts has to be dialed in," he explains.
Bovamine Defend® Plus is currently available everywhere in the U.S.