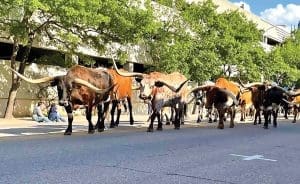 By Larry Stalcup Contributing Editor
Vance Reed grew up in the Texas Panhandle and had always loved its Western heritage. So when the successful beer distributor and other like-minded Amarillo-area business leaders wanted to promote that cowboy custom, they toasted the creation of an all-ranch rodeo – one that is ready for its 35th edition this June 1-3.
Now branded as the Coors Cowboy Club Ranch Rodeo, it will feature all traditional ranch rodeo events at the Amarillo Tri-State Fairgrounds. Cowboys and cowgirls from 20 working ranches will compete at the fairgrounds Amarillo National Center.
"The rodeo has come along way," says Vance, chairman of Reed Beverage, Inc., in Amarillo. "My friends and I were part of a group called The Outfit. All of us had an interest in horses and roping and saw an opportunity to help recognize the importance of working ranches in our region. Our first rodeo kicked off in June of 1987, and we've been holding them ever since."
Vance was raised in Borger where his father, Joe, was a young butcher who perfected his trade enough to head up the kill floor at Pinkney Packing Co., in Amarillo. Borger was still in its boomtown era when oil field workers were ready for adult libation at quitting time. While Borger was in a "wet" county, surrounding counties were still post-Prohibition dry.
"Dad bootlegged whiskey to area towns on horseback," Vance says with a grin.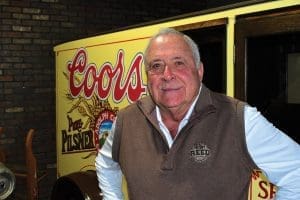 But Joe actually had a more businesslike approach in mind. He bid cheers to the carving knife when the opportunity arose to enter the beer business. He began distributing Coors, Carling Black Label and other brands with a cousin in Borger and Amarillo.
Joe eventually was approached by Adolph Coors Co., to establish a warehouse in Amarillo in the early 1950s. Vance and his brothers all worked with their father from time to time. After working several years for Coors in Golden, Colo., Vance returned to Amarillo and eventually bought the company, which had become Great Western Distributing.
He, his roping buddies and others became big supporters of area junior livestock shows and other Western events. Later on, Vance attended several ranch rodeos and suggested The Outfit put on their own.
"It was eventually called the Coors Ranch Rodeo and I got into chuckwagon cooking for the ranch teams and their families," Vance says. "My son, Chris [now Reed Beverage CEO], and I talked about starting a social club of guys who loved the rodeo and cooking [and drinking beer, of course]."
The Coors Cowboy Club (CCC) was born. In the 1990s, the CCC began an Amarillo tradition of driving a herd of Texas Longhorns through downtown to kick off the rodeo. It symbolized the city's Western heritage like no other.
The CCC also cooked for regional horse shows and charitable events. When the National Cutting Horse Association held its world finals in Amarillo, CCC served up a ton of prime rib, all the fixins' and cold beer. CCC has cooked for events nationwide, including the pre-New Hampshire Primary rally for then candidate George W. Bush. The cowboy club has also served for events in Washington, D.C., Denver and other major cities.
The West Texas A&M University football team and West Texas ag school have also enjoyed plenty of CCC cooking. Vance's dedication to Western heritage and the overall Amarillo area community led to his being named the Amarillo Globe-News newspaper 2022 Man of the Year.
Colorado's Pete Coors, whose family founded the iconic brewery, told the newspaper, "I have known Vance for approximately 50 years; he is like a brother to me. He is one of he most generous people I know. He commonly uses his warehouse to house several charitable events. I don't know any citizen that is more involved in the community than Vance Reed."
Vance says community involvement is the nature of the beer business. "You exist by the will of the people," he says. "If the community is good to you, you have to be good to give back to it."
The Coors Cowboy Club Ranch Rodeo is a small part of what Vance Reed has helped bring to Amarillo. Cheers to Vance and his posse for making it happen. For more on the rodeo, visit https://www.coorsranchrodeo.com.