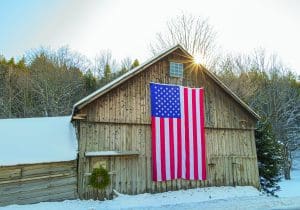 By Betty Jo Gigot, Publisher
"My dream is of a place and a time where America will once again be seen as the last best hope of earth." – Abraham Lincoln 
The past few weeks have been a time to reflect on our America and our nation's past and future. Right after Election Day came Veteran's Day, which found me on an airplane flying across the country. After a bit of confusion over the fact there was no Row 9 on the United flight (?) that day, I was blessed with a seatmate who is an 18-year U.S. Army soldier currently serving as an MP in charge of a cadre of men and 18 army dogs stationed in Washington state. John has served in a number of roles, including presenting the flag to families at Arlington Cemetery after their loved ones have been interred. John's wife is also active military. He was on his way to a wedding in Missouri to be a groomsman for a fellow soldier. He truly made my day. Talk about the best way to be reminded why we, as a country, have persevered in being the best place in the world to live. I salute John and all of the rest of those dedicated to keeping us safe. 
That said, the business of doing business is difficult nowadays for everyone. Try to order a piece of equipment or a spare part, or find fertilizer or even pay for the fuel bill and you realize it is a different time. Here at CALF News, our advertisers are having problems on the supply side as well as projections for the future, and we in the magazine industry are also feeling the pinch. As well as looking for advertisers, we have been held up on shipping twice because our printer has had problems with their stitcher. We are lucky that the printer has paper – also a scarce item. All I am saying is we are all in the same boat – you all feeding the world and us telling people about it. 
Now for some levity. I am amused and a bit puzzled about the new name for my small bank in Kansas who have changed their name from The First National Bank of XXXXX to Dream First Bank. Makes for an interesting check when I pay my bills.  
I was equally amused that, after requiring masks for months and months during COVID, in one school, students were told they could dress up for Halloween but could not wear masks. A recent trip to the post office brought laughs. While at the window I asked for a book of stamps.  
"What kind would you like," the postmistress said.  
"How about flags," I replied.  
"We don't have flags but we do have flowers and elephants," she said. "You are lucky, by the way. There is a rule that we have to ask everyone who comes to the window if they want stamps. We are reported if we do not do that. Last week, we were out of stamps. How do you think one feels when you ask if you want stamps, and when they do, you have to say, but we don't have any?"  
I got elephants. 
The obituary in this issue is especially meaningful to me. Bill Harmon was well-known across the Midwest and was my late husband's best friend. He was instrumental in my meeting Dean and was a dear man. We have lost a number of good people recently and they, like Bill, will be sorely missed. RIP 
As I write this, the final results of the election are just coming in. Finally. We here at the magazine have tried to address how we, as an industry, will need to adjust to the results as we know you all are. Our byword here is ONWARD.  
See you next issue.