A Whole Herd of Policies Discussed
By Larry Stalcup, Contributing Editor
arkets, packer capacity, the environment, foreign trade and government regulations were hot topics when Houston's space-age convention center hosted the Cattle Industry Convention & National Cattlemen's Beef Association (NCBA) Trade Show in early February.
It was only six months after the pandemic-delayed 2021 convention in Nashville. As in Music City, H-Town saw numerous committees and general sessions contemplate policies that will impact cow-calf and stocker producers, cattle feeders and satellite industries that depend on cattle production for their livelihood.
Guest speakers ranged from a former world heavyweight boxing champ and NFL MVP to Secretary of Agriculture Tom Vilsack. Attendees also received Texas-sized hospitality that included prime ribeyes, two-steppin' tunes and numerous educational sessions.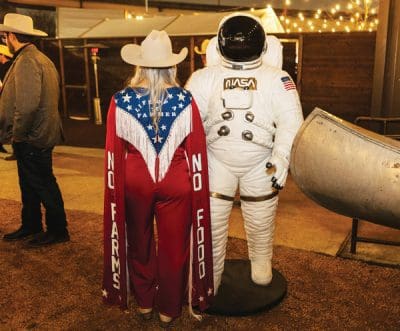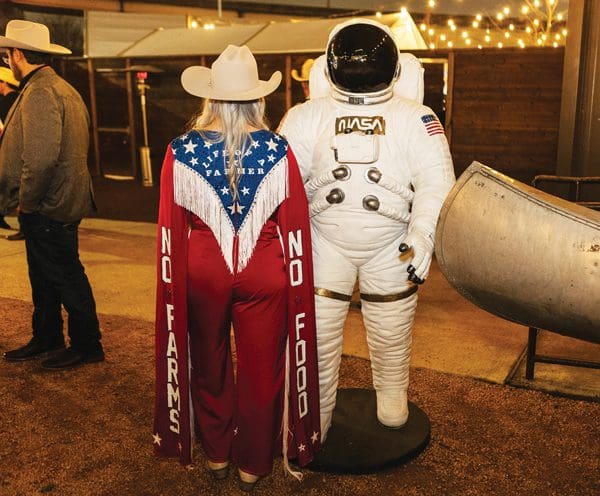 Vilsack spoke by video link during a general session. He addressed provisions by the Biden administration to help producers counter the effects of drought and roadblocks that hamper marketing. "We have two main goals: First, we want to create more new and better markets, and second, to develop local and regional food systems to make our system more resilient," Vilsack said.
"We have to expand meat and poultry processing capacity to make sure the markets we have are as competitive as they're meant to be. We want to make sure the supply chain catches up to demand and that we keep American agriculture on the move."
(On Feb. 28, USDA provided $215 million in grants and resources to strengthen the meat and poultry processing sector and create a more resilient food supply chain, part of $1 billion in federal investments to bolster handling capacity).
Vilsack said more funds are needed to provide local operators with "value-added assets" to improve markets.
"We hope to see more farmer co-ops so producers can gain from processing and marketing," he said. "We also encourage more price discovery [for producers] to be more confident in cash markets. We want to make sure producers don't have just one place to go." (See separate story this issue on NCBA's Live Cattle Marketing Committee action on page 30.)
Drought continues to dry out the Southwest, as northern production areas hope late winter snows will end devastating dry conditions in that region. Vilsack said USDA's Livestock Forage Disaster Program is available to deliver producers assistance to help compensate for losses caused by drought, wildfire and other storms during 2020 and 2021. He also promoted a new USDA app, farmerfairness.gov.
Return of WOTUS Could Spell Trouble for Stock Ponds
Ethan Lane, NCBA vice president of governmental affairs, said up to now NCBA has worked well with the Biden administration. But the administration's efforts to revise regulations that would cross the line on ranch and other private property water management could drown that relationship.
New administration proposals would repeal bipartisan exclusions for agriculture under the Navigable Waters Protection Rule set by the Trump administration and which existed under both Democratic and Republican administrations, NCBA Chief Environmental Counsel Scott Yager said in a letter to the Environmental Protection Agency following the convention.
"Without these critical exclusions, common features like stock ponds, agricultural ditches and drainage systems can fall under federal jurisdiction, preventing cattle producers from actively managing their land and caring for their cattle," Yager wrote.
Other issues addressed in Houston included:
The exemplary hours declaration for truckers set during COVID to allow for longer hauls of livestock. The lack of enough truckers is already an issue, along with other supply chain stalls.
Fake meat in various forms won't go away. Danielle Beck, NCBA senior director of governmental affairs, is determined to make sure there is regulatory action to ensure only beef can be labeled "beef" at the meat counter.
Efforts to improve traceability of cattle with contagious diseases were discussed, along with antimicrobial stewardship to combat antibiotic resistance, and defense against foreign diseases. "Preharvest food safety is not a one-size-fits-all [situation]," said Dr. Cathy Simmons, NCBA veterinary policy leader, adding that NCBA is working to better educate veterinarians on different pathogens and preharvest food safety.
NCBA contends Brazil's BSE issues are a threat. The World Organization for Animal Health requires that any case of BSE be reported within 24 hours. "[However] Brazil is knowingly holding back on [reporting] BSE cases," said Kent Bacus, NCBA senior director of international trade. "For Brazil, it's a matter of years [not days or weeks]. NCBA has asked the USDA to suspend trade with Brazil until they report [on BSE]."
Lane and Dame Karen Pierce, UK ambassador to the United States, discussed U.S. beef sales to the United Kingdom. With Brexit, the UK is no longer part of the EU's trade agreement with the U.S. "A free trade agreement [with the U.S.] is in our bests interests," Pierce said while wearing a cowboy hat on the Texas stage. "We want to sell our products as well as buy yours. Our job as Brits is to stand shoulder to shoulder with the U.S. We are developing legislation to improve tariffs [which are high in the EU]."
Sustainable beef production by U.S. producers is a key issue among domestic and foreign consumers. NCBA has set goals to "demonstrate climate neutrality of U.S. cattle production by 2040." Major buyers of U.S. beef want to know that cattle are produced humanely in order to satisfy consumer demands. The same applies to the UK and other countries. "[American ranchers and farmers practice] sustainable agriculture," Ambassador Pierce said. "You understand the land and the earth. You curate America's land for the next generation. That's an important area where we can work together. Anything you can do to showcase stewardship [should attract positive coverage in UK media]."
New NCBA Officers – Minnesotan Takes the Reins
Don Schiefelbein, Minnesota seedstock breeder and cattle feeder, was elected new NCBA president during the convention. He replaces Jerry Bohn of Kansas, who will serve as past president. He and his family operate Schiefelbein Farms, a diversified farming operation in Kimball, Minn. "I'm very fortunate to have been involved in the cattle industry through several different avenues and have seen the positive results when people come together," Schiefelbein said. "As NCBA's incoming president, I will continue bringing people together for the benefit of the industry."
The complete 2022 NCBA officer team approved by the NCBA Board of Directors includes Todd Wilkinson of South Dakota, president-elect, and Mark Eisele of Wyoming, vice president. Nebraska rancher Buck Wehrbein was elected chair of the NCBA Policy Division, and stocker/backgrounder Gene Copenhaver of Virginia was elected policy vice chair. Brad Hastings of Texas and Clark Price of North Dakota were elected as chair and vice chair of the NCBA Federation Division.
The officers and board adopted these policy priorities: improved market leverage and opportunities through increased access to market data and risk management tools for producers; securing the future of the beef industry by protecting crucial tax provisions, limiting regulatory burdens on farms and ranches and leveling the playing field for producers; boosting the resiliency of the beef supply chain by addressing labor shortages, improving processing capacity, expanding technology and strengthening transportation; and achieving key cattle industry priorities in the 2023 Farm Bill.
"With the challenging year cattle producers have faced, NCBA is focused on strengthening our industry for the future," Schiefelbein said. "By highlighting economic, environmental and social sustainability, we are addressing the long-term needs of the cattle industry and advancing policies that will contribute to business success, economic growth and respect for our way of life."
He said NCBA would continue to focus on protecting cattle producers from government overreach and burdensome tax and regulatory burdens.
Popular Sirius XM country DJ Buzz Brainard once again emceed the convention. One of his interviews was with Joe Theismann, former NFL MVP, who discussed ways to overcome obstacles and succeed. Also interviewed was a former world heavyweight champion whose name is on some 145 million George Foreman Grills that sizzle beef around the world.
Foreman mentioned how boxing got him off the streets. He had blow-by-blow accounts of his championship fights with Joe Frazier and Mohammad Ali, and discussed how the idea for a portable grill grew into the George Foreman Grill trademark.
His knockout-punch comment drew a roar from the crowd – "There's nuthin' better than a bone-in ribeye grilled."