Markets Improving but Millennials Play a Key Role
By Larry Stalcup  Contributing Editor
Producer and feeder markets remain far below the powerful profits currently enjoyed by major packers. But after struggling to breakeven for way too long, CattleFax indicates they should expect to see stronger prices heading into 2022 and even better markets through 2025. That's thanks to continued demand for high-quality beef across America, and an export market that generates more than $400 per head.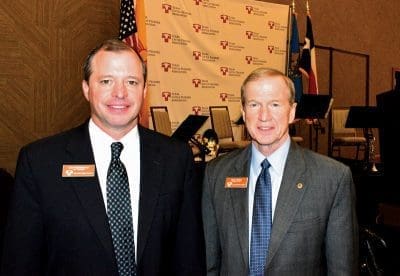 CattleFax CEO Randy Blach relayed the research group's analysis to the 54th annual Texas Cattle Feeders Association (TCFA) Convention in Oklahoma City in late October. He was among several speakers on the TCFA program, which included the latest information on markets, government policy and consumer trends that may impact cattle prices.
Outgoing TCFA Chairman Scott Anderson of Guymon, Okla., welcomed feeders, producers and allied industry reps to the Sooner State capital. Along with still being one of the nation's iconic cow towns, OKC boasts a 50-story skyscraper, a refurbished downtown and an NBA team. The sleek Omni Oklahoma City Hotel was a slam dunk convention site for the association, which represents feedyards in Texas, Oklahoma and New Mexico that finish nearly 30 percent of the nation's fed cattle.
With higher production costs triggered by $5 to $6-plus corn and other inputs, it may still be a struggle to generate much of a profit. But Blach said the latest CattleFax projections call for an average fed cattle price of $135/cwt. for 2022, up from about $120 in 2021. The price will range from $120 to $150, and continue upward through 2025, he explained.
Feeder cattle prices are also projected to trend higher the next few years. Prices for 2022 are expected to average about $170/cwt., up from $150 in 2021. Calf prices are forecast at close to $210/cwt., up from a little over $180 for 2021.
Despite stretched household incomes during the pandemic, U.S. consumers have continued to demand high-quality beef, Blach said. "Consumers have continued to vote with their wallets," he said. "Demand for Choice and Prime is up 75 percent from 1998. That's what we must continue to hitch our wagon to.
"About 83 percent of our product now grades Choice or Prime. That includes about 89 percent from Nebraska feedyards, 83 percent from Kansas and over 70 percent from Texas feedyards. We must keep listening to consumers and provide the product they want."
However, rising inflation could impact beef sales as consumers face higher costs. With gasoline prices at $1 per gallon higher at the pump, they're spending about $500 more a year on fuel, "a large change in disposable income for many consumers," Blach said. "How much will they have to spend on our products?"
Welcome to More Packing Plants
Low slaughter capacity, due mainly to the idling of several large packing plants the past eight or nine years, has kept more beef from reaching consumers. Blach said that since 2017, fed-cattle numbers have been up to 9 percent higher than slaughter capacity.
In 2012, harvest capacity was 525,000 head per 40-hour week. By 2020, it had dipped to 443,000. With the addition of Saturday shifts due to the pandemic, that capacity has risen to about 465,000. But that capacity was to accommodate 509,000 fed steers per week.
"We can finally expect those numbers to balance out soon," Blach said, noting that added slaughter capacity and more production from current facilities should raise capacity numbers to 490,000 to accommodate about 499,000 cattle in 2022. And by 2023, slaughter capacity is expected to surpass 505,000, while fed numbers will likely drop to about 494,000.
With help from about $500 million allotted for new or expanded packers from the federal government, there are 11 new plants or plant expansions in the works for completion by late 2023. New plant capacity will help serve more U.S. and foreign beef lovers, Blach said.
"U.S. beef exports are now about $410 per head in value or about 23 percent of the value of fed cattle," he added, with hide and offal values at $125 per head and cuts used for variety meats equal to about $55 per steer.
Blach maintained that government-mandated negotiated cash trade would hurt – not help – cattle prices. He said premiums paid to producers and feeders for Choice cattle ranged from $20 to as much as $85 per head over the negotiated cash price. If there is a mandatory negotiated cash trade, premiums will likely be reduced.
National Cattlemen's Beef Association (NCBA) President Jerry Bohn noted that the voluntary negotiated cash trade system supported by the national association is working. He added that NCBA is close to obtaining non-disclosure agreements with packers to report their negotiated trade and formula-based pricing numbers.
NCBA is among a cross-section of livestock and producer association groups that support legislation for a new Cattle Contract Library. It is designed to provide more price transparency through a cattle contract library with the U.S. Department of Agriculture (USDA) Agricultural Marketing Service. The American Farm Bureau Federation, U.S. Cattlemen's Association, National Farmers Union and the Livestock Marketing Association also support the library.
There are questions about privacy within the new system, but TCFA, NCBA, Kansas Livestock Association and other cattle groups will work to maintain privacy among cattle sellers and buyers, Bohn said.
Blach warned that if privacy is not maintained within the library, packers could have more leverage and the market "can be dumbed down. If we open the can of worms and show all the details, I think we will regret it. It will take margin away from producers."
Bohn pointed out that NCBA remains opposed to new efforts to revise the failed Mandatory Country-of-Origin Label (MCOOL) program and new or revised environmental regulations. Cattle traceability, the Beef Checkoff and other issues are also on the radar. Anderson, manager of CRI Feeders in Guymon, Okla., said voluntary negotiated cash trade, packer supply, drought, industry sustainability and other issues are on TCFA's watch list for the coming year.
He said the Beef Checkoff remains a valuable tool to help educate consumers about the importance of beef in the diet and how it is sustainably produced. "We were sustainable before sustainable was the word of the day," he stressed. "The average consumer doesn't have any understanding of how to get food to the table. So why is the checkoff having to defend its existence after what that $1-per-head assessment has done for us?
"Our mission is to collectively work together [as producers and feeders] to protect the future of our industry," Anderson said. "All issues are emotional. Being passionate is a great thing. But America has seen a demise in critical thinking.
"We need to step out of our comfort zone and get engaged, get involved in [TCFA or NCBA] committees. We need to share our story and expand consumer trust."
88 Million Millennials – Will They Eat Beef?
Renowned demographer Ken Gronbach posed that startling question during the TCFA forum. He is president of KGC Direct LLC, and his data on U.S. and world population statistics on Millennials and other age groups presents harsh challenges to the beef industry.
Born from the early 1980s through about 1996, Millennials have been stereotyped as slackers who aren't as eager to work and take responsibilities like their parents – Baby Boomers. But Millennials are the heart of the workforce. They are raising families they have to feed. Many have different attitudes about spending practices than their parents.
Boomers, on the other hand, are retiring and moving on in life. "When they're gone, you have a problem," Gronbach told the cattle crowd. "Will Millennials eat beef? That's up to you."
That will depend on how the beef industry educates them on how cattle producers and feeders protect the environment, practice animal welfare and use sustainable practices on the farm, in the pasture and in the feedyard.
"Beef needs a 'Madison Avenue' approach," Gronbach contended, as well as expanded efforts to reach more consumers abroad. "You should watch out for Asian markets [which are facing lower populations]."
For example, China – a huge new market for U.S. beef – has millions of "old people they cannot feed," Gronbach noted, adding that's China's policy to limit families to one child several years ago created a huge gender imbalance. "There are 90 million young males with no women to marry."
Japan, another strong U.S. market for beef, is also an aging population. "Adult diapers outsell child diapers in Japan," Gronbach claimed, emphasizing the need for strong marketing efforts to reach Asian consumers and those elsewhere.
Anderson and Bohn pointed out numerous efforts by NCBA and state beef councils to promote beef to all ages of consumers. Massive social media campaigns supported by the checkoff are helping educate consumers on beef safety, healthfulness and ways to cook various cuts of beef.
Marketing took center stage at the annual TCFA Awards Luncheon. Lopez Foods, Inc., of Oklahoma City received the TCFA Beef Merchandiser Award. Lopez is one of the nation's top meat companies and is an industry leader in supplying a variety of protein products to the largest restaurant chains and retailers in the world.
Other convention speakers included Kevin Brown, best-selling author of The HERO Effect, and Pete Hegseth, co-host of FOX & Friends Weekend. Hegseth, who doesn't hold back on his conservative philosophy, predicted that Republicans could throw a kink in November's Virginia and New Jersey gubernatorial races.
He was right. Virginia flipped to a Republican after President Biden carried the state by 10 points in 2020. And New Jersey was razor-thin before the incumbent Democrat governor prevailed by a few thousand votes.
Charlie Sellers Remembered at PAC Auction
Charlie Sellers, a cattle producer, feeder, buyer, industry ambassador and auctioneer extraordinaire, died in September. A true friend to the industry and hundreds of others, he lent his talent for auctioneering to dozens of charitable groups in their fundraising efforts. Charlie, also a past TCFA chairman, was the regular auctioneer for the annual TCFA Beef PAC fundraiser. His golden tongue captured bids for everything from pheasant hunts and prized guns to jewelry, the finest hats and exotic trips.
This year's PAC event featured Ty Cranmer, a friend of Charlie's and an exceptional auctioneer himself. He roped bids from across the banquet setting. PAC numbers sored. One final item, a $1,000 gift certificate from The Metropolitan, an Amarillo restaurant and bar owned by Charlie's wife, Laura, fetched well over $10,000. It put the PAC auction total at more than $100,000, certainly fitting for Charlie, who worked hard to support political candidates and causes that benefitted the beef industry.
The PAC was a rousing toast to one of the industry's best friends.