By Burt Rutherford, Contributing Editor
Editor's Note: The Dec. 2021/Jan. 2022 CALF News featured Part 1 of the situation on the U.S.-Mexico border. It has reached crisis proportions.
"I use the word invasion."
That's how Brad Coe, sheriff of Kinney County, Texas, describes the situation on the Texas-Mexico border. Indeed, his description of the border crisis an invasion is backed up by the numbers.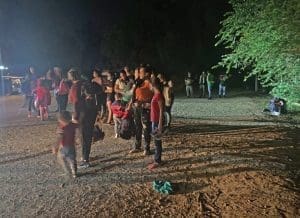 In 2021, just in his county alone, Coe, his six deputies, troopers from the Texas Department of Public Safety (DPS) and U.S. Border Patrol officers apprehended approximately 3,000 people, "since this all began back in the May-June timeframe," he says. In total, it's estimated that more than 2 million people crossed the southern border last year.
"That's what we're catching. What's getting away? We're not catching 100 percent. There's no way. So to me, it's an invasion."
Illegal immigration across the Texas-Mexico border has been ongoing for more than 100 years. Until recently, however, it was people, usually young men, coming to America in search of better jobs. Generally, these undocumented workers would send money back home to their families in Mexico.
It's different now, Coe says. They're still catching immigrants. But now, with the Mexican cartels in firm control of the border, those immigrants pay thousands of dollars to be smuggled across. From those, it's all the way up to MS-13 and other gang bangers, Coe says.
What's the breakdown between human trafficking and hard-core criminals? "That's a really hard call to say," Coe responds, "because it goes hand-in-hand."
The smugglers will bring a group of people across in an area where they know they'll be apprehended. "That takes all the resources away from the border because you've got to process and transport those people," he says. "While that's going on, they're moving their dope further down river or up river, and there's nobody there to intercept it."
Of course, money is at the root of this evil. "The last stats I had for the smuggling operations in our area, the organizations are making between $25 to $30 million a week," he says. "And there's no way we can compete with that. They've got unlimited funds and we're strapped by what we can afford here within the county."
Taking a Stand
Monica Deller, founder and CEO of Trauma to Triumph Ministries (traumatotriumph.org), lives a mile from the Rio Grande River and the Texas-Mexico border. She sees firsthand those who are crossing the property.
"Human trafficking definitely has gotten worse," she says. "They're not migrants. There are some harmless ones who come through who are looking for a better life. But all that we're seeing are the bad dudes."
Late last year, more than 200 people were intercepted a half-mile from her house. "We've had 14 at a time in our yard. I've had them try to push through the door."
Often, the groups of people being trafficked are preceded by armed cartel gang members who show up on doorsteps and try to enter homes. While burglary may be one motive, the real reason these armed men are present is to intimidate ranchers and other landowners on the Texas side of the border.
"They're just an extension of the criminal organizations that are pushing them [human trafficking victims] through. They're trying to intimidate people not to call when they see people trespassing across their property," Coe says.
Trauma to Triumph Ministries is a 501c3 organization that focuses on the most heinous aspect of human trafficking across the Texas-Mexico border – the child sex slave trade. Deller's ultimate goal is to purchase a property in South Texas that can be a place where these young victims can go to be healed physically, mentally and spiritually.
Over the years, Deller has fostered more than 70 children and teenagers and knows firsthand the trauma that many have suffered. Thinking of the victims of the child sex slave trade, she says, "People can't imagine what these kids have been through. They need more than a few months' therapy."
The problem, however, is that it can be hard to rescue these children if a group of adults and kids are intercepted after crossing the border. That's because, under the present administration, family units can't be broken up, Deller says.
So a group of adults with children merely has to claim that they're all related. If they're caught by U.S. Border Patrol agents, claiming they're related means they likely won't be arrested because of the difficulty in proving or disproving their claim. At the state and county levels, if they're caught on private property, people crossing the border illegally can be detained and jailed for trespassing. They can be detained, processed and deported, only to cross the border again.
If they're armed, however, unlawful possession of a firearm by an illegal alien is a federal offense, Coe says. "But the criminal trespass will go with it and we'll work with our partners, with BATF [Bureau of Alcohol, Tobacco and Firearms], Homeland Security and others on things like that."
For Coe and his six deputies, who have 1,400 square miles to protect, most of the smuggled illegal aliens they apprehend are on roads and highways. "The DPS troopers who are working this area, they're catching a lot of people who are on ranchland," Coe says. "We do see quite a few who have criminal records."
But county and state law enforcement are spread thin and Coe worries about the effect the ongoing invasion will have on his county. "All we have is agriculture. That's it."
The county doesn't have any factories or oil and gas reserves. "We don't have the infrastructure like the bigger cities. We have one grocery store, one gas station and we depend on our ranchers."
Beyond ranching, the biggest economic driver in Kinney County is hunting. "Our county will go from 3,600 people to 10,000 to 12,000 because of deer season," he says. "And the hunters treat us very well. They buy their groceries here. They buy their gas here. So we're dependent on the ranchers and the hunters to come in and support Kinney County. If we lose the ranchers and lose the hunters, we have nothing to fall back on."
If the intimidation, vandalism and violence brought on by the Mexican cartels force ranchers to sell and hunters to find hunting leases elsewhere, the economy dries up. "If ranchers have to sell, who's going to buy? Is it going to be the cartels? Is it going to be the Chinese?"
That possibility worries Coe. "We see the intel reports and the cartels have places established in Canada. They've got businesses established overseas in Europe and Africa and I'd be completely naive if I said they weren't operating here in the United States, even in my area," Coe says.
For the most part, however, border counties Like Kinney County and border towns like Bracketville, the county seat, are mere waypoints on the terrible trail that human trafficking victims travel. "The issues we're dealing with, what I see today, you're going to see tomorrow," Coe emphasizes.
National news is reluctant to report on the crisis. One of the few times the border crisis made the national news was when five young girls ranging from 11 months to 6 years old were abandoned in last summer's heat. Those children were found a mile from Deller's house.
Since most Americans are simply unaware of the crisis at the U.S.-Mexico border, Sheena Rodriguez is taking it upon herself to help people understand just how bad it is. She hails from the Dallas-Fort Worth metroplex and invites friends and neighbors to go with her on her trips to the border.
"It's like a distant problem," Rodriguez says, "and they just don't realize [what's really happening]."
The county, state and federal officers who work along the border get hit with anger from both sides. One side calls them racists for simply doing their jobs and the other side calls them traitors for not doing enough. "But when I've brought people down, they're astonished and they start to get it," Rodriguez says. "They start to refocus their anger toward the policies behind it."
What Can You Do?
Beyond becoming involved with the organizations working to combat human trafficking, either monetarily or prayerfully, pay attention, Deller says. Look for indications that people may be victims of human trafficking. She recommends people watch a video on the Texas Attorney General's website called "Be the One." https://www.texasattorneygeneral.gov/human-trafficking-section/be-one.
"That tells you what to look for. If you're sitting at a light, pay attention to the vehicles around you and the kids in them. Or you can be in a store and if you know what to look for, you may be the one who saves a child's life."
For more on the border crisis, go to https://www.texasattorneygeneral.gov/news/releases/texas-borderlands-cost-illegal-immigration-ep2.