The nation's oldest continuously operating riding club will hold its annual WILL ROGERS RANGE RIDERS RODEO, JUNE 30-JULY 2 at the Range Riders Arena outside of Amarillo, Texas.
Each performance is sanctioned by the United Professional Rodeo Association, with rodeo stock from McCloy Rodeo Co. The crowd favorite "mutton bustin'" will be at 6:30 nightly. Entertainment will include nightly post rodeo live music. The traditional Range Riders chuckwagon will likely lead the Grand Entry to begin the western spectacle.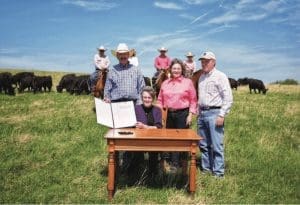 Range Riders was born on July 4, 1938, when Amarillo businessmen and regional farmers and ranchers commemorated the opening of the Will Rogers Memorial Highway/Route 66. Later in the year, they formed a riding club and called it Will Rogers Range Riders. So began the oldest continually operating riding club the nation. Today the club has more than 100 members representing almost every occupation – doctors, lawyers, accountants, contractors, writers, artists and many more. For info on rodeo tickets, visit https://www.rodeoticket.com/rodeos/ will-rogers-range-riders-rodeo/2022/tickets.
BLAST FROM THE PAST
The June 1995 CALF News featured this photo of women from the Ukraine harvesting sugar beets.