By Betty Go Gigot, Publisher
As you can tell from the columns and stories in this issue, we here at CALF News are just a bit peeved with Bill Gates and Colorado Gov. Jared Polis. As the stories came in this time, it was obvious that they both had gotten not only our attention but a lot of other people's as well. Mr. Gates certainly separated the men from the boys when he said that the 100 richest countries should eat fake beef and that they were working on improving the imitation product's taste. He seems to think it can get better. I resent the fact that he proudly announced he has invested in several fake meat companies and his attempts to tell us what our food choices should be.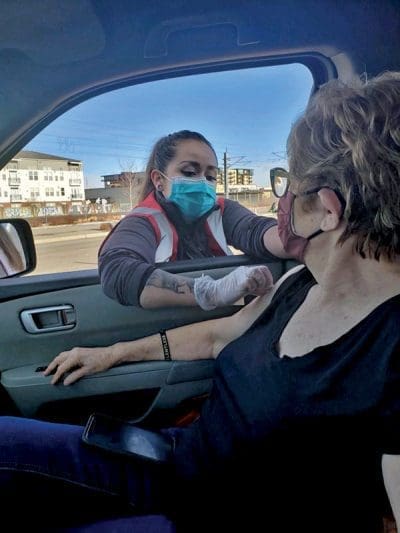 As for Gov. Polis, his announcement of a Colorado "MeatOut Day" on March 20 comes after several other not-so-disguised hits on agriculture here in the state. As one of our cattle people said recently, "We used to have a seat at the table. Now we aren't even in the room."
The appointment of an outspoken vegan to the Colorado State Board of Veterinary Medicine was a bit suspect and then, after taking some hits from the public, he put out an announcement about how proud he was of the state's agriculture industry. Unfortunately, the announcement was almost all about the National Western Stock Show and how proud he was of that. The show draws cattlemen from all over the world to Denver, supporting the city for three weeks. Sounds more like supporting Colorado's tourist trade instead of the billions of dollars agriculture brings in all year.
It will be interesting to see what March 20 brings since everybody and their dog is pushing beef on MeatOut Day. There are proclamations from counties across the state, as well as more than 100 barbeques as folks rally around Colorado's meat producers. And Nebraska's Gov. Pete Ricketts has declared March 20 "Meat on the Menu Day" in protest of his neighboring state's attack on agriculture.
While on the subject, have a look at one of the ballot initiatives here in the state. Called the Protect Animals from Unnecessary Suffering and Exploitation, Section 1.9 reads: "Any person who slaughters livestock in accordance with accepted agricultural animal husbandry practices does not violate the provisions of subsection 1 of this section (on cruelty to animals) so long as the animal has lived one- quarter of their natural lifespan based on species, breed and the type of animal, and the animal is slaughtered in such a way that the animal does not needlessly suffer." To their way of thinking, the life span of cattle is suggested to be 20 years. Five years old is a bit long in the tooth to produce a decent steak.
Weather has certainly affected many of us recently with the massive storms in the south country and the recent two-foot snowfall we just got here on Colorado's Front Range. With the drought across the area, and in the face of last year's forest fires, our snow was very welcome. It certainly is a challenge sometimes.
This issue's theme, Opportunity Is out There, shines a light on the good things that are happening, and I encourage you to read Patti Wilson's story on the fate of cattle shows nationwide. It looks like we are going to have to reinvent how we do that. I have no doubt there are ways to work around that.
In other news, we are pleased to announce an addition to the CALF News website, Calfnews.net. Well-known and respected market analyst Wes Ishmael will present his market report each Tuesday morning in a weekly podcast. Watch for announcements on our social media for the debut of CALF News Price Point, presented by Cattle Current's Wes Ishmael. Welcome to our world, Wes.
And CALF News veteran copy editor and writer Larisa Willrett will soon be sharing her humorous insights into life on their northern Illinois farming and cattle feeding operation in her CALF Tales podcast.
I know we are all looking forward to Nashville in August. Can't wait to see all of you there.