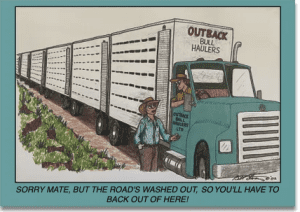 By Betty Jo Gigot  Publisher
Talk about a voice from the past. What a great surprise when Bill Stevens called the other day. For you newbies, Stevens was an integral part of CALF News for 18 years with his monthly cartoons about the industry and his annual calendars. From the cartoon here, you will see that he has done something totally different … he has added color to the mix. A true cowboy, Stevens was always able to show us the amusing side of the sometimes puzzling way our business works, from the people to the machinery to the animals we care for.
Stevens' versatility as an artist is fascinating. He sculpts, paints and does his cartooning out of his Walkin' S Gallery in Bandera, Texas. His art has been exhibited across the country and he has taught classes in the Texas area. Art has been his life, but he also had another love, rodeo. Raised in the north he attended rodeos at Madison Square Garden and soon decided he wanted to be part of "the circus." Eventually, he was a PRCA Gold Card rodeo cowboy.
"[I] rodeoed in 13 states and 68 cities," he said. His sport was roping and he also rode bulls until a very bad, woke-up-in-the-hospital deal. Then, along with team roping, tie-down roping and bronc riding, would you believe he became a feed salesman … and a well-known artist. I particularly love one of his quotes from his rodeo days – "Nothing happens 'til you nod." It fits a lot of situations.
If you happen to be going through Bandera, look for the gallery and say hello. Be sure to see the three western murals in the city. And if you like, buy one of his colored cartoon books. I will treasure mine.
As all of you can imagine, with a couple of sons, brother, sister-in-law, niece and nephew and other associated friends and relatives as University of Colorado grads, there is a lot of hype around here. As the Deion Sanders era has arrived, all of us involved in marketing (and we are all selling beef, calves or pen space, or advertising to keep the magazine going) have to pay attention. Sanders knows how to turn a 1/11 football season into the "top of the news" in a few months. No matter who you yell for on Saturday, the man has a list of traits we all need to remember. Be yourself (and his self is over the top, I know), be consistent in whatever you do and know your people well, very well. Sanders reminds me of some of the more flamboyant county gentlemen I have had the pleasure of interviewing through the years, including the white hat and the sunglasses.
Talk about the old days, CALF News has always been a supporter of the International Feedlot Cowboys Association (IFCA) Finals Roping, sponsoring a belt buckle for many years in memory of Tom Hovenden. They had an adventure this year, taking cover from tornadoes two different evenings, but it all worked out. According to Vicki Wilson, this was the 50th and final year of the finals. The plan is to get together for a two-day roping in different places, just to stay in touch with the IFCA family and friends they have made through the years. They had a some four generations and several three generations attending this year. We will miss covering them.
As you all know, we are also proud sponsors of the Cattle Feeders Hall of Fame, and LaRayne Topp's story this issue looks into the Nebraska winners through the years. This year's inductees will be announced soon, and our staff is looking forward to seeing you all in Orlando at the Cattle Feeders Hall of Fame dinner in February.
It's a weary Sunday afternoon here with the feeling of fall. Between watching 500 laps of NASCAR to see if my racer, Martin Truex, made the next run of playoffs and a 1 p.m. second overtime finish to the CU game, it's time for a lemonade and a nap. Stay safe.