As drivers raced to the checkered flag, beef was the star of NASCAR's opening week
Daytona Beach, Fla. (February 19, 2022)  – Austin Hill was first to the checkered flag, and the beef, as he won the 41st season-opening race for the NASCAR Xfinity Series – the Beef. It's What's For Dinner.® 300. For the second year the Federation of State Beef Councils, on behalf of the Beef Checkoff, partnered with the Daytona International Speedway to sponsor the race one day ahead of the legendary DAYTONA 500.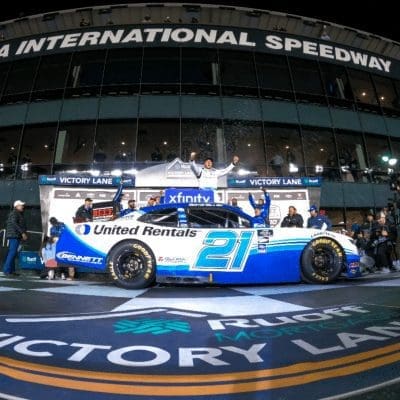 "From the shared emphasis on family values and legacies in both racing and cattle farming and ranching, to the love of beef on the grill, beef and NASCAR just make sense," said Brad Hastings, 2022 National Cattlemen's Beef Association Federation Division Chair. "The partnership also provided an opportunity for the Beef. It's What's For Dinner. brand to be back on TV, reaching younger and increasingly diverse NASCAR fans across the nation."
Days before drivers took to the track, beef was in the spotlight on local TV and radio stations across the country as seven-time burger bash champion and celebrity chef Josh Capon shared race day recipes. Whether tailgating or homegating, Capon's Southwestern Sliders, Bacon and Onion Jam Sliders, and Shaved Filet Mignon Lettuce Cups are sure to get fans to victory lane this season.
The race wasn't the only competition that got fans excited about beef. Chefs Lamar Moore, Jennifer Carroll, and Ryan Clark battled it out on the grill during the Checkoff-funded Beef. It's What's For Dinner.® 300 cookoff judged by Chef Josh Capon and World Champion Pitmaster Lee Ann Whippen. While Chef Lamar Moore with their Beef Tenderloin with Cheesy Grits and Chimichurri and Chef Ryan Clark with their Flank Steak 'Street Corn' Skewers made for delicious competitors, Chef Jennifer Carroll came out in front with their Berbere Beef Kebabs.
Throughout the week, the Beef. It's What's For Dinner. midway tent was a fan favorite. Free race day sliders, fans testing their skills on roping dummies, and an interactive social media photo booth provided the ultimate beef experience. Additionally, campers and tailgaters sported signs showing they were grilling beef and in return, were surprised with beef merchandise such as hats, shirts, and bags.
Finally, the Beef. It's What's For Dinner. brand was also showcased in advertising during the race on Fox Sports 1, on the racetrack big screen and on signage throughout the Daytona International Speedway property.
To view all of the tasty recipes and learn more about the race, visit BeefItsWhatsForDinner.com, and follow along on Facebook, Instagram, and Twitter.
Media Contact
Hailey Thayn