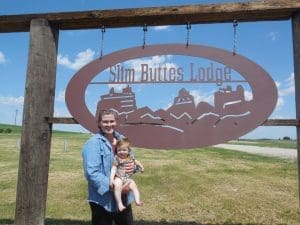 By Patti Wilson Contributing Editor
Ashleigh Nash is hard to keep up with. The young mother of three has numerous irons in the fire, each one reflecting her ambition and personality.
A ranch-raised, Prairie City, S.D., native, Nash took up nursing as a career for eight years. Working in intensive care, the emergency room and medical/surgical unit, she gained valuable lifetime experience. During her tenure, she met and married Steven. Moving to his family's ranch, she worked with her father-in-law in her off time, doing all ranch work. Steven worked as a welder in a North Dakota coal mine until 2021.
Three years into their marriage, the children began to arrive, and life took on drastic changes. Nash was glad to abandon her nursing career in 2022. She burned out from long drives to work, the closest hospital being 60 miles away. Also noted was the fact that nursing does not involve cattle, and that in itself presented a major annoyance for someone who loves to work with cows. She does not miss the medical field.
Currently, the couple runs a herd of Angus females and is involved with extended family ranching.
Raising cattle naturally involves feeding a few of your own. Nash said there was news coverage of grocery store "meat shortages" during COVID, prompting her to begin marketing home-raised, frozen beef from her home in 2020. Nash's Homegrown caters mostly to local clients. Four to eight head are harvested in January; wholes, sides and quarters are available, as well as individually wrapped cuts. She depends upon Facebook and word of mouth to reach new clients.
Nash has another business in startup – a hunting lodge located one mile west of Reva. There are major plans for improvements and expansion on the six-acre site. Camping hookups are already available with a shower facility, and cabins are on a bucket list. The Slim Buttes Lodge provides a clear view of nearby Slim Buttes, an historic and scenic hunting destination.
The Nash family consists of Ashleigh and Steven, Quinleigh, 4, Lloyd, 3, and Marshall, 9 months.
"I really enjoy the cows," she says, "and all cow work, and cooking for a crew."
Her enthusiasm and positive attitude are contagious.