Nebraska
The University of Nebraska Foundation has received a gift of $700,000 from JBS USA to support the University of Nebraska-Lincoln and its plans for a new Feedlot Innovation Center near Mead. Other lead contributors John and Beth Klosterman, who gave $500,000. Farm Credit Services of America has given $300,000 to the project. Located at the Eastern Nebraska Research, Extension and Education Center, the Feedlot Innovation Center will provide new capacity to develop and evaluate emerging technology used in managing animals in feedlot settings. With a state-of-the-art, commercial-scale feedlot and animal handling facility, it will be used in teaching, research and Extension efforts by the Institute of Agriculture and Natural Resources.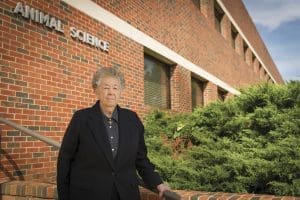 Oklahoma
The Oklahoma State University Alumni Association is honoring Minnie Lou Bradley as a Distinguished Alumni Award recipient. Bradley and her husband, Bill, own B3R Country Meats, Inc., and Bradley 3 Ranch.
Texas
Joe Paschal, Ph.D., is retiring from the Texas A&M AgriLife Extension Service as a livestock specialist after more than 40 years. He is well-known among Gulf Coast and statewide beef cattle producers as the go-to source for science-based information.
Texas Tech University has named Clint Krehbiel the new dean of the Gordon W. Davis College of Agricultural Sciences & Natural Resources. He previously served as a professor and chair of the Department of Animal Sciences at the University of Nebraska since 2017. Krehbiel will begin his duties at Texas Tech on Jan. 1.