By Betty Jo Gigot, Publisher
Van Brimhall made the final cut and eventually was accepted into veterinary school. He credited it all to his wife, Lois, for sticking with him. The way he told it to me in our August 1994 story, he had a wife, three hungry kids and $14.27, and it was one hell of a grind to get through school. Three jobs and several years later, he graduated and went to work at Coachella Valley Feedyard at Thermal, Calif.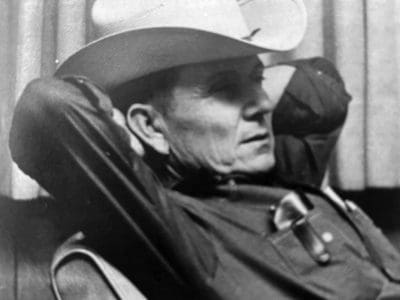 The hottest afternoon I spent doctoring cattle there was 121 degrees. We started processing at four in the morning and tried to be all done by noon. We had shades and a strong influence of Brahman cattle in the summertime. After a year of that, I realized that to be effective in the feedyard business, you had to get involved in the management end of it.
A Texas boy, Brimhall decided Texas was where he needed to be.
At the time I went back to Texas, Paul Engler had a 10,000-head feedyard at Hereford, in conjunction with Mr. Dinklage, as I remember. So I could see that the growth in the industry was coming here, and I wanted to be on the ground level.
My basic reasoning for doing this, and I said this when I used to be on the speaking circuit, is that I'm a cattleman by profession, a veterinarian by training. I wanted to get back where the action was in the cattle business. I figured if I got here and got in on the ground floor, I could grow with it. And it worked that way. It was the right time and the right place.
His first job was for Tom Simmons at Caprock Feedyards. He made $400 a month and a dollar a head on everything that was shipped out of the feedyard. If the animal died he didn't get the money.
Eventually, he took a job in Roswell, N.M., where he worked for Diamond A, owned by Robert O. Anderson. Chairman of the board at Atlantic Richfield Oil Co., Anderson was the largest landowner in the United States.
Brimhall started as assistant manager and veterinarian for the yard there in Roswell. He did feed runs and ration changes and developed very definite ideas about overcrowding and how to use the new antibiotics and vaccines that were just coming out. Moving up to staff veterinarian for Diamond A, Brimhall was working with six feedyard and 10 ranches. Three of the yards were in California and several were on lease arrangement. The one in Hawaii was a management deal.
I remember one September, when we were in Roswell, Lois said that I spent two nights at home that month. The rest of the time I was on the road.
Brimhall's hands-on management style helped him a great deal as a consultant.
I don't think I ever walked into a situation that I hadn't personally been involved in in the management end of it sometime in the past. You know, whether it be all your cowboys quit or the snow's so deep you can't get feed in or things like that. So I think that's what uniquely – if I was ever qualified to be a feedyard consultant – added to my credentials.
In 1969, Brimhall moved back to Texas and became a stockholder at Olton Feedyard where he also was assistant manager and veterinarian. He found being a stockholder was quite rewarding and achieved one of his goals. He also started feeding cattle.
The first cattle I bought, I borrowed $25,000 and couldn't sleep for two weeks because there was no way, if those cattle lost money, I'd ever get that kind of money paid off. But it worked out. We stayed in Olton and the family grew up.