By Patti Wilson, Contributing Editor
Editor's note: Larry Stalcup of our editorial staff had fond recollections of his last interview with Bob Josserand, industry stalwart and good friend of CALF News, who passed away recently. Along with his many other activities, Bob served as an advisor on the CALF News Editorial Board for several years and was a much-respected source of leadership for us and for the industry as a whole.
When Bob Josserand passed away in early November, the nation's beef industry lost a pillar of leadership and a friend who never stopped giving back to his local, state and national cattle organizations. Whether as a small-committee member or head cowboy of the national association he loved, Bob shouldered virtually every challenge to help benefit cattle producers and feeders.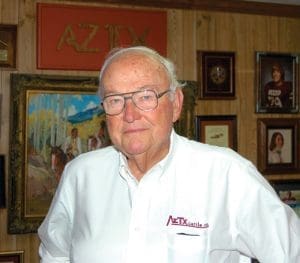 Along with his service to the beef industry, Bob was devoted to his family and hometown, Hereford, Texas. He proudly reminded everyone that it was the "beef capital of the world." His compassion for the arts, education and community development across Hereford, the Texas Panhandle, and his state and nation helped spur the advancement of all three.
During a visit with Bob at his office at AzTx Cattle in Hereford, he stressed to me the importance of giving back to the industry, or whatever business or organization that helped one prosper. "One thing I've prided myself on is the ability to be of service to the beef industry," he said. "I felt like I was making a difference in the lives of people in the beef industry. I'm happy to have been able to accomplish that and wouldn't take anything for the experiences I've had in our wonderful industry."
A native of Pratt, Kan., Bob grew up on a farm and cattle operation. The family bought sale barn cattle, raised them and then sold them to feedyards in the Corn Belt. "Occasionally, we would finish some cattle, put them on rail and ship them to the Kansas City stockyards," he remembered. "One of the thrills was riding in the caboose when we delivered those cattle."
He attended Colorado State (then A&M) University before joining the Air Force. After returning to Colorado, he spent time as an assistant county agent in Springfield, before becoming Sedgwick County agent in Julesberg.
Bob ventured back into the cattle business by helping run a small feedyard and cowherd for a regional farmer. Soon afterward he became regional manager for Farr Better Feeds in Hereford in 1971. He was then hired by ProChemco oil and gas in Amarillo to manage its cattle feeding company. "I replaced Paul Engler, who went to work for IBP," he explained.
When the petroleum company was sold, Bob had an opportunity to buy the feeding operations. And in 1983, feedyards in Hereford, Pampa and Farwell, Texas, along with yards in Rocky Ford, Colo., Mid-American in Nebraska, and Hughes & Ganz outside Phoenix became AzTx Cattle Co. Dimmitt and Garden City feedyards also became part of the Hereford-based group.
The AzTx financing deal with what was then First National Bank of Amarillo was done "with not a whole lot more than a handshake," Bob recalled. Overall feeding capacity approached 250,000 head. Several years later, packer and industry consolidation caused AzTx to downsize. Still, Bob remained involved in running the Hereford Feed Yard and ranches in northeast Texas and eastern New Mexico.
That was after son, John, had found a niche market that involved buying, feeding and exporting quality cattle for a Russian company. The Russians had gotten a taste of American beef and wanted to raise their own quality cattle. They wanted primarily black cattle that had no white coloring. "But there were some very nice baldies in the groups we put together," he said. "We bought them and placed them on grass in northeast Texas."
Better beef quality was the aim of the Beef Checkoff, approved by cattlemen in the 1980s. Bob was a leader in helping get the Beef Checkoff approved. He later was a member of the Cattlemen's Beef Board, the checkoff board he so heartedly supported.
"The checkoff was a factor that helped turn around a sliding consumer demand for beef," he said. "The emphasis on quality and the steps taken by cattle producers, feeders and packers to improve quality enabled us to provide a product that consumers wanted."
In 1985, he was elected president of Texas Cattle Feeders Association and, in 1989, was elected to president of the-then National Cattlemen's Association (now the National Cattlemen's Beef Association). In 1988, Texas Gov. Bill Clements commissioned Bob as a member of the Texas Agriculture Task Force. In 1991, he was named "Man of the Year in Service to Southwest Agriculture" by Progressive Farmer magazine. In 1993, Bob was inducted into the International Stockmen's Hall of Fame by the International Livestock Congress. In 1998, he received the National Golden Spur Award from the Ranching Heritage Association.
Among his many other honors was possibly his most notable – his induction into the Cattle Feeders Hall of Fame (CFHOF) in 2015. Earlier this year, Bob introduced the latest CFHOF inductee, long-time friend Carl Stevenson.
His dedication to Hereford included serving as its mayor for 22 years. During that time, he helped lure a branch of Amarillo College to Hereford, create a major aquatic center, enhance the city's utility system and make numerous other improvements to the city.
Bob and his bride of 66 years, Nancy, were treasures to the regional art world. In 2013, he was elected to the Board of Trustees of the Panhandle Plains Historical Museum in Canyon. Both were also strong supporters of West Texas A&M University, the Khuri Foundation in Hereford, First United Methodist Church of Hereford, the Scottish Rite Hospital for Children out of Dallas and many more organizations.
Along with Nancy, Bob is survived by his sons – John and his wife, Sandy, and Barry and his wife, Christie – a daughter, Joan Poarch, and her husband, Kim; eight grandchildren and six great-grandchildren. He was preceded in death by his parents, one brother, Jimmy, and a son, Doug.
Bob Josserand was a tough cattleman with a kind heart. His handshake was always authentic. The beef industry has lost a friend, one whose legacy will live until the last trail ride is made.
The family requests that donations be made to the charity of your choice, or to the Douglas Josserand Memorial Scholarship at West Texas A&M, WTAMU, Box 60765, Canyon, Texas 79016; The Khuri Foundation, 540 W 15th, St., Hereford, Texas 79045; First United Methodist Church of Hereford, 501 Main St. Hereford, Texas 79045; or The Scottish Rite Hospital For Children, PO Box 199300, Dallas, Texas 75219.