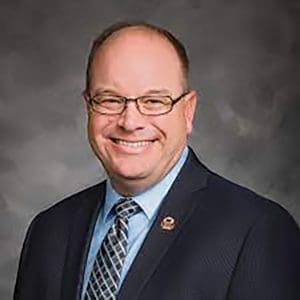 By Patti Wilson Contributing Editor 
Imagine admiring a newborn calf in a remote, snow-covered Plains pasture. Now realize the resulting product might make its way halfway around the world to one of 54 foreign countries. It seems our beef is better traveled than most of our producers.
Such a seemingly unlikely but true scenario is the result of 45 years of efforts on the part of Certified Angus Beef (CAB). Since establishing itself as a trusted U.S. brand at home, CAB has taken on an effort to expand into foreign markets. It has successfully marched across the globe, reaching 54 foreign countries.
I spoke with CAB President John Stika. He's been with the company in various positions for more than 24 years and as president for 16. In our visit, he emphasized the continued growth and demand for CAB post-COVID. Inflation hasn't slowed progress on the quality product.
Stika said Beef Quality Assurance (BQA) certification is currently being encouraged for all producers, as consumers are demanding to know more about their protein purchases and how livestock was raised. According to the National Cattlemen's Beef Association research on behalf of the Beef Checkoff, "Seventy percent of consumers agreed that certification increased their confidence in the beef they eat is safe, and 67 percent agreed that it increased their confidence that cattle are humanely raised.
"Prior to learning about the program, 44 percent of consumers had positive perceptions about cattle production, and that increased to 70 percent after learning of the BQA program."
Taste is still listed as the most important attribute for beef. As we see consumer expectations evolve, they are also interested in how an animal was raised and the impact of production on the environment.
As our recent drought has reduced cow herd numbers significantly in the United States, Stika predicts Angus genetics will expand further as numbers begin to build back.
"CAB adapts to economic signals," he said. "We must be aligned with consumer demand, and there must be demand creation."
Back to Foreign Markets
CAB's international team keeps reaching more global consumers with websites, social media and in-market hires. Sales in 2022 were 178.5 million pounds, with Canada and Japan being the top two export markets.
According to CAB, marketing materials are available in 10 languages. Six new international websites have been developed, recently, with text written in Arabic, Cantonese, Japanese, Korean, Simplified Mandarin and Spanish. New hires have been added in Korea and Hong Kong, with additional staff members outside U.S. borders working in Hong Kong, South Korea, Canada, Mexico and Japan.
It's a lot for Stika to keep up with. It's also a long way from a remote pasture on the Plains of the United States.