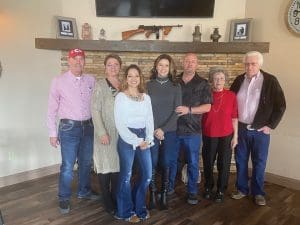 By Betty Jo Gigot Publisher 
No, documentation cannot be found proving Clyde Barrow and Bonnie Parker were ever in Hugoton, Kan., but local legend certainly seems to indicate that the couple, going by the names Blackie and Jewel, may well have been there. The couple ran the Jewel Café in the small Kansas town for a short time and, after infamous Bonnie and Clyde were killed in 1934, a notebook in Bonnie's possession showed earnings from the Jewel Café. Later investigation showed that the notebook was lost in a fire.
History does show that, in 1927, the Hugoton Natural Gas Field was discovered, which became one of the top five sources of natural gas in the United States. The discovery attracted an array of characters, including Bonnie and Clyde, according to the locals.
What could be more appropriate than Bonnie and Clyde's return to Hugoton almost 100 years later in the form of the Bonnie and Clyde Grill and Sports Bar.
"We just wanted a local place where we could get a good steak and a drink," according to the enterprising owners of the 3-year-old establishment on South Monroe Street. Hugoton, a town of 3,700 people in southwest Kansas, was ready for such a place. The restaurant owners are quite the unique partnership: farmers Todd and Lorri Lissolo; their son, Leland, and his wife, Janet; and local businessman Jim Ghumm and his wife, Stacy. The group soon realized their newly hired manager, Melissa Golding, was a go-getter so they purchased the property and forged ahead.
Golding describes what it was like to develop a plan for a new restaurant ready to open just at the time COVID hit the United States. In a way, it helped to have time to put together a staff and a unique menu for the business. The challenges were met and now Bonnie and Clyde's has become one of the area's prime dining establishments. Customers come from across the country where the nearest town, Garden City an hour away, is the closest competition.
My visit to Bonnie and Clyde's was a delight. After a lunch of Certified Angus Beef and fried okra, which they don't serve at my home in Castle Rock, Colo., I toured the property. A large café with a sliding bookcase door and blazing fireplace featured historic mementoes, including a rifle over the mantle. A long hallway filled with pictures and press from the Bonnie and Clyde area takes you to a large bar area, again with a blazing fire. I met with the proud owners there. They explained the reasoning behind two eating areas was to suit customers who are not comfortable in a bar. The kitchen sits in between.
The unique menu, in the form of an old-fashioned newspaper, sports a variety of choices but certainly tends to feature Certified Angus Beef. Keeping with the Bonnie and Clyde atmosphere, steaks featuring themed names include The Pardon, a 6-ounce filet; The Jury, an 8-ounce filet; The Trail's End, a 14- or 18-ounce ribeye; and The Lead, a blackened medallion filet and my meal selection. All steaks are sourced in the area and many are hand cut. Prices are noticeably lower than most elsewhere and worth the drive.
While waiting for the food, reading two full pages of the menu about the namesakes is worth your while. I loved the descriptions of the notorious couple with the announcement issued by the era's FBI Director J. Edgar Hoover: "If apprehended, please notify the Director Division of Investigation nearest your city."
Clyde was described as "23 years; height, 5 feet 7 inches; bare feet; weight 150 pounds. Medial build, dark brown wavy reported dyed black hair. Scars and marks, shield and anchor with 'U.S.N.' on right forearm, bullet wound through both legs just above the knees."
Bonnie was 23 in 1933, and "5 feet 5 inches tall, weight 100 lbs., auburn hair, originally blond, and scars and marks including bullet wound on left foot next to little toe, bullet in left knee, burn scar on right leg from hip to knee, and peculiarities: walks with both knees slightly buckled."
Haven't seen anyone like that recently, but a visit to the restaurant is certainly worth your time.