Paradise Valley and Tucson, Ariz.
By Betty Jo Gigot, Publisher
In recognition of our "new normal," going out for a fabulous steak is not an option right now in Arizona or most of the rest of the country. Therefore, when this is all over, I'm inviting you to join me at my very favorite breakfast place probably in the country, where the emphasis is not on exceptional beef. It's called Oink and guess what? They specialize in pork.
One of the benefits of living in a casa a few blocks from Scottsdale is a steady stream of northern visitors. Whitt and Wisdom's Jim Whitt and wife, Sondra, make my place a headquarters when they come south for meetings, and Jim was the one who thought that the Oink Café across the street might be a find. He was right.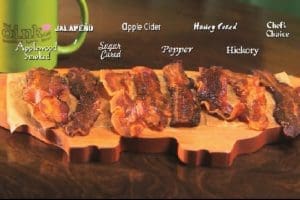 First, the flights
The menu is far reaching and mouthwatering, but tradition requires ordering two flights before deciding on your main course. Flight No. 1 is bacon and bacon and bacon – eight kinds of bacon served on a board in the shape of a pig with a description of each. The eight bacons include Apple Cider, Applewood, Chef's Choice, Hickory, Honey, Jalapeño, Pepper and Sugar Cured.
The second flight offers two choices – Bloody Marys or mimosas. For Bloody Marys you have a choice of four of the six offerings: Classic; Spicy Thai with Sriracha; Premium Vodka garnished with jalapeño; Oink Bacon with, you guessed it, a strip of bacon; Rojo Verde with choice of two types of mix – a Bloody Maria with Cholula hot sauce or Agave Tequila and Chicharron (pork rind); or Verde Mary garnished with tomatillos, cucumbers and lemons. Mimosas come in Classic, Cranberry, Blueberry, Peach, Strawberry and Seasonal.
Hungry yet?
Locally owned and operated, Oink has two locations, one in Paradise Valley and the other in Tucson. Open for breakfast and lunch, they specialize in fresh, made-from-scratch options, including an award-winning Maple Bacon Donut that I haven't tried yet.
Reading down the menu is a treat in itself as you savor bacon and, in my case, a Classic Bloody Mary.
The addition to two eggs are: bacon (of course), chicken fried steak, ham, sausage, cheese or carne asada, or you can add the two eggs to your biscuits and gravy. Of course, since you are in Arizona, they have huevos rancheros, carne asada quesadillas, chorizo and eggs, and an Oink breakfast burger and breakfast nachos made of chips, green chili pork, chorizo, cheese queso and topped with pico de gallo.
Waffles and pancakes are on the menu along with my favorite, omelets. Three eggs are served with a choice of hash browns, home fries, fresh fruit, tomato slices, or cottage cheese and a choice of toast, English muffins, biscuit or tortillas.
Then there is the ultimate. Their Oink Omelet has all the pork bases covered – bacon, ham and sausage – along with, would you believe, five eggs. Needless to say, you need to bring an army for that one.
So, my friends, I'm taking reservations and orders at my place and Oink just as soon as we can all get out and about again. Here's hoping it's soon. Come on down and see me.