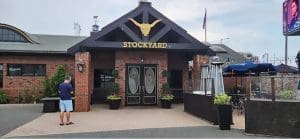 By Dario Delle Chiaie Contributing Editor
Being a Massachusetts native, I've had the pleasure of visiting some really great steakhouses over the years while working in Boston, but this was the first time I've been to The Stockyard. I was surprised I hadn't actually heard of it prior to this visit, and I'm certainly glad my friends recommended it.
Located just off the highway at 135 Market Street in Brighton and overlooking the Mass Pike, The Stockyard has been a historical mainstay of Greater Boston for more than 50 years. Originally established in 1972 by the late Cornelius "Neil" Manning and his wife Lillian, the Mannings built The Stockyard near the site of the Brighton cattle industry and stockyards that had been essential to provisioning Gen. Washington's troops and the New England Army after the British evacuated Boston in mid-1776. After a brief closure in 2012, The Stockyard reopened in 2013 under new ownership. Under his direction, Brighton local Michael Conlon ensures The Stockyard continues to serves delicious, high-quality beef to the New England area.
The Stockyard seems a sort of hidden gem among all the other buildings in the bustling area. Their large parking lot provided plenty of parking and, despite the large crowd, the wait for a table was short. The outside has a distinct steakhouse feel, with a set of longhorns above the double stained-glass doors and red brick exterior. Inside, we were greeted by the hosts and quickly led to our booth just past the enormous centerpiece to the room, a shoehorn bar full of customers enjoying their evening dinners or perhaps a glass of local wine.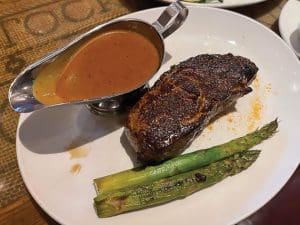 Off to the side, our host pointed out a private room featuring a bar that once belonged to Al Capone and acquired by owner Michael Conlon some years ago. Capone's bar is a room-length mahogany bar, so large that it had to be divided up, with the center piece in the private room and the wings placed in the tavern room. I'd be lying if I said I wasn't intrigued with finding out more about history of that bar. Who wouldn't want a chance to belly up to Capone's bar at least once while you're there?
With a menu that ranges from seafood to burgers, ribs and steaks, The Stockyard shines in what its known for – its delicious steaks. Cuts include Prime New York strip, filet mignon, prime rib, aged bone-in ribeye and the tomahawk ribeye. And if steaks aren't for you, The Stockyard offers a great selection of pasta and chicken dishes as well.
Along with the wide array of choices, customers can also add family-style sides like hearty portions of broccoli, asparagus, spinach or carrots. But honestly, I was there for the beef so my focus was there. The menu states their bone-in ribeye is aged 42 days, and I knew right away that was my choice, with no sides for me. Man, I wasn't disappointed.
The service was timed perfectly. We all had time to enjoy our appetizer of calamari while discussing our visit to Boston before the steaks arrived. Cooked to a perfect medium rare, this mouthwatering 20-ounce cut was a sight to behold. My steak had just the right amount of seasoning, the sear was perfect, and my knife cut through it like butter. As I had mentioned, this piece was the star of the show and didn't disappoint.
I was curious as to where The Stockyard sourced their beef so we asked our waitress. While delivering our desserts, she said that she spoke with the chef and was informed that sourcing information was held close to the vest as a company secret. So for now, that knowledge resides with the hundreds of other trade secrets and handwritten notes, ranging from the Colonel's 11 herbs and spices to your grandmother's famous lasagna. It seems some information isn't meant for mere mortals.
While there is no shortage of steakhouses around Boston, I highly suggest you try The Stockyard on your next visit. The tavern-house feel and delicious cuts are worth the trip!