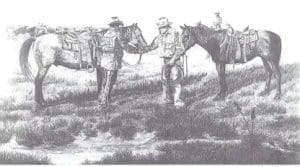 By Chris McClure Contributing Editor
Will green grass and high feed prices delay the fall run? With October known as the "dying month," should July be called the "month of bad decisions?" Is the price of feeders realistic given that the only corn harvested so far is coming from minor producing areas like South Texas? Who really shot J.R.?
I've got lots of questions but not many answers. Maybe it's time to phone a friend? Seeking the advice of friends only seems to produce more questions! Could it be that we have all factored in the cattle and feed supplies in such a way that we have priced our cattle a year prematurely?
Perhaps my granddaughter hit the nail on the head when she asked me at dinner why most of the calves come to market in the fall. Before I could answer she said, "Oh, it's because they are born in the spring and it takes them that long to be ready to market."
An intuitive grasp of the production cycle is a fine thing. I think sometimes we fail to account for all the production lags.
It is mid-July as I write this, and I can walk out my back door and quickly be wading in knee-high black grama that is still green! How often does that happen in the Texas Panhandle? How will that impact the timing of calves being weaned? I just keep piling up questions. I hope someone reading this will supply the answers because I don't have them.
The rains have been quite the blessing this year. The comment was made at church the other day that we should think about coordinating our prayers for rain next year. It seems they are being answered sequentially rather than simultaneously. We are careful not to complain though – except the arena committee that keeps having to reschedule Play Days because they invariably get rained out. I suggested they should schedule one about every two weeks throughout the summer but be certain not to schedule them after the first of October because of harvest. It's like washing the car; anything to keep the rain coming.
Last year the few jackrabbits that were able to endure the drought were lean, ornery and mean. This year they are holding raffles for prairie hay. You can barely see the tips of their ears above the grass.
So, am I optimistic or pessimistic about the year? The answer is yes and yes. It's a good time for the cowman, but I think the jury is out for the feeder. The feedlots and packers are going to really have to watch their p's and q's or this market may take their head off. There are lots of smart people out there who seem to have it figured out – until the hotline lights up and you hear that they didn't. My conservative nature is seeing flashing lights all around me.
As I look around my office, there are things to remind me that the industry will endure this cattle cycle just as it has the many that have gone before. Across from me is a pencil drawing of Dodge City's Front Street in 1876, the heyday of cattle drives. Behind me, though recently replaced by something new, hung a map of the cattle trails. There is a framed display of barbed wire that came from my grandfather's home place. The samples span from the late 1800s to present day. Near the drawing of Front Street is a print done by Paul Wylie called "The Contract." It shows two old cowmen shaking hands in front of a herd in the dusty background.
My point is that we've had our ups and downs, yet cows still cover large swaths of the land despite encroachment from sprawling cities. Those cities just represent folks who need to eat. If we can overcome the insanity that seems to currently grip our country, it will all come out in the long run just the way it is supposed to – just like the rains follow the drought.
I think I'm leaning more and more optimistic the further I get into this thought process. These trails have been trod by many hooves over many years. The trouble is that we humans are a brief and passing thing and only have five or six cattle cycles in which to make our mark during our likely productive life. It's all about timing. We usually have a strong sense of what to do but timing the "doing" can be a challenge.
It's a good time for the cowman, but I think the jury is out for the feeder.