By LaRayne Topp Contributing Editor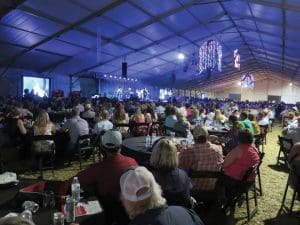 Hip hop moves – smooth as ice – on a style show stage, the whistle of a long black train by headliner Josh Turner, and the history of the cattle feeding industry spelled out on the backdrop of a weathered barn. These were just a few of the sights and sounds of the 25th Annual Cattlemen's Ball of Nebraska held June 2-3 near Pender.
This year's hosts were Kent and Colleen Weborg, Craig and Darlene Weborg, and Brian and Renee Weborg who, along with their families, manage a 25,000-head permitted capacity feedlot. All displays exemplified the theme the Weborgs chose for this year: Growing Hope for a Cure.
That's because the yearly Cattlemen's Ball of Nebraska focuses on health and wellness, with an overarching goal of raising funds to combat cancer. To stamp it under cattlemen's boots. To fund research conducted through the Fred and Pamela Buffett Cancer Center at Omaha. To find a cure.
Take the Calf for a Cure program, for example. Donations were made earlier by participants, regardless of their involvement in the beef industry, to purchase a calf along with the feed for it. These combined donations allowed for the purchase of $90,000 worth of feeder cattle, which were finished at Ritter Feedyards at West Point. Participants received a special lanyard to wear during the 2023 Ball, showing their involvement in this fundraising effort.
To hold the event, the Weborgs set aside 80 acres for a number of super-sized tents, parking and campers. In attendance were 1,000 volunteers serving on more than 40 committees, with ticket sales reaching 4,500. Fifty vendors set up in the event's general store, with additional tents for an art show, wine and whiskey tasting and others. Personalized screenings and health information were offered by local health associations along with the staff from the University of Nebraska Medical Center.
Communication cables were laid to accept outside callers' bids for auction items ranging from a meet and greet with singer Josh Turner to an authentic grain bin bar, a five-day trip to South Africa, Husker football and volleyball tickets, and a gold-plated barbeque grill.
Each year, a Serenity Garden offers a quiet space to reflect on those battling cancer. Just as each Cattlemen's Ball demonstrates its own personality, so does the Serenity Garden. This year, three wooden crosses symbolizing the Weborg family's C
hristian faith topped a manmade hill on the northeast Nebraska flatlands, with galvanized watering tanks forming a cascading fountain. Lighted wings and halos topped angels fashioned from the tin roofs of grain bins.
Hope for a Cure has been the mainstay of 35 models – men, women and children personally touched by cancer – who walked down the runway of the ball's style show. One of the models was Kristin Koehlmoos of Columbus, who
carried a radiation mask down the runway. The fifth generation on the home farm two towns over and the daughter of a former cattle feeder, Koehlmoos has survived squamous cell carcinoma of the tongue. After undergoing multiple surgeries, the first of which was 10 hours long, she experienced one of her toughest obstacles: radiation. The mask she carried was worn over her face and then bolted to the table so that she didn't move while radiation targeted the cancer.
Koehlmoos also carried a banner she had created with the names of those who have lost their lives to cancer and those who continue to fight."I wanted to represent them proudly and beautifully,"
she said. She also pointed upward to give glory to God for accompanying her on her cancer journey, and to represent those who died from cancer.
"I blew a kiss to heaven to honor their long fight," she said. Koehlmoos is one of hundreds of thousands of Nebraskans who have participated in the annual ball as attendees or volunteers, many of them survivors themselves, commented Tom Thompson, senior director of development at the Fred and Pamela Buffett Cancer Center.
"They provide hope and inspiration to others currently facing their own cancer battle," he said. "The ball unites Nebraskans in this critical campaign to minimize the impact of cancer on our families and communities now and into the future.
"More than two decades of support from the ball has enabled the cancer center to attract experts in many areas of cancer research and drive discovery to help uncover new means of diagnosis, treatment and prevention."
The Schiff Family will host the next Cattlemen's Ball of Nebraska in Minatare, June 7-8, 2024.