A Voluntary Disease Tracability Program
By Gilda V. Bryant, Contributing Editor
The COVID-19 virus has shown us just how quickly a pathogen can spread through a population. State and federal animal health officials have done an outstanding job of preventing diseases in beef cattle. However, government entities have unsuccessfully grappled with a workable livestock disease-traceability program for all classes of cattle.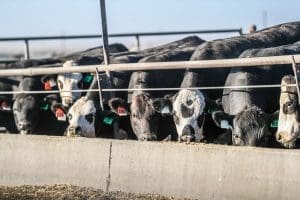 In 2017, the Kansas Department of Agriculture hosted an Agricultural Growth Summit to discuss animal disease traceability. Collaboration between leaders in the Kansas Department of Agriculture, the U.S. Department of Agriculture (USDA), Kansas State University's Beef Cattle Institute and private industry followed.
These beef industry members developed a voluntary traceability plan, through a public-private partnership for a non-profit pilot project, CattleTrace, Inc. The board of directors, composed of beef industry leaders, evaluated the project for two years. No longer a pilot program, the organization was renamed U.S. CattleTrace.
A critical component in cattle traceability is radio-frequency identification (RFID) technology. U.S. CattleTrace has utilized ultra-high frequency (UHF) ear tags that rapidly send information to readers. Working like toll-lane tags on vehicles, the technology allows a standardized, automatic transfer of four minimal data points into a third-party database, which is crucial for efficiency.
Callahan Grund, U.S. CattleTrace executive director, says one USDA UHF tag has been approved for use as an official form of identification for cattle transported between states. Equipment known as readers "reads" ear tags as cattle move from the ranch to auction market or feedyard to the packer. Recorded information includes the individual animal's ID, date, time and location by GPS coordinates.
Should disease occur, Grund says a particular location could be isolated, potentially allowing unaffected areas to conduct business as usual. Industry experts designed this innovative system for animal health officials to conduct contact tracing, learn where a group of cattle has been and which cattle they have been near. Should a disease outbreak occur, animal health officials can isolate animals exposed to potential diseases. U.S. CattleTrace could help animal health officials work with producers to isolate and contain a large-scale animal disease outbreak in the U.S., potentially allowing unaffected ranchers to continue commerce with domestic and foreign trading partners.
Currently, operators from cow-calf, feedyard, auction markets, packers and state beef producer associations have joined U.S. CattleTrace. Grund reports eight states – Nebraska, Iowa, Missouri, Oklahoma, Kentucky, Kansas, Texas and Florida – are members, and he expects others to join soon.
Protecting member privacy is paramount at U.S. CattleTrace. During the pilot program, the board of directors determined that only four data points were necessary, and they would not share producer information.
"Being a non-profit, voluntary organization, we're not subject to the Freedom of Information Act," Grund explains. "U.S. CattleTrace owns the database. Only the executive director can access the database during a disease outbreak."
A disease traceability plan may add value to the beef industry from a preventative standpoint. "We're in the top 10 global beef exporting nations," Grund reveals. "The U.S. and India are the only two developed countries that don't have a traceability system. India mainly exports water buffalo, leaving the U.S. as the only beef exporting nation that doesn't have a traceability system."
Grund adds that if a catastrophic event were to occur, there is no quick, simple way to halt the spread of disease, wrecking opportunities to export globally. "Our value as a voluntary traceability system is that we can be proactive and build a contact-tracing system that allows us to help identify and potentially stop the spread of disease before it spreads like wildfire."
Kyler Langvardt, U.S. CattleTrace program manager, says the COVID-19 pandemic has thrown a wrench in informing operators about the program. Volunteers have traditionally informed producers about this program at cattle industry meetings and events. "We plan to use a variety of communications, such as social media, to reach folks, and we hope to see producers in person when we're able to do that safely."
A fan of new technology, Langvardt says this relatively new tool for the cattle industry has some kinks to be worked out. However, the innovative technology, rapid read rates and non-disruption of current practices for producers are promising.
"Our goal is to build a robust, nationally significant, voluntary disease traceability system in the cattle industry," Grund reports. "It would include breeders, feedyards, tags in ears and the ability to contact trace over two-thirds of the industry."
In eastern Oregon, Wes Killion, president and chief operating officer of Beef Northwest, has used UHF technology for several years. As he learned more about U.S. CattleTrace, he found his objectives for Beef Northwest aligned with those of the non-profit organization. He says his experience with UHF tags and the practices he had implemented made joining an easy decision.
"Beef Northwest was focused on UHF technology because we wanted to improve our cattle management and procurement," Killion reveals. "We had used low-frequency tags and were looking for a consistent product that provided more flexibility than low-frequency tags. It was a natural fit to have cattle traceability become an additional attribute to what we were already doing.
"Plus, around that time, we'd seen disease issues in the pork and poultry industries. It reiterated how vulnerable we could be if we had such an outbreak in the U.S. cattle population. The best way to mitigate that risk is by putting contact traceability into action rather than just talking about it."
Killion reports joining the organization is a simple process. The UHF tags are an affordable, crucial technology from a management position.
"If people are passionate about traceability, this is another way for them to express their passion, by putting in tags," Killion observes. "The technology continues to improve. Preprinted tags also allow users to have visual and UHF capabilities, which is useful in program cattle.
"COVID has made animal traceability more urgent," Killion argues. "There are more players out there, and [there are] warning signs it would behoove us to pay attention to and protect our industry and livelihoods – not just for what we have now but for the generations to come."