By Heather Smith Thomas, Contributing Editor
The livestock industry is facing uncertain times and feedlots have been struggling with marketing issues. Warren Rusche, South Dakota State University Extension beef feedlot management associate, says the biggest issue is that many packing plants closed or slowed their processing in April, due to the coronavirus. "This made it more challenging to get cattle sold – or sold at a decent price."
By mid-June, however, packing plants were mostly up to speed again and slaughter capacity close to where it was earlier in the year.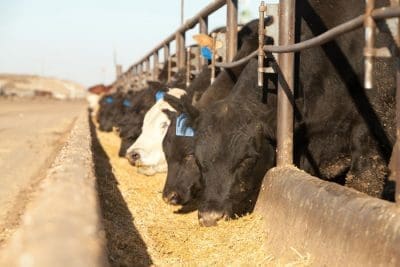 "Wholesale beef prices dropped, and the live cattle market has been all over the place but mostly down," Rusche says. "In the next few months, the big concern is marketing; we don't know what the market will look like as we work through the backlog.
"Another question is, how many cattle we actually need to work through? Depending on who you ask, these numbers are a ways off.
"The good news is that we are at least to the point where if you have a pen of cattle that needs to go, there's a little less concern about finding a place for them," he adds. "There's more opportunity to move them, and it's not getting worse."
Derrell Peel, Oklahoma State University Extension livestock marketing specialist, says the biggest thing right now is trying to recover from packing plant slowdowns/shutdowns.
"The coronavirus hit their work force so hard that, through the entire month of April, we lost packing capacity and could not slaughter animals that needed to be slaughtered," Peel explains. "It reached the worst point the last week of April, and since then, we've been in recovery mode."
Some parts of the country have fewer packers so cattle producers and feedlots in those regions are very vulnerable. The plant in Pasco, Wash., is the only one in the Northwest and it was shut down for several days. "The whole country suffered from lack of processing ability," he says.
"Slaughter capacity is back on line, close to full capacity, but in the meantime, cattle that didn't get slaughtered accumulated in feedlots. We still have serious backlog; several hundred thousand cattle still waiting to be processed. It will take time to work through this," Peel says.
"Even at full capacity, we have animals already scheduled to be processed, and now we have additional animals; it will be a slow process working through the backlog. Late June is typically the seasonal peak for slaughter. Once we're past that, there won't be as much normally scheduled slaughter through summer and we should start to catch up," he says.
"It's a buyer's market right now, which will keep some price pressure on the fed cattle market until we can get current again. This will likely take most of the summer, perhaps into September-October."
Peel contends that if feedlots aren't current, they'll catch up by September or October since March/April placements were down significantly due to COVID-19.
"Placements were 23 percent down from last year in March, and 22 percent down in April, creating a big hole in flow of cattle coming through the ranks in feedlots," he says.
"Feeder cattle marketing increased during May. The next cattle-on-feed report will probably show May placements fairly large, picking up some of the cattle that didn't get placed in March/April," he says.
Peel predicts marketings and placements may be almost back to where they would have been, "but getting there by a very erratic path."
Hold 'em
Another issue for some feedlots was feed, depending on whether they made a change in the ration to try to slow the rate of gain. "Presumably, the cattle that are backed up are being held back in growth a little, but still getting bigger," Peel says. "Coming into all this, we had bigger cattle with higher carcass weights. Feed was fairly cheap, and then as we got into backed-up supply, carcass weights kept going up.
"Looking at carcass weights compared to a year ago, we're slaughtering the equivalent of more cattle than at this time last year. Steer carcass weights are running 52 pounds heavier than a year ago and heifers about 43 pounds heavier," he says.
On several thousand head, that's the equivalent of a lot more beef coming through the system. Carcass weights in the second half of the year will be one of the measures to tell us when we're starting to get current again, and back into line with what we normally expect seasonally.
During the market slowdown, gasoline prices were dropping, prompting the shutdown of ethanol plants across the country and a shortage of dried distiller's grains. Feedlots had to reformulate rations utilizing something else.
"We've grown so accustomed to using distiller's at 15 to 35 percent of the feedlot diet that now we have to fill that hole with some other product to provide supplemental protein for these cattle," Rusche says.
"The price of distiller's grains locally has stabilized, and it's not as big an issue as it was, but will be something to keep an eye on in the future. Gasoline demand might not come roaring back. Many people who were commuting to work now realize they can be just as productive working from home."
Feed in general has gotten cheaper, with carryover stocks of corn. Rusche predicts that could continue into next year.
"Given crop conditions for 2020, we're looking at an even bigger carryover next year," he says. "We'll have lots of corn unless something dramatic happens weather-wise."
The one positive for feedlots is that cost of gain should stay fairly attractive, maybe better than it has been.
"This will help support feeder cattle markets because they are sensitive to cost of gain," Peel says. "Overall, however, feeder markets will be a little depressed because of the backlog of cattle; feedlots have to adjust placements until they get caught up."
The past several months have been tough on feedlots. "I don't expect to see a lot of bankruptcies, but some feedlots haven't sold any cattle for more than a month. It's a challenge to continue to feed all those cattle and take in placements," Peel says.
"We are dealing with this on a day-to-day basis now. Unless there's a dramatic resurgence of the virus, we will continue to make progress," Peel says. It was a learning curve, finding ways to get through some of these things.
"I don't think the virus will go away, but I think we'll deal with it in a less disruptive way from this point," he says. "The U.S. economy is still a question mark in terms of demand, but it's summertime and there's more optimism.
"The latest jobs report showed employment coming back up. We may be bouncing back a little quicker. If people get back to work and have money, beef will be in more demand again."