Melbourne, Australia
By Kathleen and Mark Hennessy, Contributing Editor
While we lived in Melbourne, Australia, we tried to visit as many places as we could. We invited ourselves along on our friends', Amy, Triston and Brynlee (our adopted granddaughter), weekend trip to The Royal Mail Hotel in Dunkeld. It's just outside the Grampians National Park, about 160 miles west of Melbourne. The Royal Mail is a gorgeous four-star hotel with a great history. Its setting takes advantage of the stunning beauty of the Grampians. The hotel is the home of Wickens.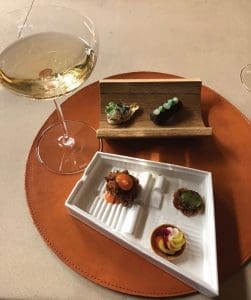 Wickens is the award winning restaurant with Executive Chef Robin Wickens at its helm. He was involved in the restaurant's planning and design, which incorporated resources available from the area. The restaurant uses locally quarried sandstone tables paired with soft pendant lighting. It has a calm and welcoming vibe. There are floor-to-ceiling windows that take advantage of the spectacular views of Mount Sturgeon and Mount Abrupt. It's simple and elegant. For the food fest, we signed up for the Chef's Table degustation experience.
Our reservation was for 6 p.m. From our hotel,  there was a lighted wooden walkway to the restaurant. Thankfully, the front door opened automatically before we were confounded by no door handles. We entered the lounge into what reminded me of a speakeasy – low light, dark wood and deep seats. We were immediately welcomed and offered a specialty cocktail or a pour of a rare, high-end wine. We tried their versions of a gin and tonic and a glass of Penfold's Grange. We enjoyed both options.
As you walk through the restaurant toward the kitchen, it's apparent the kitchen is set up like a stage. It is enclosed in glass and fully lit to see all the goings on. Once in the inner sanctum, we were led to an elevated booth on the side. We got to observe cooking and preparation up close and personal. The innovative dishes were sourced from the kitchen garden grown just yards away. The menu changes frequently based on produce harvested daily from the garden – Australia's largest working restaurant kitchen garden. The beef and lamb are sourced from a neighboring farm exclusively for the restaurant.
We started our 10-course meal with canapés, many canapés. The servers introduced themselves and explained each dish in detail. They clearly enjoyed sharing the food and their knowledge with us. Each course came with a wine that paired beautifully. Sometimes the sommelier would ask our preference – which country, which blend. We always chose to defer to their expertise, since the sommeliers have access to one the best wine cellars in Australia with over 25,000 bottles of a worldwide selection. There are wines from Napa, Wash., and Oregon, France, New Zealand and Australia, but we also sampled Austrian and German wine.
As course after course arrived, we were knocked out by how each dish created a different experience and combination of flavors that took advantage of seasonal vegetables, flowers, foams and gels, together with the lamb, beef and seafood that was all tasty and beautifully presented. We are not big gels and foams connoisseurs, but the tastes were all interesting and complementary to the dish. The Royal Mail beef and lamb melted in our mouths. The bread and butter was fantastic, especially the twice-whipped malt butter. We thought the alphabet soup was fun. We were presented a white bowl with white letters (what looked like little pasta pieces) in it. Then the server poured a beef broth over the letters. Viola, a Wickens alphabet soup.
The serving sizes were perfect. Enough to savor the unique combination of flavors but not too much food. Watching them create the dishes was mesmerizing; they were meticulously orchestrated with precision. Clearly the amount of effort that goes into each dish is staggering. Robin was a great host. He spent short periods of time with us several times during the evening. We had a 10-course meal but when all was said and done, it was really a 15-course meal. We finished with five or six desserts, ending with the jelly baby vegetables.
We left the restaurant after 12:30, a little too long but still one of the best experiences we've had. We received a handwritten bill at the end. We kept the Chef's Table menu. Each dish and wine pairing was wonderful, complex and unique – a thing of beauty. The restaurant's ambience was calm, even at the height of the dinner hour. Robin and the staff went above and beyond to make us feel spoiled.
The combination of amazing friends, serene ambience, incredible staff and amazing food created an experience we will never forget.