By Corey Downs, Contributing Editor
Ranchin' Vets was born from the idea that managing livestock is one of America's oldest traditions, one that embodies the spirit, pride and perseverance of the American people. The job of an American cowboy is not as glamorous or romantic as our society depicts, yet there is something sacred about this lifestyle. Ranching requires sacrifice, love, faith and an uncompromising work ethic. Nobody better understands what has been sacrificed for this great land than a veteran, and nobody is better suited to care for her.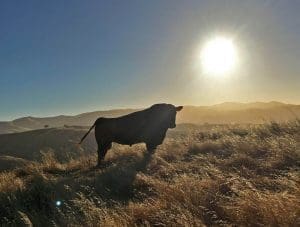 Inspired by family who served in the military, Corey and Kevin Downs co-founded Ranchin' Vets to be a resource for veterans transitioning out of the military. Kevin witnessed, firsthand, the challenges our veterans face after returning from combat when his brother came home from multiple deployments to Iraq, post 9/11. Simultaneously, Kevin worked as a seasonal ranch hand at a cattle operation in Northern California where he experienced the peace and tranquility that came at the end of a hard day's work. It was then that the concept of Ranchin' Vets was created.
"At the end of each day, when the sun was going down and the fog was rolling in, I would drive my four-wheeler to the top of the hill, turn off the engine and just listen," Kevin says. "All I could hear was the sound of the cows ripping the grass from the earth. It was incredibly peaceful. This is the type of experience we want to share with our veterans."
Our Operation Hire A Vet Program was designed to serve our post 9/11 veterans who are interested in exploring opportunities within the agricultural industry. A veteran's experience begins with their registration in our program. In March 2019 we launched our virtual veteran registration process and activated our proprietary online Veteran Community, which includes access to our agricultural job board and resource library. The goal is to assist veterans through the process of seeking employment within the agricultural industry. According to the U.S. Department of Veteran Affairs, each year nearly 200,000 service members transition from the military back to their civilian communities. The impact of our program gives hope to the staggering number of transitioning veterans.
Once a veteran is hired by an agricultural industry employer through Ranchin' Vets, they become eligible to receive a stipend to assist with housing, clothing and transportation expenses associated with their new job. This stipend is issued bi-weekly for up to six months and is paid by Ranchin' Vets directly to the veteran. Stipends are made possible through grants and donations from generous supporters.
The connection between veterans and agricultural employers has proven to be a fantastic pairing. Our agricultural partners have noted that the veterans' work ethic is like none other. Veterans are loyal, trustworthy, competent and acute learners. Employers we work with continuously post open positions on our job board because they have witnessed the unique talents each veteran employee, introduced through Ranchin' Vets, brings to the job. We strive to build upon the relationships of our agricultural partners to increase the employment opportunities for veterans in our program.
Ranchin' Vets is a part of these veterans' lives. It makes us proud and humbles us each time a veteran registered in our program provides a positive narrative at the end of their agricultural employment; most of them maintain contact with our organization to this day. It is not uncommon, to receive daily texts or emails from our veterans, just thanking us for the unique opportunity Ranchin' Vets provided to them – several even have referred to their experience as "life changing."
In conjunction with our growing number of veteran service organization partnerships, agricultural businesses and, equally as important, the support of our donors, we remain committed to serving those who have served us.
For more information about Ranchin' Vets, as well as testimonials from veterans and agricultural employers we have worked with, or to learn more about how to post an agricultural job opportunity to our Job Board, please visit our website www.ranchinvets.org.