By Patti Wilson Contributing Editor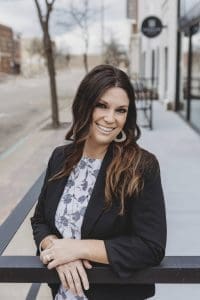 Mandi Weber of Dannebrog, Neb., has taken a winding path in her pursuit of cattle production. The Arapahoe, Wyo., native grew up on her family's farm growing sugar beets, custom feeding cattle and developing a cow herd. She learned to handle all manner of machinery and labor.
At the age of 10, Weber pestered her father to let her show a steer at the county fair; a calf from their feedlot was pulled for her project. Although this first attempt at showing "did not go well," quitting was out of the picture. The following year, Weber doubled down on her efforts and showed the reserve champion steer. She relates that she was "hooked for life."
As a 13-year-old, she purchased 10 black-baldy heifers at the local sale barn for $386 per head. Determined to raise her own cattle, she went to artificial insemination (AI) school at age 14. By age 19, her brothers were following in her footsteps to success. Upon graduating from the University of Wyoming, Weber was admitted to the institution's law school. She paid for her first year there by AI'ing 2,000 heifers during the previous summer.
Her law work has centered mostly on oil and gas development and has taken her to seven major cities across the United States and Canada. Recognized as one of the top performers at ConocoPhillips in Houston, she eventually struggled with being "out of balance with her life," longing for like-minded social contacts and livestock. She moved to Nebraska in 2016, where she founded her own private law firm. She works from home, mostly for corporations.
She and her "significant other," Joel Leo, have established their own cow herd, focusing on sound, functional cattle that are highly maternal. It is the best possible scenario for Weber. Other interests include paddle boarding on Nebraska lakes, hiking and biking. She visits two nieces who love to see her come up the driveway.
Reflecting on what agriculture has given her, Weber says that "time in the barn as a youth gave me the grit to be successful at ConocoPhillips. It helped me to do the hard things as an adult, and not be afraid to fail."