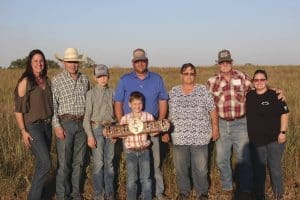 NEARLY 100 FARMERS AND RANCHERS FROM ACROSS KANSAS ATTENDED THE AUG. 23 KANSAS LIVESTOCK ASSOCIATION/KANSAS STATE UNIVERSITY (KSU) RANCH MANAGEMENT FIELD DAY NEAR TESCOTT.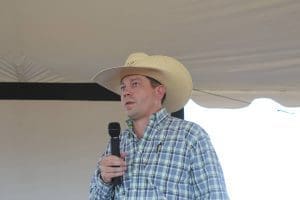 Attendees heard presentations from KSU Animal Sciences and Industry Professor David Grieger on valuing artificial insemination from a commercial perspective; Sandy Johnson, KSU cow-calf Extension specialist on managing input costs; and ranchers Levi and Jessica Ebert on how they use goats in their pasture management program. Ebert Ranch and Ahlquist Farms hosted the field day, which was sponsored by the Farm Credit Associations of Kansas and Huvepharma. Photos courtesy Kansas Livestock Association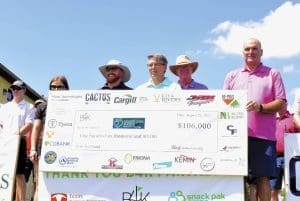 The Amarillo-area beef community presented a check for $106,000 to the Snack Pak 4 Kids (SP4K) Beef Fund. The money will provide beef protein to hungry students through the Snack Pak weekend hunger program. The check was presented at the fourth annual Beef 4 Kids Classic golf tournament in late August.