Harvey Dietrich: A Man to be Remembered
By Betty Jo Gigot Publisher
A friendship was formed when I had the chance to interview Harvey Dietrich in 1995 about his three hats as a beef processer, a rancher and a proud grandfather. In 2016, I had the opportunity to revisit Dietrich in his role as the manager of a massive ranch leased from the Navajo Nation.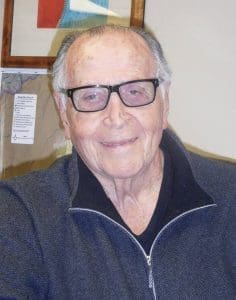 In my article titled "Where Two Worlds Merge" I wrote, "Not since visits to Australia's Outback have I been in awe of such wide-open spaces and Old West ambiance as I was while visiting the Diamond A/Big Boquillas Ranch in northwest Arizona. The high desert ranch covers 740,000 acres and has 643 miles of private road, 402 miles of pipeline, 111 steel storage tanks, 152 water troughs, 130 dirt tanks and approximately 1,100 miles of fencing on the interior and perimeter."
The story goes on to talk about the ranch all being in one time zone but that, because of the vast area it covers, the soils, rainfall, and flat valleys and high mesas with elevations of 5,200 to 6,200 feet made ranching even more of a challenge than the usual set of planning problems.
The ranch reflected Dietrich's total dedication to a true strategic alliance of retail, packer and producer with the same goal of focusing on the consumer. His innovative management skills were brought to bear using modern technology in beef production in the challenging environment.
"We've developed our own culture," Dietrich said. "We have to do things right and act as a team."
Dietrich certainly understood that, in order to survive in the beef industry, you must be a low-cost producer and a realistic one.
"If you intend to stay in business and do the right thing, plan in three-year cycles. Then, going forward, plan to interact with the consumer. We must provide them with what they want – good wholesome beef."
As on almost any ranch operation, regardless of size, water is the biggest challenge. Getting water all over the ranch is vital and the 402 miles of pipeline ran at 600 PSI, according to Gary Wilson, Diamond A's longtime manager. Water storage consisted of three 500,000-gallon storage tanks and a spare, specialized water pump necessary in an emergency because they are hard to replace.
I was reminded again of Australia's Outback when they said the biggest improvement at the time was the addition of cell phone service and two-way radio service on the property. On my first trip Down Under, the only communication was a click two-way radio, even for some of the school kids doing homework with teachers at the School of the Air in Alice Springs or Katherine. With some of the living areas on the Diamond A more than 70 miles from the headquarters, technology has added a valuable management tool.
Prayers for rain are common in that area of Arizona, and grazing numbers depend on the weather. The typical herd was around 5,000 mother cows and around 6,500 Mexican stocker steers. Coming in at around 450 pounds and shipping as eight-weights, the steers gain about 3 pounds a day in good grass conditions. From the ranch, the steers go to feedyards across the country.
Dietrich fell in love with the beef production business at the age of 15 when he started visiting the stockyards in Los Angeles, and his vision of the industry never changed from the time I first interviewed him. He saw the business as a total package from beginning to end and participated in the entire chain. To this day we still have disputes among ourselves about who we can trust to have our best interest at heart and, many times, that is about the processing end of the business. Dietrich had been there and done that in spades. One of my favorite quotes is from longtime industry leader, Bill Foxley, who said everyone should own a packing house for one day. From mama cows to steak on the plate, Dietrich was the total package.
In the 2016, story he said it right. "If you intend to stay in the business, plan to interact with the consumer. We must provide them with what they want – good wholesome beef. We need to have a bigger sense of purpose, but the opportunities are there. We need to change from reactive to proactive." Amen