By Micky Burch & Larisa Willrett Contributing Editors
As we spend some time this issue discussing the into beef promotion, research, education, information and urban/agricultural disconnect and bridging that gap, it seems a prime opportunity to review the history, efforts and recent challenges of the Beef Checkoff.
CBB Backstory
Established as part of the 1985 Farm Bill, the Beef Checkoff assesses $1 per head on the sale of live domestic and imported cattle as well as a comparable assessment on imported beef and beef products. The Beef Checkoff is mandatory, as it was approved by 79 percent of beef producers in a 1988 national referendum vote.
The Beef Checkoff is jointly overseen by the Cattlemen's Beef Board (CBB) and the U.S. Department of Agriculture (USDA). The CBB currently consists of 101 members serving three-year terms, individually identified by certified nominating organizations and appointed by the Secretary of Agriculture. CBB members are beef, dairy and veal producers as well as beef and beef product importers.
Interestingly, about 21 percent of U.S. beef comes from dairy stock, and dairy producers are represented proportionally on the CBB and state beef council boards.
According to beefboard.org, the number of board members is established according to the number of cattle in a state or region: 500,000 head for the first board member and 1 million head for each additional member. Importer board member numbers are established in the same manner.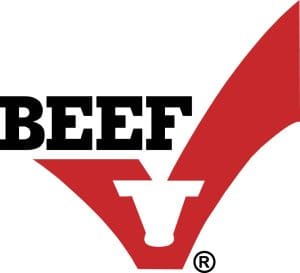 Current Checkoff Programs
The Beef Promotion and Research Act and Order authorizes Beef Checkoff funds to be spent in six program areas: promotion, research, consumer information, industry information, foreign marketing and producer communications."By investing Checkoff dollars in these specific program areas, dollars are spent more efficiently and effectively. Every decision about investing Checkoff dollars foreign marketing development is directly tied to the Beef Industry Long Range Plan. It ensures the Beef Checkoff is making targeted efforts toward driving consumer demand for beef," the website states.
The Beef Industry Long Range Plan, with a vision to be the protein of choice around the world, trusted and respected for our commitment to quality, safety and sustainability, identifies six core strategies and goals:
Drive growth in beef exports
Grow consumer trust in beef production
Develop and implement better business models to improve price discovery and value distribution across all segments
Promote and capitalize on the multiple advantages of beef
Improve the business and political climate for beef
Safeguard and cultivate investment in beef industry research, marketing and innovation
While the CBB oversees the $1 per head collection on all cattle sold in the United States, qualified state beef councils collect the money in their states and may retain up to 50 cents per dollar for approved programs conducted locally or in support of nationally funded programs, beefboard.org explains.
A Case Study: Beef Checkoff Reassures Consumers
Many recall the E.coli outbreak in 1993 at a fast food restaurant. Many don't realize, however, the pivotal role the Beef Checkoff has played in changing consumer perceptions about beef safety since then. In 1993, the Beef Checkoff funded a Blue-Ribbon Task Force, which developed an industry blueprint for managing the food safety risks from E. coli O157:H7. The task force published its findings in 1994, recommending strategies to improve meat safety. Since then, checkoff-funded research and communications through the Beef Checkoff-funded Beef Safety Research Program have played a key role in developing improvements in the beef supply chain … and changing consumer perceptions about beef safety.
According to the CBB, recent surveys have indicated that, while beef safety is still of utmost importance to beef stakeholders, it's less relevant to today's consumers. Why? Because consumers are confident about the safety of beef products – 90 percent of consumers feel the beef they eat from the grocery store is safe.
The Beef Safety Research Program will continue to focus on every step of the supply chain, beginning with the producer, all the way to the restaurant, to assure beef consumers have a safe product.
Speaking to Consumers Through Social Media
Admit it, we all use social media probably more that we should. In fact, 70 percent of Americans use social media daily. But harnessing the power of social media to educate a non-ag-savvy consumer has been a hugely successful tool for the Beef Checkoff. According to the Beef Board, the Beef Checkoff is reaching consumers where they are with cutting- edge social media campaigns on beef recipes, nutrition and beef production education. The power of 44 qualified state beef councils (QSBCs) reaches out regularly to consumers via social media, executing individual, consumer-focused social media efforts. In addition to state-specific efforts, Beef Checkoff contractors run national brands and initiatives to drive demand for beef and veal on social media.
Considering consumers grill at least twice per week in the summer, this summer's Beef Checkoff summer grilling campaign sizzled on all forms of social media to help ensure beef was on those grills. The campaign utilized a partnership with NFL quarterback Tony Romo to promote beef and the cowboy lifestyle. His "Make the Right Call" campaign targeted consumers on Facebook, Instagram and Twitter with links to his favorite recipes and grilling tips.
The Beef Checkoff also utilized partnerships with industry influencers in the food, culinary and food nutrition industries to connect with their followers on social media and educate them about beef.
The proof is in the numbers. Last year's Beef Checkoff summer grilling campaign generated more than 84 million video views; 230,000 social media likes, shares and comments; 369,000 clicks to Beef. It's What's For Dinner. articles and recipes; 315,071 BeefItsWhatsForDinner.com pageviews and nearly 50,000 audio ad listens. Estimates for this year's campaign tallies are expected to be even better.
By engaging and educating consumers utilizing the most modern methods, the Beef Checkoff is helping keep consumers tuned in to where their food comes from.