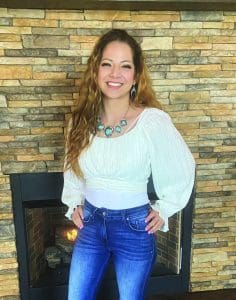 By Patti Wilson Contributing Editor 
Melissa Golding may not raise cattle, but she can serve the best steak you've ever eaten. 
The young entrepreneur has worn many hats on her way to earning manager and part-ownership positions at Bonnie and Clyde's Grill and Sports Bar in Hugoton, Kan.  
Cooking became a priority at a tender age when she took on the responsibility of elder care for her grandfather during the final 10 years of his life. It fueled a knowledge of nutrition and food preparation that has served her well. Now a mother of four, Golding says that her children "eat healthy." At her house there is no other choice. 
Her restaurant journey began when her then-husband encouraged Golding to apply for a job at Bonnie and Clyde's eating establishment. It was brand new and nearly ready to open its doors. Golding says she went from three part-time jobs to one fulltime, with good wages, and she loved it. Her dedication accelerated her into an offer to become manager and part owner of the enterprise, a job she stepped into seamlessly. 
Golding creates the menu and recipes at the eatery as well as half of the bar offerings. She trains the cooks and servers to specifics; customers must be well served and have fun. She insists on inventing or re-developing high-end entrees and daily specials, staying away from plant-based or "weird" foods. 
Typical customers are working-class people who appreciate a nice place to eat and hang out. She is proud of her employees, explaining that most of them have "Been there since day one," – March 2020 when Bonnie and Clyde's opened its doors. The low turnover in help speaks well of Golding's management skills.  
Since COVID, she says people have generally become pickier in their eating habits, and some come into the restaurant with high expectations. This makes her job mentally challenging, especially with "high-enders." She also says there are plenty of people whose compliments she enjoys. 
Time is scarce for the restauranteur. When relaxing, she enjoys watching cooking shows and movies. Walking, gardening and cleaning her house gives a lot of satisfaction, as well. 
"Being brave and taking a risk is always ok," she says. "Putting that menu out was the scariest thing.  
"You can't risk the employees' wages, but you must be humble and brave. I would regret not taking those risks."