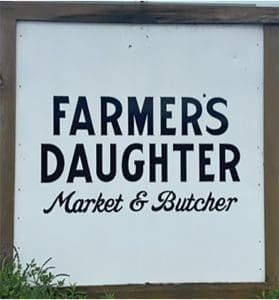 By Megan Webb, Ph.D. Contributing Editor
Did you know Americans consume the greatest majority of beef in the form of burger? Like most Millennials, I'm a cheeseburger connoisseur, and this grilling season I thought I'd take some time to introduce you to some amazing cheeseburgers, restaurants and people serving them up!
Traveling through the rolling hills of Appalachia, you'll find some cool food dives – some with unique names and stories that you should stop in and try! My first stop was the Farmer's Daughter Market & Butcher located in Capon Bridge, W.Va. This butcher shop and grocery in a tiny rural town is where they handcraft fine meats and burgers!
I had to try the House Burger, which was well worth the visit! It had a rich umami flavor, paired nicely with the acidity of pickled red onions, had a leafy crunch from romaine and was paired with a toasted, pillowy brioche bun and melted American cheese. It was a sensation indeed and a burger I won't forget!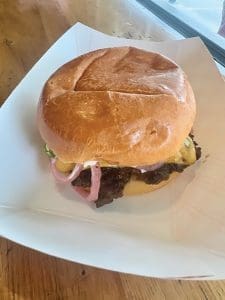 While there, I was able to connect with owner Pete Pacelli, a third-generation butcher who is very passionate about serving up dry-aged ground beef! I enjoyed the shop's comradery and small-town feel and learned that the burger was notably runner up for the 2020 WV Living magazine's best burger! Pacelli is turning out noble burgers while supporting local cattlemen and the rural region's agricultural and economic development.
The next stop on my favorite list of local beef dives was a family restaurant known as Cheetah B's located in Petersburg, W.Va. The iconic nickname is after owner Ashley Bachman who established the business with her husband, Justin, alongside their two sons. They and their staff, known as the "Cheetah Gang," provide an amazing menu variety that offers something for everyone to enjoy! That day, I was there to learn all about their beef. In addition to Justin fabricating hand-cut steaks, they serve up custom-ground 80:20 half-pound patties. Their two most notable burgers include their Frisco Melt and Whiskey Glaze.
I was excited to have the mouthwatering experience of tasting these burgers! The Frisco Melt was everything you could ask for on a thick slice of Texas toast, with a crispy beef exterior and soft bubbly cheese. The Whiskey Glaze was favored by my sweet tooth, and its soft, crumbly beef paired nicely with the crunchy onion ring topped with sweet and savory whiskey glaze on a soft bun with a fresh juicy tomato.
While I was marveling at these burgers, I appreciated learning from the Bachmans that they enjoy sourcing beef from local cattlemen and like to feature quality ingredients for their customers because of the great taste! When I asked what most of their customers say about their experience, Ashley shared that their parting remark is, "We'll be back."
It's the repeat business in the local community that is key, and the Bachmans enjoy thrilling the palates of locals and tourists as they venture through the countryside. I was excited that both of these food dives support local cattlemen by sourcing beef from agriculturalists in their communities.
Wherever you may be, take the time to check out your local establishments or visit the local food dives on your next countryside tour. Every burger can be as unique as the people serving them up! You may be as delighted as I was to learn about these Americans who serve up fantastic entrees and help keep beef the center of plate with burger being the most widely consumed protein! Serving local beef is important for rural regions' agricultural and economic development. I'm excited to have been able to highlight these two venues doing just that in West Virginia!