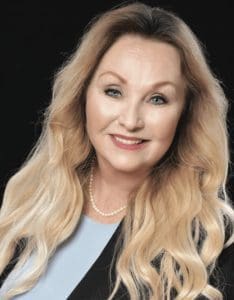 PAM GRIFFIN of Globe, Ariz., is a lady who has "many irons in the fire."
Born in Anaheim, Calif., Griffin has made her way to the office of president- elect of the American National CattleWomen (ANCW). Along the way, she has served in a multitude of leadership roles, encompassing local, state and national entities. She was, for example, appointed and served under Sec. of Agriculture Sonny Perdue as chairman of the Arizona Farm Service Agency. She's the 2019 recipient of the Governor's Award for Outstanding Arizona Woman Rancher. How did this all come about?
Griffin became involved in CattleWomen activities after buying her first group of heifers in 2011. She became a cattle owner and was determined to have her voice heard. Local involvement quickly grew to state and national, as her leadership qualities emerged. She has great admiration and respect for the smart, helpful women she has met through ANCW.
Griffin and her husband, John, own X4 Cattle Company where his family has their foundation operation at Globe, Ariz. Their Angus/Balancer/Gelbvieh females are AI'd to Akaushi bulls. The resulting calves will be fed and marketed as locker beef through X4 Cattle Company. Plans are well underway to harvest at a U.S. Department of Agriculture-inspected facility, grade the beef and move into the custom meats business.
The Globe ranch encompasses her husband's family, a 110-year establishment, and the couple runs X4 cattle as a separate entity. They are excited about the progress they've made in genetics, the potential locker beef and business plans regarding X4.
The couple additionally share seven children and four granddaughters. According to Griffin, they are "good people" and all have been involved in agriculture.
As for ANCW, Griffin said that emphasis is being placed on education and development. Thirty-six percent of U.S. agricultural owner/operators are women. She said some ladies are hands-on in their ag enterprises, but new women coming in need to establish equity with their fathers and brothers.
Many times this results in, for example, men always running the chute and women pushing the cattle. ANCW has developed a program named Women in Ranching Education and Development (WIRED) as a tool to help women transition into leadership roles on the ranch. Teachers will hold seminars (such as Beef Quality Assurance) to guide and encourage women going home to ranch. ANCW is also expanding a program called Women in Leadership Development (WILD), teaching how to conduct meetings and empower women.
Griffin is slated to become ANCW president in 2023, a role she is excited to take on. Her parting thought is a piece of advice handed down from her father: You have to give back.
Her dad would be mighty proud of his daughter.