By Patti Wilson Contributing Editor 
Weather. It is a broad subject – too broad to write about even in general terms, and too personal to express in our many experiences.
Let's Break It Down 
Good or bad, each member of our cattle community deals with daily weather events in a different way. Even though we share this experience simultaneously, our separate lives and businesses are affected individually. I called upon several of our assorted group to let them tell us how each is affected and in what manner they respond.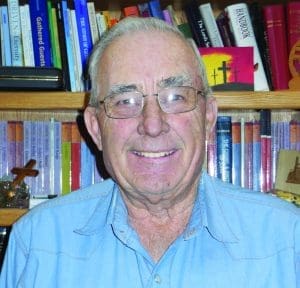 Arnold Nilsen, Nilsen Hay Company 
Few people deal with daily weather as much as Nilsen. He raises, purchases, grinds and delivers hay to ranches and feedlots in the central cattle feeding area. The Hazard, Neb., hay broker knows all his customers' setups, which direction the wind must be blowing at grinding time, and keeps bunkers full of feed when bad weather is on the horizon. 
Nilsen says 2022 was the driest ever for his business. Hay yields were down, with regular suppliers unable to sell, or selling to neighbors. Local feedlots fell short in the summer, but fall brought an influx of cornstalk and bean stubble to compensate for the lack of summer forage. He related that nutritionists are constantly consulted, and if people are not honest, "it follows them." 
Cornstalks benefit greatly from a good, hard freeze in December and January. Quality is retained and they dry out beautifully, making an easy grind. The preferred feed, however, is bean stubble. Feedlots concur; they go through the grinder and blend easily, are dry and contribute an excellent "scratch factor" for ruminants.  
Nebraska has historically been the most abundant producer of cornstalks, bean stubble and alfalfa. Much of it is shipped to Kansas and Colorado. This year, however, Nilsen says that Nebraska has retained most of their crops and are still running short because of drought.  
Weather has affected his hayfields in the past, with both drought and flooding. The grinding business is, for the most part, affected by wind. 
Feedlots are his preferred customer. They are honest and direct. Ranchers are cherished, as well. "Honesty is the most important factor in doing business with anybody," Nilsen says. "The customer has to be on the good end of the deal." 
Nilsen is concerned with what will happen about hay being shipped away from his area if dry conditions continue. He wants to remind us that a grinder costs $525,000; converting a truck into the grinding unit costs an additional $45,000.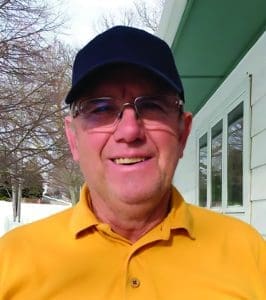 Kenneth Anderson, DVM 
"There are reasons why some days I do certain things," says Kenneth Anderson of Ravenna.  
During stressful weather, calves are born differently and often need a pull. A cow's whole body is affected, producing milk fever and metabolic issues. Prolapses become more frequent.  
Anderson blames changes in barometric pressure and resulting blizzards or cold rains for much of this trouble. Eating habits change, as well. These issues often surface in advance of a front, signaling stockmen to be on alert for a run of bad luck. 
He spoke of his "old timers" who lived by the Farmer's Almanac, checking moon and sun charts. He says the signs were followed carefully no matter the inconvenience to veterinarians, neighbors and family. Today, he says, we work cattle on seasonal schedules, five days a week. He smiles when he says he's sure the Almanac system worked.  
"Some guys castrated, dehorned and weaned on three different days, according to the moon." This ritual was followed regardless of the weather. "One day," he remembers, he "dehorned calves in a blizzard because the moon was right." 
Our vet finds the changes of weather, moon and sun movement and earth's magnetic shift a fascinating topic affecting animal health. He may not concisely prepare for weather changes physically, but does mentally to diagnose weather-related problems. 
Bob Hibberd, Order Buyer 
Bob Hibberd of Kearney, Neb., noticed a change in the 2022 cattle runs. He was seeing 800 to 1,200 cows coming in to each auction market he frequents weekly, some being hauled a long way.  
The 2022 calf run, he says, started six weeks early, with calves 75 to 80 pounds lighter. Snotty noses and watery eyes added to the problem of procuring trucks to haul the youngsters to their next home.  
A worse problem was the potential shortage of feed for the bawlers upon their arrival at backgrounding lots. Drought conditions prompted Hubberd's customers to "put the brakes on buying these calves" with access to feed being a big question. 
He has seen long lines of trailers with people selling cows at their local auction markets. It makes him particularly sad, indicating there will be a shortage of calves in 2023. Although Hibberd's business has not been severely impacted, he knows other order buyers who have been slowed or completely shut down in 2022.  
His final thought was not weather related. He's concerned that the U.S. beef Industry is headed the way of pork and chicken, with a few big players controlling every aspect of our businesses, right down to the farm and ranch. He says it is happening right before our eyes. 
Jerry Kuenning, Cow-Calf and Feedlot Operator 
Imperial, Neb., rancher Jerry Kuenning finds calving a most challenging time. He beds his calving pens with cornstalks, grass hay or straw so calves have less chance of chilling, and cows can eat the low-quality feeds, generating adequate body heat. He appreciates the "scratch factor" of these feedstuffs, especially for newly purchased calves, believing that long stems are important to a healthy gut, and likes the benefits of dry rations 
Kuenning weaned early last year  – July 18 – and sent his cows to CRP grass. Having pivot irrigation, he planted cane grass after wheat harvest, and windrowed the cane. Cows were later turned into the windrows to graze; the field was divided into four sections to reduce waste. 
"The philosophy in drought is to buy time," he says. He planted triticale last fall, with a plan to bale additional cornstalks, straw and cane next year. If worse weather comes next year, he says he can dry lot his cows in the family's 5,000-head feedlot as a last resort, although he's never had to do that before.  
The rancher's had no pulls on calves this year from the dust, weaning his calves on pivots. Circles are fenced off, avoiding corners and calves are supervised on horseback for a day. No creep is provided and calves graze the pivot ground. Bale feeders with straw are provided to dry out wet grazing. "Winter weather brings methods that work," he says, "We're here to learn."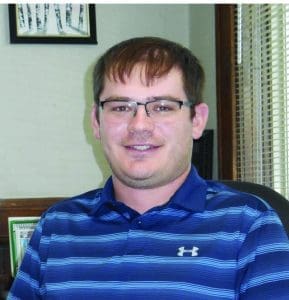 Michael Bauer, Banker 
Town and Country Bank in Ravenna, Neb., is the home base for Michael Bauer. With four years of loan experience, he's still learning the ropes but offers some sage ideas to use during tough times. 
His bank tries to be flexible when weather disrupts clients' cash flow papers. Bauer says he knows his customers and the bank will account for changes in management if their finances allow. He emphasizes that utilizing a local bank is helpful because changes occur daily. He says that row crop people can "flip flop" in one year with weather changes, and cattle might either stay on the farm or be sold.  
Risky loans must be monitored aggressively in order to give time to clients who need to be refinanced.  
"Farmers need to know if they are burning equity," Bauer asserts. 
His bank regularly sponsors educational programs on risk and finance. They are well attended and valuable to the wellbeing of their clientele, cutting off a little more risk. He's observed that young farmers have a difficult time transitioning from being labor into being management, but conversely are more tech-savvy, giving them a big advantage in navigating cash flow sheets. These roadmaps can predict changes through the year and be helpful in preserving a good bottom line.  
How do you handle bad weather on your operation? Chances are, your story will be unique.