By: Betty Jo Gigot
October already? It's hard to believe trees are turning and calves are ready to bring to town. I'm not sure where the time goes, but it's certainly a busy time of year for you all. There's something about putting the final tire on the top of the silage pit that brings closure for another year. You know what I mean.
A definite jolt from the same old business of the day was the opening of the Research and Education Center at Hy-Plains Feedyard in Kansas. The buzzword the last few years for all of agriculture has been sustainability. We here at CALF News as well as everyone else in the press have written about the various definitions and applications of the word. We've all sat through numerous presentations on our obligation to world's future through sustainability.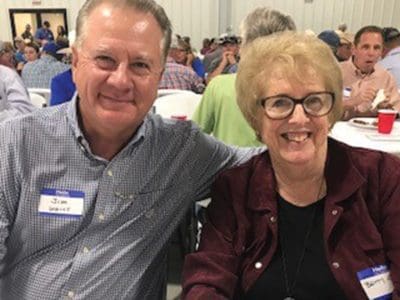 Mentally, I agree it's our responsibility, but in my heart I've always resented industry outsiders like McDonald's and the World Wildlife Fund telling us how we should take care of our resources. Don't they understand we would never harm our land or our livestock? They're our livelihood, so of course we take care of them. How else can we make a living? Why should I change the way I do business just to please factions outside the cattle community?
One speaker at the roundtable discussion during the Hy-Plains Research and Education Center grand opening finally put it all into focus for me. Mark Gardiner, area rancher and recent survivor of this spring's horrific prairie fires, used facts and figures, and his good-old-boy country charm to explain that the third leg of the sustainability stool – financial viability – is the answer to it all.
Gardiner began his presentation by thanking everyone in the room for what they'd done for him, his family and other area ranchers during the fires. With the loss of over 500 head of cattle and thousands of acres of grass, his third-generation ranching family still has a lot to be thankful for. They all survived and will continue to because they understand the point of it all – capturing the value.
True sustainability is being environmentally sound and socially responsible, but the only way you can do that is to make sure your business sustains as well. The people at the WWF and McDonald's need us to survive because we are the heroes – the ones who feed the world. To do that we need to make enough money to continue, hopefully for generations.
I had a serious problem putting this issue together. Besides my traipsing around the country, it turns out we had lots more copy than we had room for. We decide how many pages we can print based on how many advertising dollars come into the coffers. Yes, back to the third leg of sustainability.
As you read our stories, also notice the people and the companies who pay for advertising space. When you see representatives of those companies, tell them thanks. They're the reason we can bring you all of this informative "stuff."
Where else would you get to read about Patti Wilson's eclipse pasture pals, or remember the contribution Dee Griffin continues to make to the industry. CALF News is the best place to laugh with Baxter and the only place to cogitate with Jim Whitt.
We're proud to feature the Cattle Feeder's Hall of Fame and the Oklahoma Cattlemen's Association Convention, along with all of our other contributors. Our hope is that you enjoy reading CALF News as much as we enjoy putting it together for you.