Sustainability Policy, Marketing, Checkoff Success
By Larry Stalcup, Contributing Editor
Think about the possibility of climate neutrality for U.S. cattle production by 2040. Can it be done? The National Cattlemen's Beef Association (NCBA) believes you can bet your boots on it, so much so that it made it part of the association's list of sustainability goals that were announced at the recent Cattle Industry Convention & NCBA Trade Show in Nashville.
Industry sustainability was among topics discussed by some 6,000 who attended the convention at the mammoth Opryland Resort and Convention Center. The event featured the annual NCBA Cattlemen's College, dozens of policy meetings and a host of entertainment. It wasn't hard to get in 8,000 steps a day maneuvering from meeting to meeting or trade show booth to another.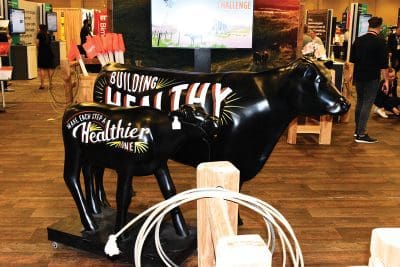 Sustainability has been a divisive topic in the cattle industry the past decade. When compared to the environmental and animal welfare concerns of many consumers, beef retailers and food service entities that cater to them, cattle producers typically see their profit margin as the key element in the sustainability of their operation.
Of course, cattlemen and women are staunch stewards of the land, their water and the cattle in their care. But making a profit must also be considered in the sustainability equation, said Marty Smith, NCBA past president and part of a longtime Florida ranching family.
"Producers deserve recognition for their use of cutting-edge practices and technologies that minimize environmental impact," Smith added. In introducing the NCBA goal for climate neutrality, he outlined three other objectives:
Create and enhance opportunities that result in a quantifiable increase in producer profitability and economic sustainability by 2025.
Enhance trust in cattle producers as responsible stewards of their animals and resources by expanding educational opportunities in animal care and handling programs to further improve animal care.
Continuously improve our industry's workforce safety and wellbeing.
"By setting goals, we're publicly committing to continuous improvement and setting targets that allow us to measure and document those efforts," Smith said.
Beef industry sustainability was the topic of a panel. It featured NCBA CEO Colin Woodall and representatives of food service Kristine Young of Darden Restaurants and David Norton of Sysco. "Five years ago there's no way we would have had this panel," Woodall said, noting how the attitude toward better sustainability education has evolved.
Sysco, which services tens of thousands of restaurants internationally, has more than 4,500 sellers. "Sustainability is the right thing to do and there's a lot we can do," Norton said, pointing out the need to educate consumers and even company shareholders.
"We educate our sellers on how beef is raised and where it comes from. NCBA is helping us get your story out there."
The Darden restaurant lineup includes Longhorn Steakhouse, The Capital Grille and Olive Garden. "Our sales are 14 percent above where they were pre-pandemic," Young said. "We realize the demand is there, but there's more pressure on us to explain sustainability at the ranch. You [ranchers and farmers] are more respected than corporations, politicians and even scientists. We need to get out the correct story on your sustainability.
"Consumers are disconnected from the food chain. Your story is important. It's amazing that I can talk about NCBA's goals [to institutional investors]. These are climate solutions."
Norton said the food industry and cattle producers must work as a team. "I don't think we've been connected enough. We need to work closer together."
A new NCBA Sustainability Goals Task Force is designed to evaluate the current state of U.S. beef cattle sustainability, determine which improvements are most critical and help share the story of progress. Producers and feeders from across the nation make up the task force.
As far as beef production's impact on the environment, "We are the solution, not the problem. NCBA is now on the offensive," Smith proclaimed.
More Market Transparency
Price transparency issues came to a boiling point in the heart of COVID's negative impact on cattle and wholesale beef prices. It came down to whether government-mandated or voluntary negotiated cash trade is needed. The NCBA Live Cattle Marketing Committee was expected to hear bickering from both sides, along with loud anti-packer sentiment. Instead, it was an orderly, business-like summit. The issues were discussed and a directive was made to create a new working group on market information, transparency and reporting.
Cattle groups from Nebraska, Kansas, Iowa, Oklahoma, California, Montana, Texas and other states put together both revised and new policy resolutions that addressed price discovery. Leadership at Texas Cattle Feeders Association (TCFA) further highlighted the role of the new working group.
The group will focus on increased market transparency by evaluating the impacts of Livestock Mandatory Reporting (LMR) confidentiality guidelines and defining the key elements of a cattle contract library and associated LMR reporting, TCFA stated. The focus will also be on determining the type and content of captive supply and other alternative marketing agreements that must be reported to U.S. Department of Agriculture (USDA).
The group will also review the functions and intentions of the Packers & Stockyards Act; evaluate the need for additional research on the regional levels of negotiated trade to provide robust price discovery; and review the size threshold and other criteria for packing plant participation in LMR. The group's recommendations will be presented during the 2022 Cattle Industry Convention in Houston next February.
In a related measure, USDA announced a National Daily Direct Formula Base Cattle Report in early August. It is designed to provide greater information into the foundational prices used in cattle market formulas, grids and contracts. It will also provide a National Weekly Cattle Net Price Distribution Report, which will show the volume of cattle purchased at each different level of pricing within those formulas, grids and contracts.
"USDA's announcement is a significant step toward increasing transparency in the cattle markets," said Ethan Lane, NCBA vice president of government affairs. "As LMR awaits congressional reauthorization, it is encouraging to see the Biden administration taking proactive steps to broaden the scope of this critical information tool. NCBA remains committed to maximizing market transparency and looks forward to building on this momentum to shed more light on the fed cattle trade."
Exports Add Value
Benefits of beef exports to cattle prices are growing. They were examined closely at the convention's International Trade Committee session. Trade agreements with Japan, Korea, the new U.S. Mexico Canada Agreement and phase 1 of the China trade agreement are adding to the already strong demand for U.S. beef abroad.
U.S. beef exports are up 21 percent at about $4.16 billion the past year. Those exports include more than a 1,000 percent increase in sales to China, said Brett Stuart, an analyst and founding partner of Global AgriTrends. "The Chinese love grilled beef," he said, "and pay $6.23 per pound for beef on an income that is one-seventh of that in the U.S.
"We sell nearly every box of short ribs to Asia. China is often outbidding Japan and Korea."
Kent Bacus, NCBA's senior director of international trade and market access, said an NCBA grassroots effort is pushing to replace the "Product of the USA" label with a voluntary "Processed in USA" label.
NCBA contended that the Product of the USA label could include imported beef as long as the product has been minimally processed or repackaged in a USDA-inspected facility. However, it is not subject to source verification and does not deliver value back to the cattle producer.
"The Product of the USA label does not meet the expectations of today's consumers," NCBA President Jerry Bohn said. He explained that the label reduces incentives for producers to use voluntary, source-verified claims that allow them to more effectively distinguish their high-quality product in the marketplace.
Bacus said scientific data on the safety of U.S. beef enables NCBA and others to enter more trade channels. "Our science data is vital to offset anti-beef groups that are telling lies," he said. "We have gained the trusts of our foreign customers."
Fake Meat Wars
Jason Lusk, Purdue University food and agricultural economist, said major financiers have tossed tons of cabbage toward support of plant-based and lab-grown meat alternatives. New science is even developing phony beef flavoring for the fake meats.
For example, in an interview with The Washington Post for a story published in July, Pat Brown, founder of Impossible Foods, pushed the company's pledge to eliminate animal agriculture in the next 15 years: "Put it on your calendar, because Impossible Foods is going to do it."
But don't fear. Lusk said Impossible, Beyond and other fake meats make up about one-third of 1 percent of total "meat" protein sales. However, their bias against beef and other meats remains troublesome because Brown and others are throwing millions of dollars into measures aimed at disrupting beef and other meat production.
False arguments that still label beef production as bad for the environment are continuously disproven by science. Beef has only a 2 percent effect on greenhouse gases, Lusk said, adding that corn and grass used to feed cattle help store and transport energy.
"Animals convert that energy into what consumers want," he said. "Meat is a conversion of energy."
Environmental Stewardship,
Other Awards
The Cattle Industry Convention recognized producers who are careful caretakers of the environment and who excel in production efficiency. These and other awards included:
2021 Environmental Stewardship Award Program – Beatty Canyon Ranch, Kim, Colo.
2021 BQA Cow-Calf Award – Deseret Cattle & Citrus, St. Cloud, Fla.
2021 BQA Dairy Farm Award – Willow Behrer Farms, Spruce Creek, Pa.
2021 BQA Feedyard Award – Imperial Valley Feeders, made up of several feedyards, including Brandt Cattle Co., El Toro Land & Cattle, Foster Feed Yard, Mesquite Cattle Feeders, Moiola Cattle Feeders, Phillips Cattle Co., and Superior Cattle Feeders.
2021 BQA Marketer Award – The Livestock Exchange, LLC, a regional livestock auction market, Brush, Colo.
2021 BQA Educator Award – Steve Boyles, Ohio State University Extension beef cattle specialist.
The Cattlemen's Beef Board joined others in celebrating the 35th anniversary of the Beef Checkoff. CBB's first-ever Beef Checkoff Visionary Award went to Jo Ann Smith of Wacahoota, Fla. She was among a dedicated committee that helped get the checkoff passed in 1985. The honor recognizes an individual who has demonstrated exemplary support of and commitment to the Beef Checkoff's goals and vision.
The checkoff returns $11 or more for every $1 paid by producers and feeders. With more than 1 billion impressions, the "Beef. It's What's for Dinner" label is recognized by some 70 percent of the U.S. population. The checkoff has helped introduce higher quality beef to consumers – who don't mind paying for it.
Pickin' and Grinnin'
Nashville was scheduled to host the convention last February. But COVID postponed it until August. Despite the Tennessee summer heat, Nashville offered up its usual downhome hospitality. Many a glass of sweet tea helped cool down the crowd. And many of those attending also nursed a nip or two of Tennessee whiskey.
Two-steppers enjoyed a session of the Grand Ole Opry and toured the legendary Ryman Auditorium where the Opry started. Kix Brooks, half of the Grammy-winning and Country Music Hall of Fame duo Brooks & Dunn, entertained during the convention's first general session. He reviewed the history of the Boot Scootin' Boogie pair, and even sang one of the many No. 1 hits, You're Gonna Miss Me When I'm Gone.
Plans are already in the works for the 2022 Cattle Industry Convention & NCBA Trade Show, set for Feb. 1-3 in Houston. In fact, registration opens Nov. 1 at www.beef.org. Look for more coverage of this year's extravaganza in the CALF News December 2021/January 2022 issue.