By Larry Stalcup, Contributing Editor
Red Steagall first met Johnny Trotter when famed cowboy poet Buck Ramsey was hospitalized in Amarillo, Texas, after being thrown from a horse. To liven up Buck's spirits, Red slipped a little hooch into the hospital room. As they took a swig, a Methodist preacher from Dumas walked in. He had with him his young son, Johnny.
Red and Johnny laugh about that time and reminisce about their paths to success in fields they dearly love. While Red has entertained millions with his country music and cowboy poetry and tales, Johnny has finished millions of cattle through Bar-G Feedyards outside Hereford. Trotter's successes in feeding cattle and support for the entire beef industry are reasons behind his 2021 induction into the Cattle Feeders Hall of Fame (CFHOF).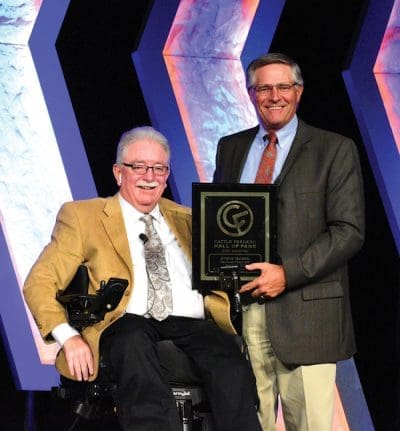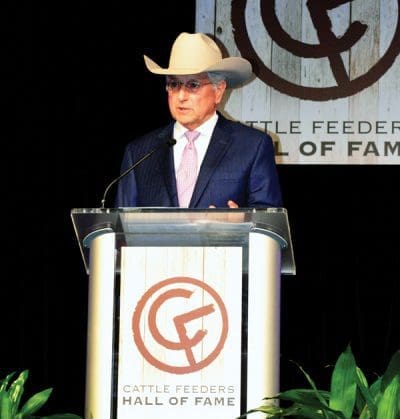 He was honored at the 12th Annual CFHOF Induction Banquet that coincided with the Cattle Industry Convention in Nashville. Also inducted was Colorado's Steve Gabel, whose Magnum Feedyard in Wiggins is a model for cattle feeding excellence.
Gary Smith, Ph.D., longtime meat science researcher and visiting professor at both Colorado State University (CSU) and Texas A&M, received the CFHOF Leadership Award. George Eckert of Green Plains Feeding Company in Leoti, Kan., and Gaspar Martinez of Harris Feeding Co., in Coalinga, Calif., were presented the Arturo Armendariz Distinguished Service Award.
Steagall introduced Trotter and talked of his colorful career outside cattle feeding. Trotter grew up in Hereford and was on a horse as much as possible. He learned to work and care for cattle. Roping was also in his blood. In 1983, that passion led to him become a partner with other astute agribusiness leaders in purchasing what became Bar-G Feedyards.
The facility grew from 40,000-head capacity to 90,000, along with an adjacent 35,000-head yard. Trotter's love of horses led to deep involvement in Quarter Horse breeding and racing. One of his interests has been in One Famous Eagle, a stallion that sired three All-American Futurity winners. He is a general partner in a group that purchased and helped revive Ruidoso Downs in New Mexico and is a member of the Texas Horse Racing Hall of Fame. He's also a member of the National Cowboy & Western Heritage Center Museum Hall of Fame in Oklahoma City.
Trotter's love of his alma mater, West Texas A&M University (WTAMU), has been instrumental in helping the Hereford's Spicer Gripp Memorial Roping raise more than $1 million in scholarship funding for WTAMU ag students.
Steagall described Trotter as a savvy businessman who happens to be a great roper. "He knows there's a right time to throw that loop, the right time to grab your slack and the right time to dally," Steagall said. "He is made of the right kind of stuff."
Steve Gabel is in the same mold. Raised in Weld County, Colo., he attended Colorado State and earned a degree in animal science. He spent time as a CattleFax consultant before helping manage two feeding companies. In 1993 he acquired a 3,500-head feedyard in Higgins with his wife, Audrey.
The yard has grown to 35,000-head capacity, with much of its success attributed to Gabel's adaption of production technologies and his people skills. He has strived to improve employee safety and animal welfare. For his efforts, Mangum was named National BQA Feedyard of the Year in 2017.
The Gabel family also runs commercial cow-calf operations in Wyoming and Colorado. In between jobs, Gabel serves on the CSU Board of Governors and is a long-time member of the Colorado Cattlemen's Association and is past chairman of the Colorado Beef Council.
Gary Smith, Ph.D., is one of the most renowned beef scientists in the world. CALF News Publisher Betty Jo Gigot, herself a CFHOF Leadership Award winner, says, "I would consider Gary Smith one of the most influential meat scientists in the history of the industry."
His research has helped improve beef palatability. He helped set USDA feeder cattle grades and standards. Smith helped design the National Beef Quality Audit and other advancements in beef production. His ingenuity even helped enhance transoceanic shipments of variety meats. He credits much of his success to cattle feeders, packers and retailers that allowed him to use their facilities in his decades of research.
At the age of 16, Gaspar Martinez left his home in Mexico and ventured to California cattle country. At 17, he hired on at Harris Beef and has handled nearly every chore for the sprawling operation's feed bunks, mill and maintenance crew. He now oversees Harris' processing and hospital crews. Martinez has trained dozens of pen riders and other cowboys to help them identify sick cattle and get them into treatment.
George Eckert started working at Green Plains Cattle Company in 1984. He mastered the art of running rolls, probing trucks by hand, sample testing and running boilers. As the feedyard management has changed over the years, he has remained maintenance supervisor. He oversees operation of more than 200 pieces of equipment.
Eckert and Martinez are examples of the men and women who make feedyards succeed. CFHOF developed the Arturo Armendariz Distinguished Service Award to recognize feedyard employees like them, those who go above and beyond the call of duty to help improve the cattle feeding industry. Arturo Armendariz was a longtime devoted employee of Poky Feeders. He exemplified the true feedyard employee.
Nominees for the 2022 CFHOF achieved their status thanks to team players like Eckert and Martinez. The nominees include the late Dallas Horton, a Colorado cattle feeder and veterinarian who served on the CFHOF board; Tom Jones of Hy-Plains Feedyard in Montezuma, Kan.; Robert Rebholtz Jr., president and CEO of Agri Beef in Boise, Idaho; Jack Reeve of Reeve Cattle Company in Garden City, Kan; and Norm Timmerman, a cattle feeder and agribusiness leader from Omaha, Neb.
Nominees for the Leadership Award are Bill Pullen, feed mixing and other equipment innovator from Lincoln, Neb.; Bill Pratt, founder of Micro Chemical Inc., Amarillo, Texas; and Dee Likes, former head of the Kansas
Livestock Association.