By Larry Stalcup Contributing Editor
Before he passed away in the 1990s, Spicer Gripp spent much of his Hereford, Texas, time helping youth develop skills that would guide them toward careers in agriculture. That spirit continues larger than life with the Spicer Gripp Memorial Roping, which has helped corral close to $1 million to help fund scholarships for West Texas A&M University (WTAMU) ag students.
" The Gripp," as many in Hereford and across the Texas Panhandle call it, completed its 2022 memorial roping in August. With input from a world of local, regional and national sponsors, the event provided WTAMU with another $100,000 heading into the fall semester in Canyon.
Lance Kieth, Ph.D., associate dean and department head of the WTAMU Paul Engler College of Agriculture and Natural Sciences, says the scholarships are available for students pursuing an agriculture degree at WTAMU or who participate in the WTAMU rodeo program.
"To be able to provide those scholarships to our ag students and those in our rodeo program helps encourage them to get their degrees and stay in the field of agriculture," Kieth says.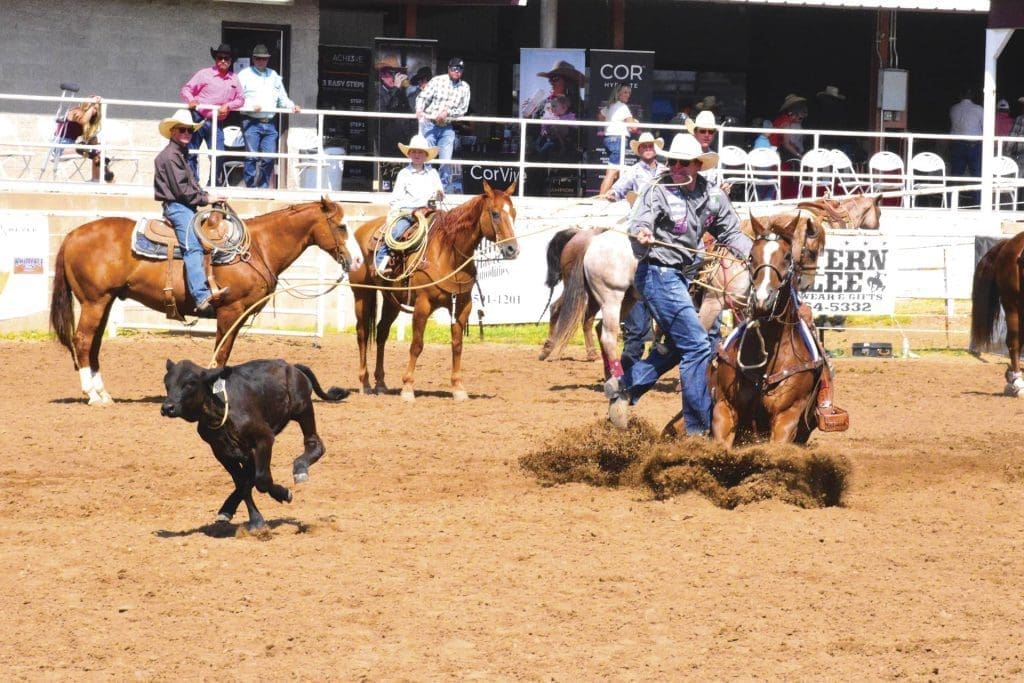 $425,000 Payout
Sponsors of The Gripp put up hundreds of thousands of dollars in funding for the event. Ropers in team and tie-down events won more than $425,000. That vault of prize money draws the world's best in those sports. It's overshadowed only by the likes of Cheyenne and Calgary mega rodeos.
One supporter from the beginning has been Johnny Trotter, president of Bar-G Feedyard and member of the Cattle Feeders Hall of Fame."This started
as just a roping. Now, it's one of the most prestigious events for the entire Panhandle and the Southwest," says Trotter, whose team captured the Classic Team Roping title a few years ago. "What we're able to do for WTAMU is made possible by many sponsors and longtime supporters. It's rewarding to the group of us who started this event to see what it has become – a vehicle for philanthropy, for the college and for the sport of roping. I'm really proud of it."
Tie-Down ropers put on a show. Contestants included PRCA World No. 1 ranked Shad Mayfield and No. 3 ranked Caleb Smidt. But the best four-round average went to No. 10 ranked Marty Yates, according to roping statistics courtesy of The Team Roping Journal.
The Open Team Roping competition also featured a number of World Top 20 headers and heelers. Winners of the overall average were No. 13 Cody Snow and Wesley Thorp.
The Classic Team Roping winners were Matt Collier and Chip Gress. Although he didn't win, Trotter and his heeler, Troy Shelley, finished third in the Classic roping.
Other roping winners included Junior Team Roping – Colt Mason and Caden Anderson; Junior Open Team Roping – Jaxon Stoker and Tate Thompson; and Panhandle Express Senior Steer Roping – Ryan Miller.
Kieth says WTAMU's ag program is expanding, thanks to support from Spicer Gripp, noting that the ag school enrollment tops more than 1,000
this fall."Having that much support from Spicer Gripp is important to our program," he adds."We're able to match that money with funds from the Paul F. and Virginia J. Engler Foundation.
"It has become a struggle to keep up with our ag student growth. Spicer Gripp helps us do so. We're leading the entire university in growth. We even had to hire three new instructors in August to meet our demand."
Spicer Gripp's goal of helping kids become agriculturalists grows brighter every year. It's no doubt that many of WTAMU's ag school graduates achieved their goals thanks to his.