By Terri Licking, Contributing Editor (4 A Cure)
The adage about Nebraska weather – wait a bit and it will change – played true on the second day of the 2017 Cattlemen's Ball at the Lonesome River Ranch near Milburn, Neb. On Friday, the wind blew 20 mph, making the nearly 80-degree day hot for early June; bearable but one needed to hold onto their hat. Saturday, those hats became fans as hardly a breeze stirred the air. By 5 p.m., storm clouds arrived, bringing a high and cool wind. God must have blessed the ball because the rain held off.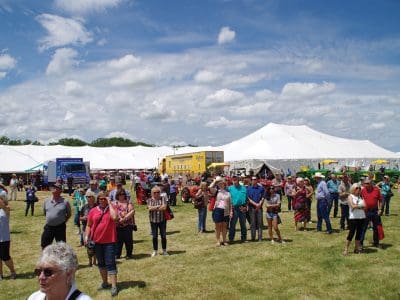 Trail Boss ticket holders started their day at 9 a.m. with a breakfast brunch. They received a campfire mug with this year's logo "4 A Cure." Custer County, where this year's hosts Jeff and Lisa Johnson, daughter Jesse and son Ethan call home, is designated on license plates by the number four. The hosts and their committee felt it would be good to incorporate the number into the ball's theme since those battling this dreaded disease are hoping, praying, wishing and fighting ''4 A Cure."
This was the 20th year for the Cattlemen's Ball, which was preceded by six years of the Cattle Baron's Ball. The latter benefitted the American Cancer Society mainly, but after a year's hiatus between the two, a new logo and name emerged. The Cattlemen's Ball benefits the Fred and Pamela Buffet Cancer Center in Omaha, and area medical and healthcare organizations.
Between the breakfast brunch and the Trail Boss Lunch at 11:45, attendees roamed the lush green carpet of grass to visit the various tents around the grounds.
Silent Auction Tent – A myriad of donations for all ages were available for bid.
Art and Wine Tent – Visitors were able to purchase a commemorative Cattlemen's Ball of Nebraska glass and five wine tastings from four Nebraska vineyards offering their various wines – Broken Arrow Cellars, Lazy Horse Vineyard & Brewing, Mac's Creek Winery and Vineyards and Miletta Vista Winery.
Beef Tent – Culinary shows and tastings throughout the day offered the No. 1 agriculture product of Nebraska – beef – from Certified Angus Beef, Certified Hereford Beef, Wagyu beef and Morgan Ranch Beef.
Buffett Cancer Center Tent – Staff from the ball's primary benefactor offered health screenings.
General Store Tent – This venue offered not only various commemorative "4 A Cure" logo items, but vendors from both near and far came to sell their wares throughout the day.
Saloon tent – Refreshments of the alcoholic variety as well as free water were offered to visitors. Other refreshment concession stands were also on the grounds offering lunch.
Other activities through the two days included a shotgun-start golf tourney for 20 teams of four at the Broken Bow Country Club golf course, and at the party barn at Kinkaiders, ladies painted wooden door charms.
Saturday opened with Kearney High School upcoming senior Daisy Maessner singing the National Anthem followed by Somewhere over the Rainbow when dozens of balloons were released. A style show with cancer survivors, both young and old, gave proof positive that cancer does not remove hope, faith and spirit. An unusual ranch rodeo featured a drinking relay race.
Wagon rides by two teams belonging to Bill Altwine of Plainview were provided. He drove his Shire team, Jim and Jack, while a friend from Neleigh drove his Percheron/Quarter Horse-cross team, Bo and Luke. The wagons as well as the shuttle provided by Farm Credit Services traveled to the Middle Loup River where airboat rides offered a welcome reprieve from the hot, calm day.
In the Main Tent the Trail Boss lunch and the second of four auctions took place at noon. Like the night before, the final item on this auction was a 20th anniversary custom etched collector's edition wine bottle. Like its predecessor, this one sold numerous times, finally coming to rest with local rancher Kevin Cooksley for $800. Total sales of this bottle came to over to $7,000. The night before, all the re-sales amounted to over $20,000.  The Main Tent also held the main event prime rib evening meal for both the Trail Boss and Top Hand ticket holders as well as the last of the four auctions. The third auction was held at the ranch rodeo arena during the day and featured farm and ranch equipment.
After the evening meal, some of the dignitaries recognized by past speaker of the Nebraska legislature Mike Flood included U.S. Sen. Deb Fischer and her husband Bruce; Reps. Adrian Smith and Don Bacon; Neb. Director of Ag Greg Ibach; past Governor Dave Heinemen; and current Governor Pete Ricketts who took to the podium, offering his gratitude to all and especially beef producers for the excellent job they are doing.
"In 2016, exports of Nebraska beef to Japan increased 36 percent; China has consented to re-open their borders to Nebraska beef; and the only kosher beef processing plant in the U.S. shipped its first load of beef to Israel from Hastings this year."
The evening's emcee Dave Birnie, owner of KCNI/KBBN radio of Broken Bow, turned the podium over to Dr. Ken Cowan, director of the Fred and Pamela Buffett Cancer Center.
"The new center will open its doors shortly, and through those doors all will pass – be they patients, doctors, nurses, housekeeping, laundry," he said. "All will ride the same elevator, only then will they separate. This shows that everyone will have the same focus – to fight for the patients who come through those doors with them. If you have cancer, now or in the future, this center was built for you; it was built for everybody.
"The past 19 balls have raised over $11 million for the Buffett Center," Dr. Cowan continued. "With that, we have brought 150 new researchers to help our cause. We are the only co-location cancer center in the U.S. – meaning we have in one place both doctors and researchers."
After Dr. Cowan spoke, one of his patients Ashli Brehm, a young mother of three boys under the age of six, told her story of surviving cancer. She attended last year's ball two days after her last radiation treatment. At the time, she met another cancer fighter who had the same type of cancer she did. Her new friend, Julie, didn't survive, leaving a husband and small children. Ashli's tears were not the only tears in the tent during her story. A standing ovation was given to both Dr. Cowan and Ashli.
Saturday evening featured musical entertainment from Rodney Atkins, the Eddy Bower Band and Eric Paslay.
Sunday began with cowboy church for dozens of volunteers who then tore down and cleaned up, returning the carpet of grass back to what it was a year ago, a hay meadow.
Postscript – This Ball was especially poignant for the hosts, Jeff and Lisa. The family head to Ohio two days after the ball to attend funeral services for Jeff's mother who had succumbed to cancer a few days before the ball. Both Jeff and Lisa lost their dads years earlier to cancer.